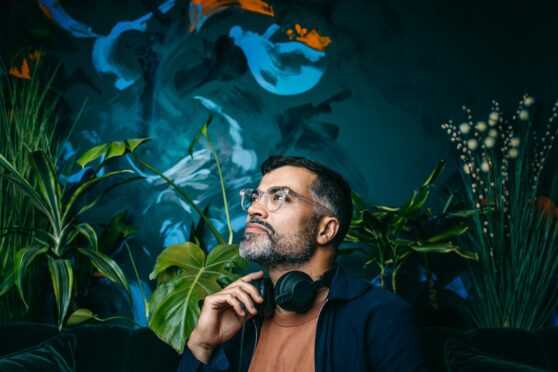 The potential health benefits of getting back to nature are being examined in landmark research by GPs.
Doctors at five practices in Edinburgh began "prescribing nature" to patients as part of Nature Prescriptions, a pilot project inspired by growing evidence that connecting with nature improves our physical and mental wellbeing.
The five-month initiative, a collaboration between RSPB and Edinburgh and Lothians Health Foundation, saw a number of patients encouraged to go outdoors alongside more traditional treatments to connect with green spaces and wildlife in ways that were personal, emotional and meaningful in a bid to see if it could help alleviate their illness.
The findings, which are ­currently being evaluated, will be published later this month and, if positive, will be reviewed and possibly rolled out.
Nature Prescriptions was launched in Shetland in 2017 due to an increasing body of scientific evidence proving there is a link between good mental health and feeling connected to the natural world.
At the end of last year it was brought to Edinburgh to see how the idea fared for patients living in an urban environment.
"I think it's the ­simplicity of the project that makes it so appealing," Elaine Bradley, RSPB Scotland's project development executive for Nature Prescriptions, said.
"We use our knowledge of nature to identify local activities and ideas that support GPs in ­prescribing nature, where appropriate, as part of a patient's treatment plan. Individuals benefit because connecting with nature can improve physical and mental wellbeing, and nature benefits because connecting with nature often inspires people to want to protect it."
GPs suggested patients try things like tuning into the changing seasons, getting to know a neighbourhood tree, helping local wildlife and listening to birdsong.
Bradley added: "Spending time in nature is good for both our mind and our body. It can make us less stressed, improve our concentration and happiness, and even lower our blood pressure.
"Birdsong in particular can be fantastic for our wellbeing because we can hear it pretty much everywhere – in a city street, park or even through our kitchen window. It doesn't matter if you can't tell which bird is singing. In fact, studies have shown that knowledge of nature is less important to wellbeing than noticing and engaging.
"We can simply tune in to the different songs as they arise, noticing and appreciating the different tones, uniqueness and richness of sounds. We can also notice how we are relating to what we hear, for example, how the body responds as we listen and how the experience makes us feel.
"Connecting in this way allows us to cultivate a deeper connection to the natural world, potentially increasing enjoyment and wellbeing, as well as reminding us that we are nature too!"
Branching out into happiness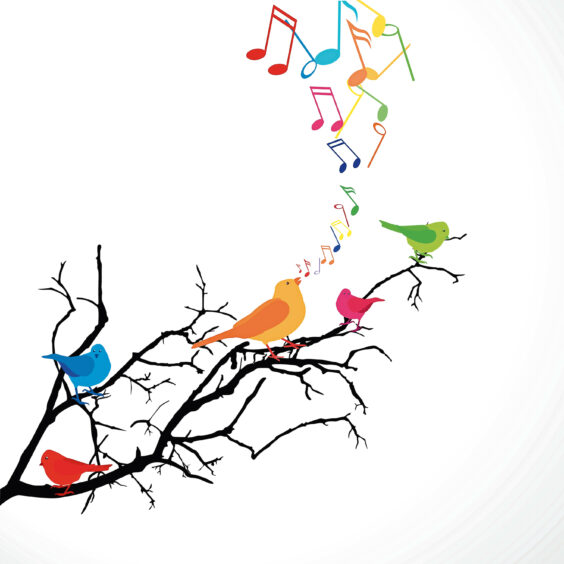 The song of different birds can affect us in different ways, according to Dr Eleanor Ratcliffe, a lecturer in environmental psychology at Surrey University.
The first of her three studies consisted of an online test with 174 people listening, rating, and commenting on 50 different bird sounds from the UK and Australia.
The research found some bird sounds offered relief from mental fatigue and stress. However, some bird sounds can also have the opposite effect. For example, pigeons in cities can be perceived as an annoyance and could provoke a sense of irritation.
Levels of mental restoration also depend on the type of sound. For example, the melody of a songbird was well-received as it sounded musical and pleasant. However, the loud, raucous call of a magpie generated stress. Other factors that affect how restorative birdsong is included sound level, frequency, complexity, pattern and familiarity.
Ratcliffe said: "People like listening to bird sounds which are quiet, high frequency or have a level of complexity such as a melody."
While bird sounds can be helpful for mental health, it depends on the bird, the sound it is making and the type of person who is listening.
This means that if birdsong were to be used to help with mental health therapy, it would need to be tailored to individuals.
I started field recordings and found a whole new world. Sounds of nature are the great escape

– Ambient DJ Brian d'Souza
With a DJ career spanning two decades, Brian d'Souza has always known the importance of music, but lockdown has led him to appreciate a totally new sound – birdsong.
He believes the potential benefits to mental health are huge and says listening to birds helped him cope after the sudden death of his father.
"Nature is everywhere and its benefits are often overlooked," he said. "I have found listening to birdsong hugely therapeutic and a great way of relaxing.
"Something so simple as just stopping and listening can do wonders for our health."
Before the pandemic, d'Souza, 39, from Glasgow, spent his weeks playing DJ sets in clubs around the world.
But when Covid came, travel – and his career – came to a standstill: "I went from travelling and playing every weekend to nothing at all. That was a big change for me and I felt a bit lost.
"However, maybe it was time for me to look at something new. I had always been interested in music psychology and the positive benefits music can have. We live in a very visually focused world. We talk about seeing a film at the cinema, but never hearing a film. We often overlook and undervalue music and sound.
"I started to study sound therapy, using different sounds to help with mental health and health generally – and how to affect people's emotions in a positive way. Sounds can have a wonderful effect on people, both mentally and physically.
"I already knew about bringing people together creating positive social experiences through music and mass gatherings, but this was about how you could affect people's emotions in a relaxation sense."
Edinburgh! That was special @hiddendoorarts – thank you 🙏🏽 pic.twitter.com/tSKrfkgZNd

— Brian d'Souza/Auntie Flo (@Auntie_Flo) September 20, 2021
d'Souza created a radio station, Ambient Flo, dedicated to improving sleep, focus and relaxation and streamed live sets of ambient music from his garden every morning.
"Music helped me through the most traumatic parts of lockdown. Ambient Flo was my lockdown therapy, my escape.
"And it had a really positive effect for others," he said. "People were saying it was really helping.
"Music has always had the ability to soothe anxiety and bring people together in a club or festival environment; it acts as a memory trigger and can help regulate moods. As a DJ, I can use music to put people into a euphoric state, but with Ambient Flo, I work to reduce heart rate and create a sense of calm.
"But while doing these recordings from the garden, the mic was not only picking up the music, but the birds as well. And because it was spring, it was vibrant and loud. People were saying they loved the music, but they loved the birdsong as well.
"For some people in isolation throughout the pandemic, it was an important thing for their mental health to experience nature.
"It's a core thing we need as human beings. We can take ourselves away from nature, but all the studies show nature has a positive effect on all of us, and we should get out as much as possible."
The revelation led Brian, who studied musical psychology and sound design at university, to start looking into the calls of birds and how they can alter our mental state.
"Birdsong has been our most dominant natural noise we experience every day. So I decided to try and record it as a means of relaxation.
"When I started to do field recordings, I found there was this new world of sound. We become habituated to sound, like the traffic noises in urban areas, but when I tried to record birds, I didn't want the habitual sounds like the traffic to be there.
"During lockdown, traffic and aeroplane noises were really reduced and birds adjusted their calls to that. I had never really started to think about that but this project caused me to look more at the acoustic environment.
"I would go out early in the morning. I didn't pay enough attention to it before, but when I started to look at the birds more closely, I realised you can understand the language of birds. It's a communication.
"The recording has been therapeutic for me. It's given me the perfect excuse to get out into nature and enjoy it when there are hardly any people around.
"I have experienced a lot of trauma in the last year, including the sudden death of my father and another close family member, and this has given me a major focus.
"It has just become a habit for me now to get out and just listen.
"It's something I never used to do because I was so busy rushing about. And it really has helped me. It's been a huge thing for me to do and share with other people.
"The world's natural sounds can provide the ultimate mental escape – the inclusion of birdsong in the morning can make someone feel more awake, more cognitively alert.
"People even find that birdsong can increase feelings of safety, as over thousands of years we have learnt when birds sing, we are safe. It is when birds stop singing that we need to worry."
---
Brian d'Souza has collaborated with Glasgow's Kimpton Blythswood Square Hotel to create a unique sound wellness experience using some of his recordings.
The bespoke soundscape launched as part of La Chambre Verte, an immersive hotel suite experiment measuring the psychological and physical benefits of biophilic and therapeutic sound.
Guests can experience a room filled with plants which purify the air and omit chemicals to enhance relaxation, as well as Brian's field recordings of birdsong from nearby Blythswood Square Gardens combined with relaxing musical compositions. A survey comparing the experience of an overnight stay in the biophilic room with a standard room improved feelings of calm for 80% of guests.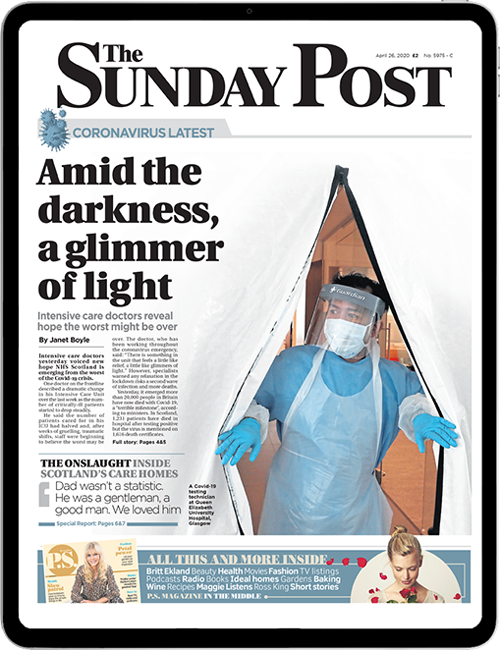 Enjoy the convenience of having The Sunday Post delivered as a digital ePaper straight to your smartphone, tablet or computer.
Subscribe for only £5.49 a month and enjoy all the benefits of the printed paper as a digital replica.
Subscribe