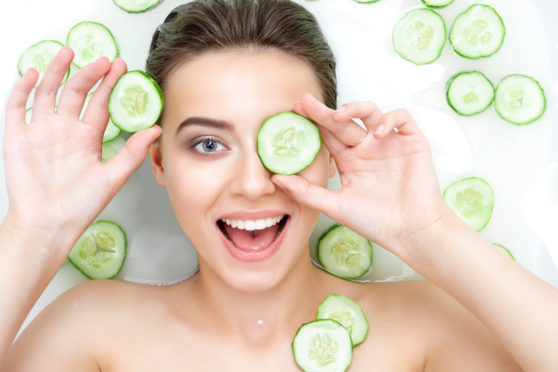 After wiping, ­rubbing and ­washing away the remains of our make-up, it's not uncommon to still find traces of foundation and mascara on our towels.
Here, Amanda Von Hagen, skin specialist at Glo Skin Beauty, takes us through her seven steps for removing every last trace.
---
Don't rub
The best way to remove eye make-up is to soak soft cotton wool pads in remover and let it sit on your lids for a few seconds.
This loosens mascara and eyeshadow without scrubbing, which can create problems.
Always pat your eyes and avoid rubbing, which can speed up the process of developing lines and wrinkles.
Steam clean
Fill your sink with steaming hot water (not boiling) and lean over it for a few minutes.
The steam will unclog your pores and make your products easier to remove.
Alternatively, you can also simply soak a washcloth in hot water, let it cool down for a few seconds, and place it on your face.
Once the cloth has cooled, the dirt and impurities will melt off, leaving your face perfectly clean.
Go coconuts
Natural coconut oil works as a moisturiser, hair nourishment, cooking ingredient and an effective make-up remover. Massage the oil into your skin like a cleansing balm and rinse off with warm water before wiping off the excess with a wet cloth.
Ditch the wipes
Some women believe that, because baby wipes are suitable for sensitive skin, they must be good enough for your face.
Wrong! You will merely move make-up around your face, rather than removing it.
Take extra time
The elusive edge of your eyelid, where your liner and mascara can build up over time, is frequently neglected and can be a major cause of eye irritation.
Dip the side of a cotton bud into micellar water to wipe away any make-up residue in these small areas.
Hair raising
If you don't pull back your hair, you're likely to stop short when washing your face.
Make-up residue can often accumulate around the hairline, leading to clogged pores and breakouts.
So tie your hair back or stick on an Alice band in order to remove every last drop.
Kiss goodbye to stubborn lippy
Apply a pea-size amount of Vaseline to your lips and leave for a few minutes.
Use a damp cloth to wipe away and slowly reveal a soft and clean pout.
---