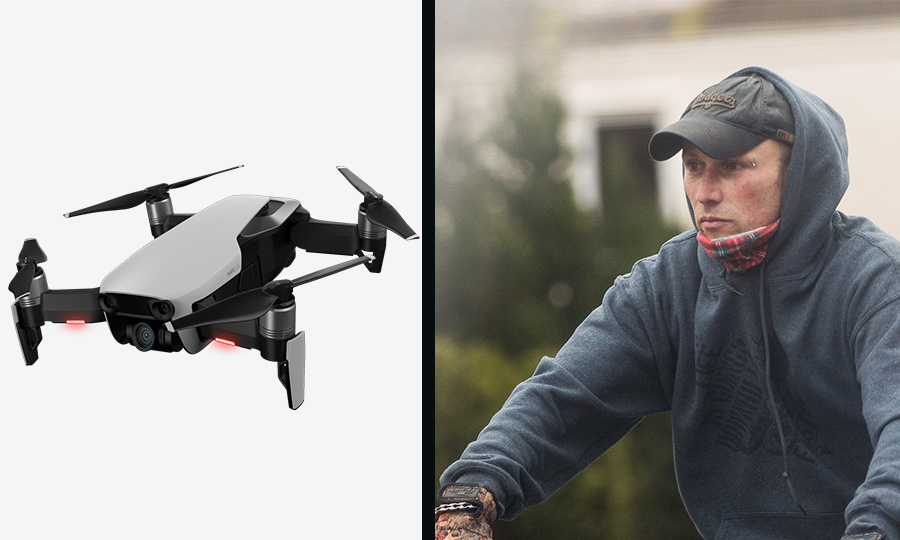 A STALKER terrorised a family for almost a year by spying on them with a drone.
Stuart Shedden harassed Gloria Killin and her family for nine months, monitoring them and their Ardrossan farmhouse with the flying camera.
The 43-year-old was jailed for six months last week for his terrifying campaign between 2016 and 2017, believed to be the first case of its kind in Scotland.
Gloria, 61, first encountered Shedden in 2011 when he came to her farmhouse with an air rifle.
The former academic said: "He was standing at my gate with a gun. An air rifle. He had just shot a pigeon off my roof.
"I had parked my car and asked what he was doing. He said he knew all about me and knew who I was, and I was to go into my house and to mind my own business, and he had permission to be here.
"We'd never met him before, none of us knew this chap before that day.
"I never imagined it would go on to the extent that it did."
Despite contacting the police, officers said their hands were tied as Shedden had been given permission to shoot on the land around the farm.
His sinister behaviour escalated, however, when in October 2011, Shedden started harassing Gloria and her husband William, 62, on the phone, calling them more than 100 times in just two months.
Each time he would phone from a withheld number, and say nothing when the calls were answered.
He was eventually prosecuted in 2012, and ordered not to contact Gloria. However, after the court case, the family said he immediately began harassing them again.
Gloria said: "He just started using payphones.
"I think if he hadn't been allowed to shoot in the area, the problem may not have got to where it did.
"When you feel threatened by someone and you know they could be walking about with a gun, it's unsettling.
"Simple things like walking around your property at night with your dogs just became less enjoyable."
Shedden was spotted loitering in hedges and on roads near the house numerous times, and the family said he used laser pens to shine into their daughter's bedroom. Then in 2016, a drone appeared at the farm and started filming one of Gloria's relatives outside.
Gloria explained: "My cousin was sitting in the yard and he put the drone right over her head.
"When she stood up it went up, and when she sat down it did the same. It was there for ages.
"Another time our neighbours saw it and asked him what he was doing, and he said he was doing a land survey for the land owner, which they thought was suspicious.
"We found out he was using it to film us and see where our CCTV cameras were at the house."
Kilmarnock Sheriff Court heard that Shedden was friendly with a family who had a dispute about land with Mrs Killin.
It was also heard how Shedden falsely reported a robbery at the family home on Christmas Day, sparking a 5am house call by local police.
William, an electrical engineer, said: "He had been up on Christmas Eve shining a light into our house, and I had not long got to bed before the phone went. It was the police, asking if we were being robbed.
"At first we didn't know what was going on, but then we realised it was him."
The couple said the stalking and harassment had had "a detrimental impact" on their lives, both emotionally and financially.
William said: "We've had to repair our cars, install CCTV cameras and alarms. At one point we had paint and corrosive thrown over the car.
"It's been horrendous but we're glad that it is over and we hope he learns his lesson from the sentence."
Shedden was found guilty at Kilmarnock Sheriff court of stalking, by flying a drone around the farmhouse, slashing tyres, staring at Mrs Killin and reporting the fake robbery to police on Christmas Day.
During the court hearing, Shedden's lawyer Fraser Alexander said the shamed West Kilbride man "has no need whatsoever to be in the area again".
He said: "Mr Shedden has never before experienced a custodial sentence but realises that is an option today.
"He recently lost his job and is actively seeking employment."
Sheriff Shirley Foran said the conduct was "disturbing and distressing" for the victim and added: "In my view this must be marked by a prison sentence."
Shedden, who wore a long, black leather trench coat in the dock, showed no emotion as he was led to the cells.
Expert: The law will change to deal with new technology
Paul Sweeney, a solicitor at Glasgow-based Ian Moir and Company, said criminal cases involving drones are likely to become more common as the gadgets become more commercialised.
He said: "Drones are likely to feature more and more in criminal cases. They have been used for dropping drugs into prisons and no doubt there will be cases to come of people using drones to film people through their bedroom windows or sunbathing in their back gardens.
"The law is constantly evolving as we are seeing different types of technology.  In the past CCTV and photographs would be sources of evidence.
"However footage caught on mobile phones now features heavily as do screenshots from social media such as Facebook, Instagram, Snapchat and Twitter."
Mr Sweeney added that the public are unlikely to be prosecuted for an innocent mistake when flying a drone, and said: "Flying drones over private property is unlikely to cause a person to come into contact with the authorities unless they are deliberately trying to film someone or something specific."