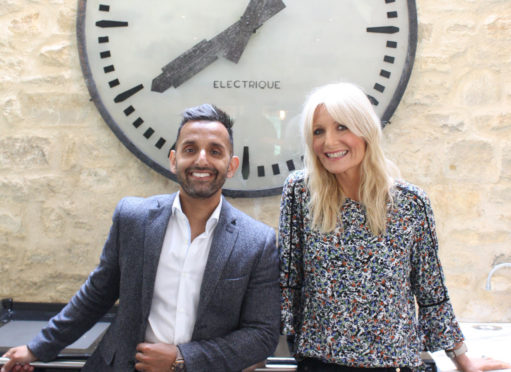 The woman who shot to fame with Chris Evans and Channel 4's The Big Breakfast show knows sleep deprivation when she sees it.
TV and radio host Gaby Roslin has had a 33-year broadcast career, a chunk of it peppered with 3.30am rises. She was also the first woman to present 28 hours of live, non-stop television with the BBC1 New Year Millennium celebration.
So when the mum-of-two who "never sleeps" was asked to present a two-part documentary, The Science Of Sleep: How To Sleep Better, she says she "jumped at the chance."
Gaby tells P.S: "I have never slept. I don't sleep. When people say, 'Are you a night owl or a morning person?' I'd say, 'I'm both!'
"I get about five hours sleep on average a night, but I have spent so many years worrying that I don't get enough.
"My husband (publisher David Osman) can just literally say, 'Goodnight' and he'll be asleep, but it takes at least another hour or two for me to get to sleep."
Gaby reveals: "My brain doesn't stop.
"I'll be thinking of programme ideas, or things I can do for this thing or that thing.
"I get excited about things. If I read a book I imagine it as a film, if I listen to music I'll sing out loud."
She reveals her dad, former BBC presenter and newsreader Clive Roslin, also has challenges in the sleep department. "He is in his 80s and having problems, he's waking up every night.
"So when my agent told me about this programme and asked if I wanted to do it, I just jumped at it, because sleep fascinates me on so many levels."
According to the British Sleep Council, 70% of us say we don't get enough sleep.
In the series, Gaby and Dr Amir Khan reveal the latest science that they believe will help us all sleep better.
At the same time they take a look at some of Britain's worst sleepers to see if the programme's sleep team can solve their problems.
And in a series of experiments, they deprive some of the country's best sleepers of their regular shut-eye to demonstrate what a lack of sleep does to our bodies and brains.
For example, did you know an increase in weight around the neck can put pressure on the airway which, particularly when exacerbated by alcohol consumption, can cause not only snoring, but sleep apnoea?
Apnoea is potentially dangerous condition that can lead to high blood pressure, memory problems, impotence and headaches.
Or that extreme tiredness at the wheel of a car can cause us to have "micro-sleeps", where we drop off for five to 15 seconds?
It's as serious as drink-driving, with driver fatigue thought to be a factor in up to 20% of road accidents every year.
The programme also reveals that lack of sleep makes us twice as likely to indulge in risky behaviour and it's suggested, reduces our pain threshold by a quarter.
New research also shows a link between lack of sleep and risk for Alzheimer's disease and dementia.
But there is good news, too.
Poor or problem sleep can be, in many cases, corrected. Adopting a healthy lifestyle (reducing alcohol intake, drinking plenty of water, exercising, and having a healthy diet) and keeping a regular bedtime routine, could prove to be the solution. A 20-minute nap before 2pm is also effective.
And there is a simple solution for motorists battling tiredness. Sleep experts say they should pull over, have some caffeine and then take a short nap. The caffeine will kick in on waking.
"What I learned from the programme that absolutely terrified me was the micro-sleeps," says Gaby.
"We must have all done that and what's frightening is how far you travel in those few seconds and how many accidents are thought to be caused by micro sleeps.
"I also learned about late night shopping and gambling – people don't make wise decisions when they are tired."
Gaby, who currently presents a Sunday entertainment show for BBC Radio London, swears by good nutrition and exercise – she walks 10 miles a day, and gave up alcohol more than a year ago. But she accepts sleep has been the missing part of her health 'triangle'.
"I have studied health and nutrition for 23 years, since my dad was diagnosed with bowel cancer – and, thank goodness, survived," she says.
"I now know the part of the triangle that was missing was sleep, and how important sleep is for our health.
"I am now more aware of having a regular time for bed. I have done so many early morning shifts, what I should have done was get up at that time on the weekend as well. So I don't do long lies on a weekend anymore.
"We usually get up in our house between 6.30 and 6.45am. But I try to go to bed at 11.30pm.
"I also love magnesium salt baths. I find that really does work. Magnesium helps you sleep and is good for your skin and bones. I gave up drinking over a year ago. I haven't decided I am teetotal forever but there is nothing inside me that makes me want to drink anymore.
"If I'd known how much better I feel for not drinking, I would have done it earlier. When you drink, you don't sleep well. You wake up sweaty and dehydrated.
"And I now know how important sleep is for your brain, your bones, and your internal organs."
---
The Science Of Sleep, Channel 5, Wednesday, 9pm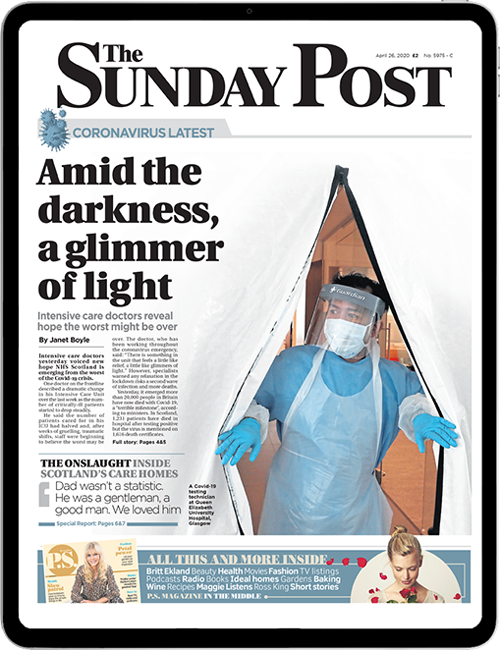 Enjoy the convenience of having The Sunday Post delivered as a digital ePaper straight to your smartphone, tablet or computer.
Subscribe for only £5.49 a month and enjoy all the benefits of the printed paper as a digital replica.
Subscribe