THERE are relaxing trips around the Mediterranean — and then there's the way Huw Kingston did it!
This amazing Briton, now based in Australia, set off on April 26, 2014, to kayak from Gallipoli, the start of a 13,000km, 12-month, 17-country journey that would bring him back to where he began.
During it, he would also walk, climb, cycle and row — his first time in a rowing boat, he rowed 1,500km!
The fact Europe and North Africa were going through turmoil merely added to the challenge.
Huw arrived back in Gallipoli 363 days later, in time for the Anzac Centenary, and the whole thing was done with one thing in mind — to help Save The Children, for whom he is an ambassador.
As he reveals, a recurrence of an old back injury had him doubting if he'd even get started.
"A back injury as a teenager 35 years earlier, the result of falling through a skylight 10 metres to a pedestrian subway below, would toy with me before expeditions and journeys," Huw says.
"Almost without exception, a month or so before departure my back would go and I'd be incapacitated for a week, fortnight or more! As The Clash had sung: 'Should I stay or should I go?'
"I learned to challenge my back, hobble my way to the start line and begin."
A big part of his mammoth journey was to mark Australia's role in the Great War, and he toyed with a name for his task.
"I planned to call it An Anzac Odyssey, reveals Huw. "It paid homage to the Anzac diggers, and the journey itself followed the instigator of that word, Homer's Odysseus.
"However, the use of the word Anzac is protected by Act of Parliament in Australia, and my application for Anzac Odyssey was rejected by the Department of Veteran Affairs."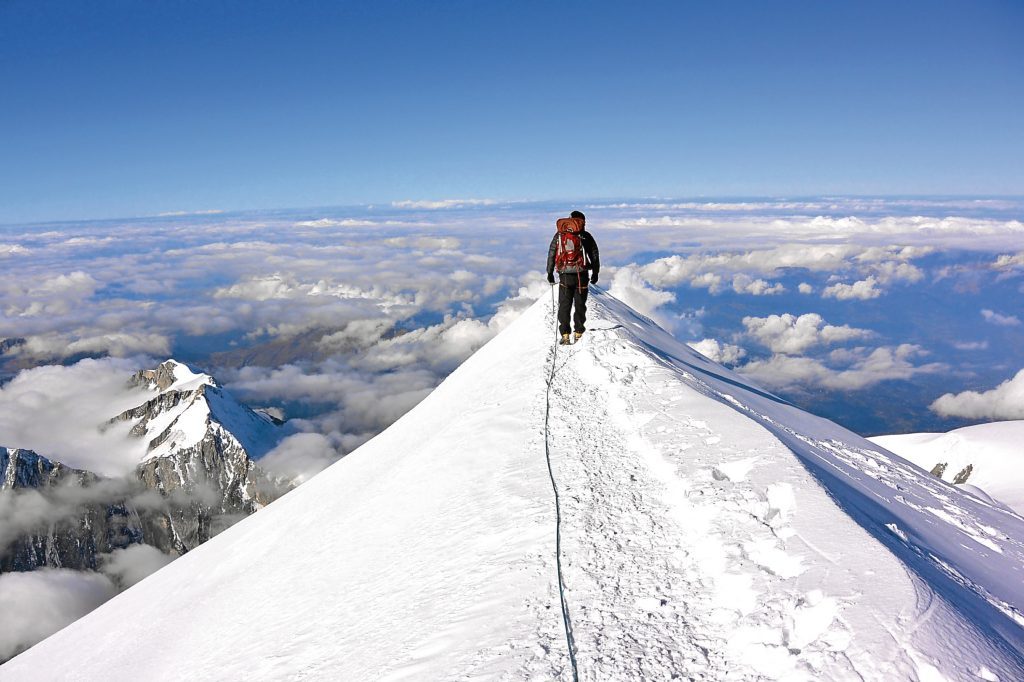 Such matters aside, the real challenges were in getting around the type of places he was headed in one piece, especially in such volatile times.
Syria, Algeria and Tunisia would be imposing enough, and Mont Blanc and the Med would both prove to be a bumpy ride, too.
"It didn't start too well!" he admits. "A couple of hours out from Ari Burnu, I rounded the headland to face a strong no'easter full in the face.
"After bashing on for a couple of hours, I gave up and camped on a rocky beach no more than 15km from Gallipoli."
His head full of Greek myths and famous journeys they had taken, Huw thoroughly enjoyed some of his kayaking adventures.
"Some absolutely stunning sea kayaking followed round the Sithonia peninsula," he recalls.
"I realised that despite my relatively-simple life, I was still cluttered with stuff.
"In the corner of my tiny tent lay two phones, a laptop, VHS marine radio, spot tracker, two cameras and a twisted spaghetti of chargers and leads."
One place still off the beaten track to many of us is Albania, and Huw had some enjoyable times during his stops along its coast.
"The people were overwhelmingly friendly and the coffee perfect!" he says, but he was less thrilled with the rapid development, turning lovely wide-open spaces into hotel blocks.
"Where 20 years ago there had been nothing but a military harbour, there was an ugly strip of hotels and apartment blocks lining the beach," he groans. "The sound of bulldozers hid the laughing of Kosovan and Serbian beachgoers."
By August, it was time to get out of the water and up into the mountains.
"Late afternoon on August 4, I shouldered my Osprey pack and turned my back on the Mediterranean to walk up into the Alps," he says, "away from the sea that had been my home for the past 100 days, a sea I would not touch again until Monaco at perhaps the end of October."
Needless to say, while the views were breathtaking, the Alps were at least as hard as the sea-borne parts.
"The Alps were punishing," Huw acknowledges. "The 1,500m climbs tested lungs, 1,500m downs tested knees. Different landscapes, new mountain ranges, tumbling glaciers, I was loving it."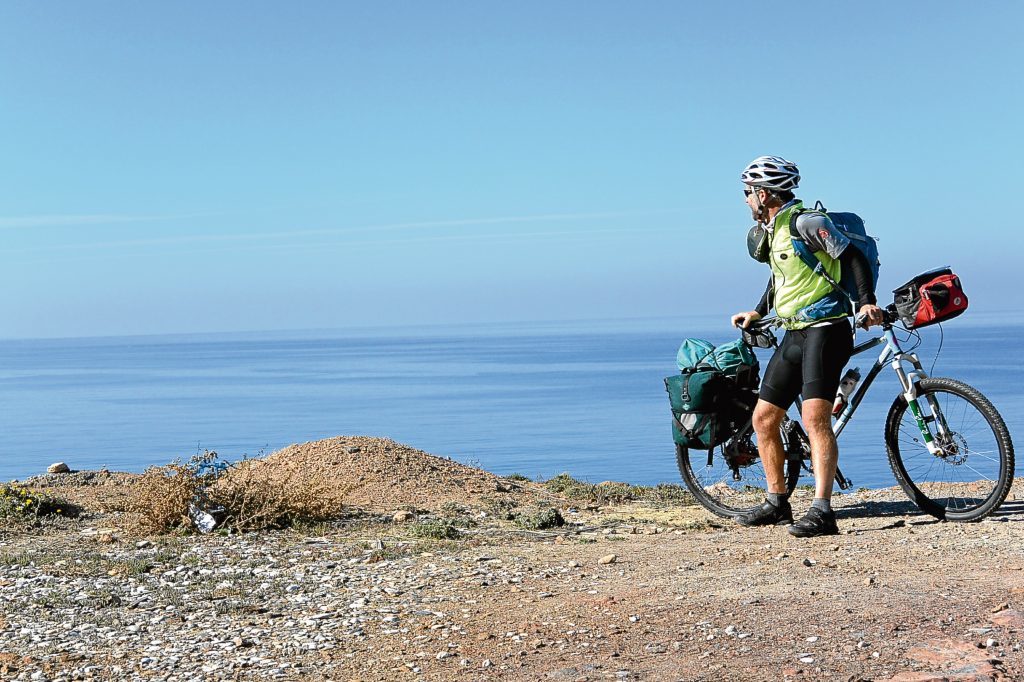 Huw was fortunate to enjoy hospitality from various wonderful people along the way. On top of Mont Blanc, however, you're pretty much on your own and your next hot meal may be some time away.
At 4,810 metres, the highest point in Europe, it's all downhill from there, but the sensational scenery below — including the clouds — is something you'll never forget.
Huw did, naturally, find his body and mind wishing to hang around longer when he got back to civilisation.
"I felt lethargic," he says. "Every time I stopped, I'd find an excuse to stop longer."
Near St Tropez, he put up his tent on the beach, but soon was getting on his bike. And promptly stopping again when a pedal came off!
Spotting in a newspaper that France were playing Fiji in a rugby match at Marseille, he managed to get himself a ticket.
"With a bike, entering Morocco was a breeze," he says.
"I was now finally heading east, facing Turkey, heading toward Turkey after so many months with my back or side to her."
If he had any concerns about Algeria, he needn't have. Not with a police escort!
"One guy called Faisal worked with Cheche Tours, the agency I had worked with to get me into Algeria," he explains.
"Faisal climbed into his new Peugeot, and two police cars, lights flashing, took up position, one behind me, one in front.
"No-one had told me that I was to have a police escort for 1,500km and two weeks across Algeria!"
Wonderful Turkish hospitality would follow, likewise in Syria, as he made the long, gruelling trek to complete his incredible, unique journey.
Most amazing of all, he had done it all during very troubled times for this part of the world, and who knows if anyone else will ever be able to travel the Mediterranean like Huw Kingston did?
Mediterranean: A year around a charmed and troubled sea, by Huw Kingston, is published by Whittles, ISBN No. 978-1-84995-274-3, and priced £19.99.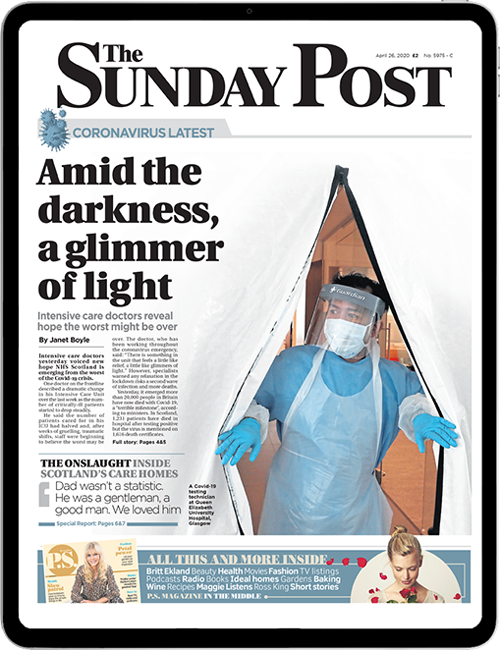 Enjoy the convenience of having The Sunday Post delivered as a digital ePaper straight to your smartphone, tablet or computer.
Subscribe for only £5.49 a month and enjoy all the benefits of the printed paper as a digital replica.
Subscribe