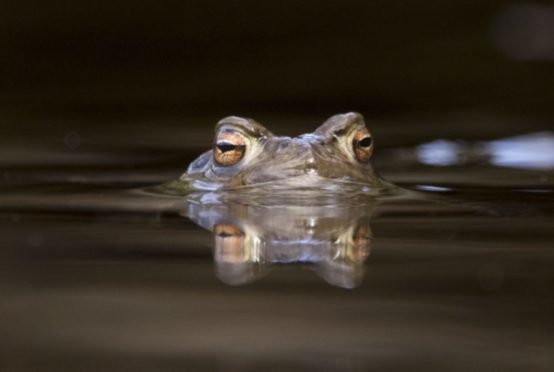 The afternoon is balmy, the birds are in fine voice, and the aroma of warming leaf litter and pungency of fox fills my lungs as I wander to the pond.
A pair of grey wagtails bow and curtsy on rocks beneath the bridge over the burn – their name is not appropriate for they are the citrus yellow of spring.
In the folds of my baggy jersey, I carry precious cargo. It wriggles and wobbles close to my waist and emits thin, high-pitched sounds, more bird-like than you might imagine. The journey via this makeshift transport is short-lived, for soon, my bundle will be at its destination.
As I walk, I bend continuously to pick up others to add to my load until I really cannot take any more. I gently crouch down at the water's edge and let the fragile treasures continue with their mission uninterrupted.
When it's done, my task will begin again as I retrace my steps to aid more frogs and toads on their journey. Some days the road is liberally sprinkled with them.
These amorous amphibians follow the same routes to their annual breeding site, passing through the small village where even on this quiet road, they frequently meet a premature end under vehicles' wheels. We have created so many hazards. If it's not roads, it's pesticides, pollutants, drainage and continual habitat loss. They need all the help we can give them.
Some mild, damp nights during their short breeding season, I go out late with a torch to rescue dozens and dozens before they come to grief.
Frogs and toads, and indeed all amphibians, have always filled me with awe, absorbing me in their breeding activity every year as they transform still pond waters all around the country to frothing pools of frenetic activity. It heralds new beginnings, and their presence means an abundant food source for others including, herons, ducks, and otters.
The particular pond that I am talking about is close to home. It's small, but make no mistake, size really does not matter, for it contains an extraordinary wealth of life, a vibrant community of vertebrates, invertebrates and microscopic organisms, plants and larger mammals.
In spring, I spend as much time as possible here. It's a calming place. During the lockdown of 2020 and the restrictions of this spring, it has become even more significant than before. For us all, these places of nature, so close to our homes, have provided us with lifelines during periods of angst and uncertainty – nature's salvation. And even in a city park, you can usually find a pond.
You will find ponds in old quarry pits, low-lying fields, boggy areas, parks and gardens. Even the tiniest ponds provide habitat for a cast of fabulous living things. The murkiness of a pond's waters hides secrets, for in the dark depths is a harsh world of prey and predators, of complex life cycles, light and shade, colour and ceaseless activity.
Life here builds visible momentum in early spring with the frogs' arrival. It brings that moment of excitement on finding the first clouds of their spawn-like cauliflower heads around the pond's edges.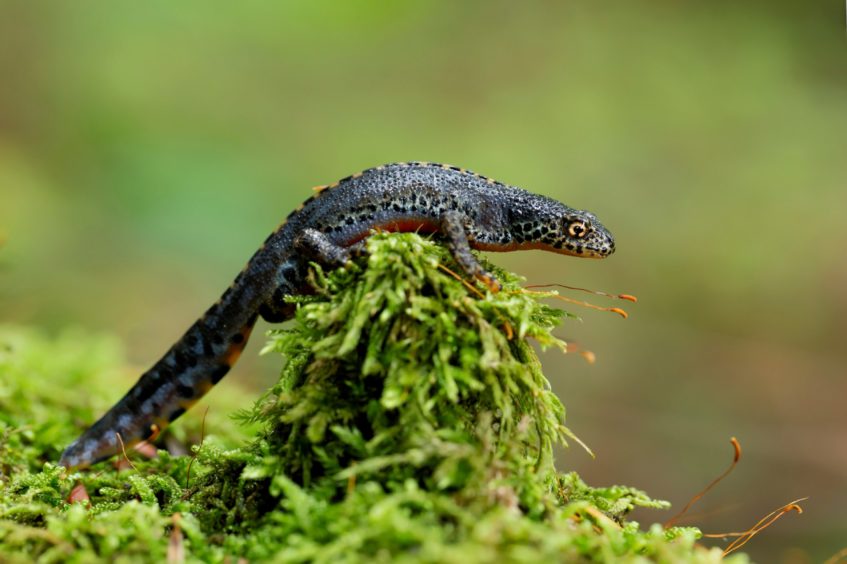 One February morning, as low golden rays painted the scene, I caught a fleeting vision of electrifying turquoise and orange – a kingfisher perched on a frosted hawthorn, a jewel between thorns.
Water shrews are very occasionally spied while weasels live in the crumbling lichen-embellished walls and hunt for field voles and wood mice. And well-scuffed badger paths are confirmed by their broad spore and claw marks in the mud and the round snuffle holes where they have been searching for worms and grubs.
As the cheery faces of yellow celandines and dandelions emerge, together tiny brilliant pink larch flowers and delicate blackthorn blossom, and bees begin to rev up, warming their complex engines as the sun revitalises them. They hum in a mesmerising manner flitting dozily among unfurling blooms collecting nectar.
In the distant birch trees, I hear the onomatopoeic call of the newly arrived chiff-chaff. Mare's tail pushes aggressively through bare earth – its cone-shaped tops resemble weird fungi instead of aquatic plants.
Once the frogs and toads have long departed, and their next generations are transforming through spectacular metamorphosis, newts have been busy too. They lay their delicate eggs on water foliage and carefully fold the leaves over to protect them from predators. Under the surface, aquatic life is like the underground during rush hour.
I sit fringed by bramble tendrils and absorb the action. The sun warms my back, and that of a common lizard basking on a mossy rock close to me. I have been here for a while and haven't thought of anything other than this microcosm of life.
A robin sings lustily, as I contemplate the range of larvae that still lies hidden. For some, including particular dragonfly and damselfly species, it can be a few years before they reach their full potential. For other creatures, the magical transformations may only take a matter of weeks. Every day there are new performers on this watery stage.
On the warmest bright days, flashes of iridescent malachite, aquamarine and crimson indicate that damselflies are on the move. Photographing them is hard, for they fly erratically, only pausing momentarily. I follow them carefully but overstep my limits. A cool infusion fills my boots as I lean in to watch the elegant courtship ballet of a pair of emerald damselflies. They land and the reeds embrace them as they join together to create a heart shape.
When the swallows and martins arrive, this is often the first place that I see them. With its abundance of insect life, it provides a replenishing smorgasbord after their arduous migrations. They dip down over the water chattering in excitement – their blushing faces offset perfectly by their dark, shimmering blue-black feathers.
Delicate pink cuckoo flower stipples the far bank and provides a vital source of early nectar for peacock and orange tip butterflies, two of the earlier species to appear. This humble wildflower, also called ladies' smock, is a valuable food plant for the orange tip's caterpillars.
The term "pond life" is a sad misnomer, employed to describe people regarded as useless and insignificant, but there is nothing insignificant about pond life.
To the contrary, it is a vital and fascinating part of nature's grand scheme, a critical piece in the jigsaw of life. Without that piece, no ecosystem can fully function.
Since the pandemic, many people have seen nature in a completely new light as it has helped us through the difficulties and uncertainties of the past year.
Now we, in turn, must give something back and ensure we never forget, that like us, it's vulnerable and protecting it is key to our survival.
---
Polly's People – pollypullar.com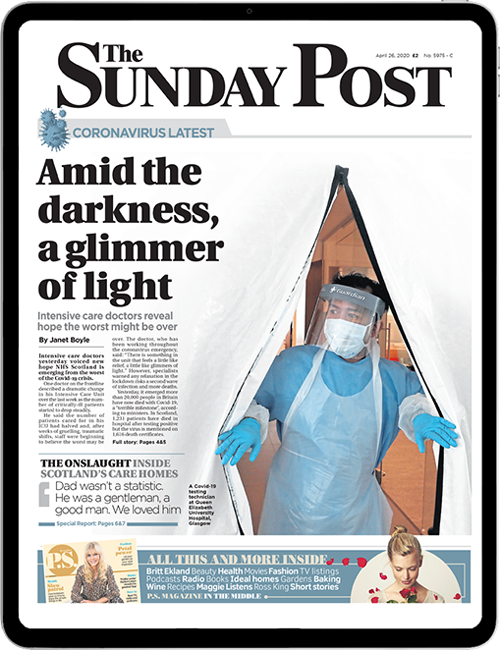 Enjoy the convenience of having The Sunday Post delivered as a digital ePaper straight to your smartphone, tablet or computer.
Subscribe for only £5.49 a month and enjoy all the benefits of the printed paper as a digital replica.
Subscribe