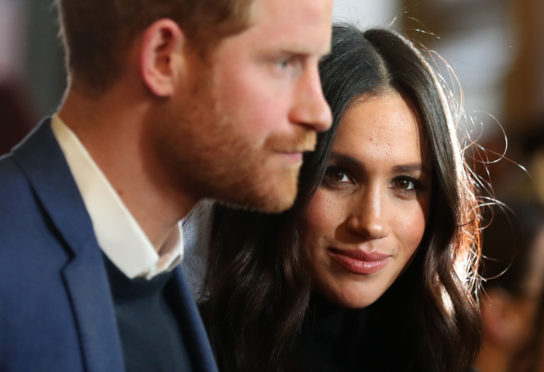 The Duke and Duchess of Sussex have abandoned their HRH titles after a week of dramatic headlines and controversy.
The announcement from Buckingham Palace last night came as it was revealed that the couple will be required to repay the £2.4 million of taxpayers' money that was used to refurbish Frogmore Cottage, their Grade II-listed house in Berkshire.
In a terse statement issued last night at 6.30pm, the details came after overwhelming criticism of the couple who intend relocating to Canada with their baby son Archie.
The highly unusual step of not using their titles was announced days after face-to-face meetings with the Queen, Prince Charles, Prince William and Harry at Sandringham.
The development is a seismic move for the royal family, on a par with the abdication of Prince Edward in 1936 when he announced that he was giving up his throne for American divorcee Wallis Simpson.
The Buckingham Palace statement read: "The Duke and Duchess of Sussex are grateful to Her Majesty and the royal family for their ongoing support as they embark on the next chapter of their lives.
"As agreed in this new arrangement, they understand that they are required to step back from royal duties, including official military appointments. They will no longer receive public funds for royal duties.
"With The Queen's blessing, the Sussexes will continue to maintain their private patronages and associations. While they can no longer formally represent The Queen, the Sussexes have made clear that everything they do will continue to uphold the values of Her Majesty."
The Palace confirmed that the changes will be put in place by the spring, however officials refused to discuss future security arrangements for the Sussexes.
The Queen also issued a statement wishing the couple well for their future, emphasising that despite them stepping away from royal duties, they will always be "much-loved members" of the family.
She said: "Following many months of conversations and more recent discussions, I am pleased that together we have found a constructive and supportive way forward for my grandson and his family. Meghan and Archie will always be much-loved members of my family.
"I recognise the challenges they have experienced as a result of intense scrutiny over the last two years and support their wish for a more independent life. I want to thank them for all their dedicated work across this country, the Commonwealth and beyond, and am particularly proud of how Meghan has so quickly become one of the family.
"It is my whole family's hope that today's agreement allows them to start building a happy and peaceful new life," she added.
The Queen had ordered officials to find a solution after Harry and Meghan announced their intentions to step back from royal duties and become financially independent.
It emerged last week that Meghan had already left for Canada before the family face-to-face.
She has been pictured visiting charities in Vancouver, the city she made home while she was filming television series Suits, and the couple are expected to settle there and continue promoting charities they support, including mental health and women's rights.
In their own official shock statement announcing their intentions to break with royal family tradition, the couple said: "This geographic balance will enable us to raise our son with an appreciation for the royal tradition into which he was born, while also providing our family with the space to focus on the next chapter, including the launch of our new charitable entity.
"We look forward to sharing the full details of this exciting next step in due course, as we continue to collaborate with Her Majesty The Queen, The Prince of Wales, The Duke of Cambridge and all relevant parties."
Royal expert Penny Junor said the new arrangement was "the best possible outcome and an outcome which will actually avoid catastrophe".
She said: "They're hanging onto their patronages which I think is absolutely terrific because they both care passionately about making the world a better place.
"The fact that they will not be doing any royal engagements is good because it makes a really clean break. There are no blurred lines. They are starting afresh and they are going with the Queen's blessing."
However, she added: "The British public have lost out because these are two fantastic people who sprinkle fairy dust wherever they go and we are going to miss that, but clearly it was not making them happy."
Television presenter Piers Morgan has been very critical of the couple, and last night said: "On a positive note, this spells the death of Meghan and Harry's plan for a progressive new monarchy. So thankfully they won't be 'woking' the Windsors after all."
And added: "Bottom line – Meghan and Harry wanted to have their cake and eat it. But the Queen just took the cake back to the royal kitchens."
Yesterday, the Queen was seen behind the wheel of her Land Rover at Sandringham, wrapped up against the winter chill and wearing dark glasses. Harry is believed to be still in London after being seen with friends at the Brook House pub in Fulham.
He is understood to have further meetings tomorrow before returning to Canada to see eight-month-old Archie, who he has not seen for two weeks. Harry's last official engagement was hosting the Rugby League World Cup draw at Buckingham Palace last Thursday.
---
Couple vow to refund taxpayers for £2.4m refurb of official home
The Duke and Duchess of Sussex have said they will pay back £2.4 million in taxpayers' money spent on renovating their Berkshire home, as they step back from royal duties.
In a statement released last night, Buckingham Palace said Harry and Meghan will pay back the funds spent on Frogmore Cottage, on the Windsor estate.
The Grade-II listed building, which the couple moved into just nine months ago, will stay as their UK home.
"The Duke and Duchess of Sussex have shared their wish to repay Sovereign Grant expenditure for the refurbishment of Frogmore Cottage, which will remain their UK family home," said the Palace.
It was previously reported that the staff who help run the property are to be deployed elsewhere when the couple are in Canada.
Their new website, sussexroyal.com, says Harry and Meghan moved to Windsor for "various reasons", and mentioned the fact that their previous residence of Nottingham Cottage on the grounds of Kensington Palace "could not accommodate their growing family".
The website points out that the option of Apartment 1 in Kensington Palace was estimated to cost in excess of £4 million for mandated renovations, and would not have been available for them to occupy until the fourth quarter of 2020.
"As a result, Her Majesty The Queen offered the Duke and Duchess the use of Frogmore Cottage, which was already undergoing mandated renovations, and would be available to move in before the birth of their son," states the website. "The refurbishment cost equated to 50% of the originally suggested property for their proposed official residence at Kensington Palace.
"It is for these reasons, the Duke and Duchess of Sussex chose Frogmore Cottage as their official residence."
Despite having "cottage" in its name, Harry and Meghan's UK home – close to Windsor Castle – has four bedrooms and a nursery.
Frogmore Cottage underwent major work to turn five properties back into a single mansion – with all fixtures and fittings paid for privately by the duke and duchess.
The couple are said to have hired former Soho House interior designer Vicky Charles to transform the residence.
It is likely they installed a luxury kitchen and bathroom, and it was reportedly designed by Harry and Meghan with dining and entertaining in mind and with extra bedrooms to accommodate guests, such as the duchess's mother, Doria Ragland.
After annual royal accounts were released last June, campaigners called for a parliamentary inquiry to be launched into spending on the monarchy.
Frogmore Cottage is close to Frogmore House where the duke and duchess held their evening wedding reception. It's also where the couple posed for their official engagement photos.
It has been a royal residence since 1792 and was built around 1680 by Charles II's architect.
In 1923, the Queen's parents – the future George VI and Queen Elizabeth – spent part of their honeymoon there.
The name Frogmore is derived from the frogs which have always lived in the low-lying marshy area.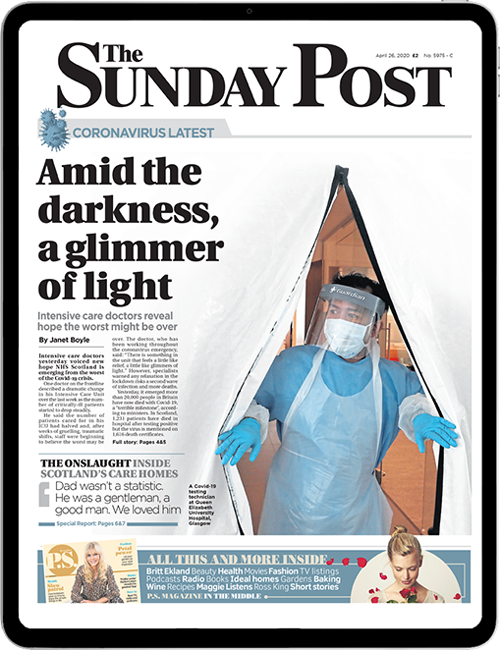 Enjoy the convenience of having The Sunday Post delivered as a digital ePaper straight to your smartphone, tablet or computer.
Subscribe for only £5.49 a month and enjoy all the benefits of the printed paper as a digital replica.
Subscribe