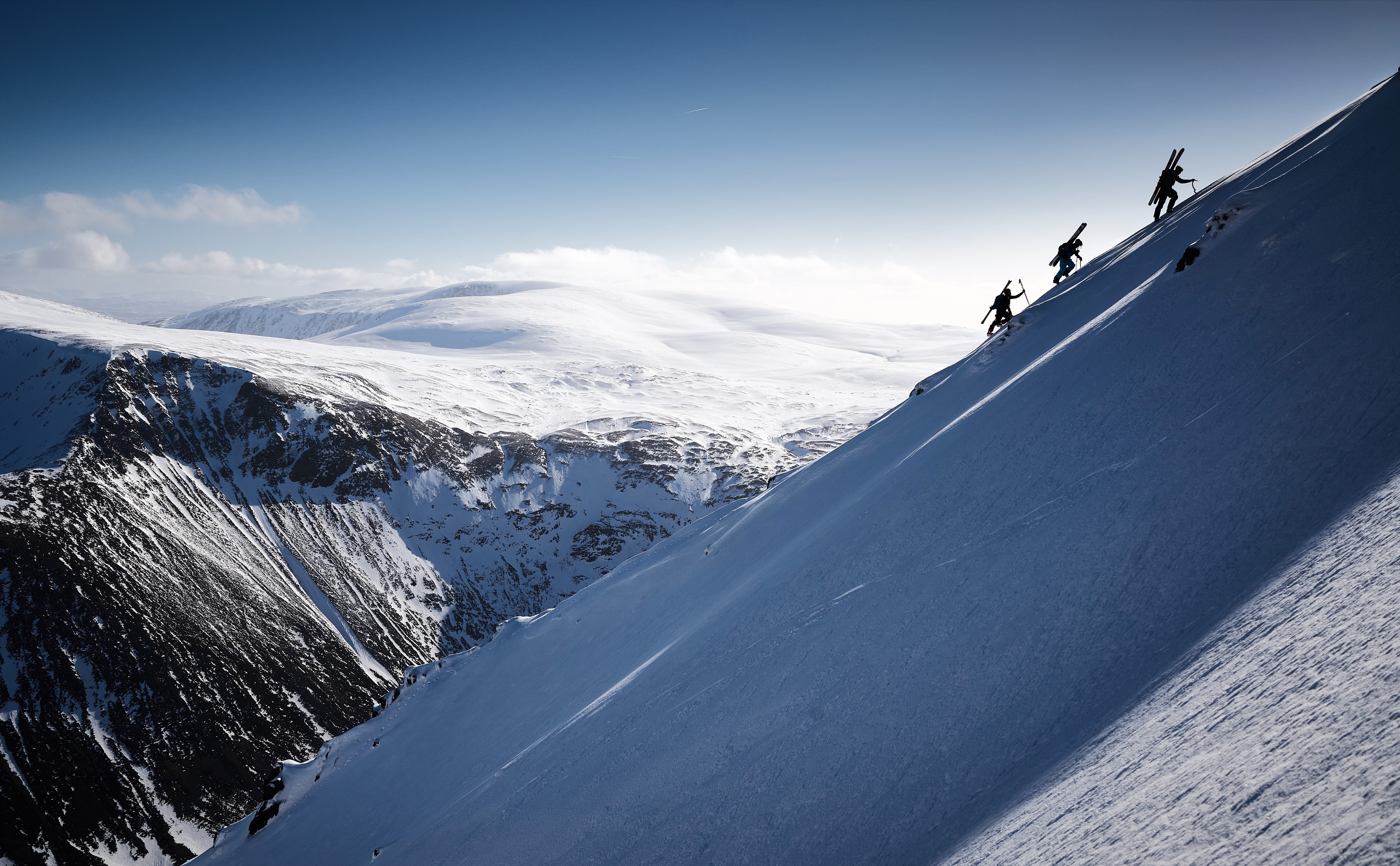 FOR many of us, the arrival of Scotland's winter months means retreating from the cold and cosying up inside with a blanket and a cuppa.
For others, it marks the beginning of a season of adventure.
High up, in the plateaus and peaks of Scotland's snowy mountain ranges, daredevils and thrill-seekers go searching for the best and most challenging of terrain. From back country skiing, to treacherous winter climbing, a snowy playground awaits Scotland's hardiest of adventurers.
None more so than Hamish Frost, a Glasgow based adventure and mountain sports photographer. His difficult job is not just to climb or ski in Scotland's most dangerous locations, but to capture these extreme snow-sports in motion, often finding himself hanging off rock faces and dangling over gullies to get the perfect shot.
A lover of off-piste skiing and mountain climbing himself, Hamish has worked in mountainous and snow-capped landscapes across the world, from the Himalayas to the French Alps, and is embarking on an intrepid trip to Antarctica next month.
But it's Scotland's dramatic peaks and outcrops where he cut his teeth and where he'll be happily traversing this winter.  "The Northwest Highlands are without a doubt my favourite place to shoot," he said.
"It's a bit of extra effort to get to and the conditions aren't as reliable, but in my opinion it's the most beautiful part of Scotland and the mountains feel totally wild and remote up there."
While the beauty of the Scottish Highlands in winter are a photographer's dream, they are also a perilous, constantly changing terrain which shouldn't be taken lightly admits Hamish. A lesson he learned one treacherous day at the beginning of his career, photographing climbers high up on a new route to the peak of Ben Nevis: "I'd only started shooting winter climbing earlier that year, and I quickly learned why there's not many people who do it.
"I climbed an easy gully to near the summit, set up my static line and rappelled down the route to a point where I knew I could get a good shot once the group reached me.
"The final pitch of their route turned out to be really difficult, so what I initially thought would be a short time hanging on the rope in the end turned into me hanging there for six hours in sub-zero temperatures.
"I was aware of how cold I was getting and I can remember having some pretty lucid daydreams – which were perhaps an early sign of mild hypothermia kicking in."
Although these potentially life-endangering situations would make many people's hair stand on end, Hamish believes the hefty rewards do outweigh the dangers: "Mountain sports photography, particularly in a harsh environment like the Scottish winter, is hard work.
"You could spend half a day or sometimes more in some scary position hanging on a rope half way up a cliff face, all the while trying to keep warm in sub-zero temperatures and ferocious wind.
"It's not something a lot of people would be able to stomach for a career, but for me it beats any office job hands down.
"Every day I'm out shooting I try and keep it in the back of my mind that I could potentially come away with some of the best photos I've taken yet – of people skiing through perfect deep powder in some far flung, remote part of the Highlands or a shot of someone shivering on a cold ledge, half way up some enormous scary iced up cliff."
Although Scotland's winters aren't always predictable, the way in which the French Alps always have a distinct promise of snow, Hamish observes that Scots are incredibly proud of the winters we do have, despite potential growing impacts of global warming.
"I think my favourite thing about the backcountry ski scene in Scotland is how fiercely proud people are of the skiing we have on our own back doorstep, and how people are so determined to make the most of what we do have," he said.
"We know we don't have as big mountains as the Alps or North America, and we generally don't get as much snow as those places either, however even when conditions aren't that great you still get lots of people going out, exploring our mountains on skis and having a great time of it.
"There were people skiing as early as October this year when we got some early flurries of snow and in a winter a few years ago we were skiing fresh powder on Ben Nevis as late as July.
"Having spent the last two summers out in the Alps, it's very concerning to see first-hand the effects that climate change is having on the mountains there, with regular instances of huge rock-fall caused by thawing of the permafrost holding them together.
"I'm not a climate expert at all so not best placed to comment, but it seems that we're getting increasingly radical and unseasonable weather a lot of the time and we'd be daft to just ignore that and expect it's not going to have long term consequences."
But in spite of environmental changes, Scotland's winter climbing and back country skiing activities show no sign of dissipating, quite the opposite in fact, says Hamish. "Nowadays you can head out into the Ben Lawers range (perhaps one of the closest reliable ski touring areas to the central belt) on a winter weekend and see large numbers of people out ski touring, whereas just a few years ago you'd have been surprised to even bump into one other person on skis.
"One of the big drivers has been improvements in the equipment, with ski touring kit having got a lot lighter, cheaper and generally better to ski on, people will now consider a touroing setup more readily when purchasing a new set of skis.
"Other factors include growth of the community (particularly online/on social media) where people will share photos and reports of the days out they have, Kenny Biggin's excellent Scottish off-piste guidebooks, and people like Blair Aitken and others offering introductory ski touring courses and workshops, which have generally helped make touring more accessible."
And as for any would be explorers hoping to get out into Scotland's back country terrain this winter?
"Skiing and climbing are great excuses to get out and explore our wild places. Just make sure you've got the right kit and check the weather forecast before heading out."
Check out more of Hamish's photography at: www.hamishfrost.com.