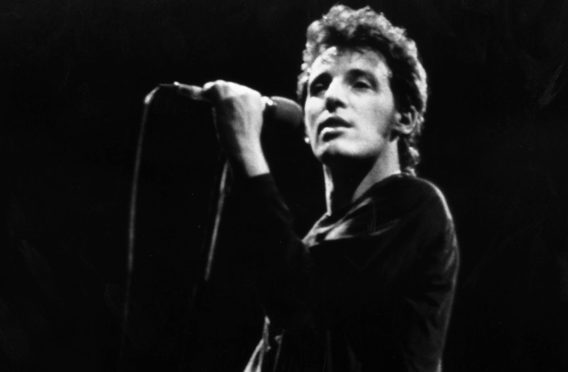 He'd gone in for a short back and sides. He came out with a new musical obsession.
As Roddy Hart prepares for one of the biggest weekends of his career as a songwriter and singer, he recalled how his appreciation for the songwriting and musicianship of Bruce Springsteen took shape in the seat of a Glasgow barber shop.
The Radio Scotland broadcaster will be at the centre of a celebration of the work of Bruce Springsteen as part of the Celtic Connections festival.
The Roaming Roots Revue, now a popular staple in the festival's annual schedule, celebrates the 70th birthday of the New Jersey legend, known to millions simply as The Boss.
"I used to go to barbers called Stupart's and Alan, the guy who cut my hair, was the biggest Springsteen fan," said Roddy during a break from his band's rehearsals last week.
"He used to swap bootlegs with me, CDs of rare radio performances that Springsteen had done. So I got really into the underworld of Springsteen and discovering all the rarities, things that weren't otherwise available.
"He gave me things that allowed me to develop this admiration for who Springsteen was as an artist and what he stood for, the circus of the E Street Band the showmanship.
"But I was getting into him when he was uncool, in the mid-90s, when it was all about Blur and Oasis, and people were asking why I was listening to Springsteen. Then, in the mid-noughties, he was back in fashion, and people were beginning to understand."
Roddy and his band The Lonesome Fire will be joined on stage by a revolving cast of singers including Scottish folk favourite Karine Polwart and Irish singer Lisa Hannigan, among others.
Staged over two evenings, at Glasgow Royal Concert Hall tonight and the city's Old Fruitmarket tomorrow, the concert is the latest in a long line of celebratory reflections on the work of hugely influential artists.
Last year's Roaming Roots Revue was a celebration of The Beatles' Abbey Road, while previous jamborees have tipped a cap to the music of 60s Americana legend Levon Helm and The Band, with others celebrating female songwriters and the sounds of Laurel Canyon.
With the Boss hitting 70 last September, there was only ever one option for a Springsteen devotee charged with coming up with a themed night of musical collaboration.
Roddy said: "The first one we did, there were only 600 people at the concert hall, and I remember thinking, 'Well, we won't be doing this next year.'
"But it was a transformative night and got some great reviews, and we've built on it since then. This one sold out in a few hours and Donald Shaw phoned me worrying that folk thought it might be Springsteen himself performing. Now we can't wait for these shows. We've been rehearsing the past week and every time we break into one of the big songs.
"Our guitarist, John Martin, and I are Springsteen devotees, and we've just been grinning at each other ear to ear. It's brilliant winning over some of the other band members.
"Scott, our drummer, finished playing Born To Run yesterday and he said it was the most exciting song he has ever played in his life. Springsteen writes about the struggle to exist, to be free, about people who are victims of circumstance, born into a life that they don't understand or that somehow inhibits their dreams.
"It's that sense of looking forward, trying to feel that you're more than your own background, that you can escape, and that you can make your life whatever you decide you want it to be.
"That's hard to write about as a Scottish artist. Springsteen's as blue collar as they come, and a guy from Glasgow trying to do that sort of thing is very difficult.
"Ricky Ross (the Deacon Blue frontman) writes songs in a Springsteen style but with a Scottish feel to them, it's hard to do but he's the master at it."
Roddy's roles as presenter of BBC Scotland's Quay Sessions and a Radio Scotland music show mean he's expertly placed to curate the Roaming Roots line-up every year.
He said: "Part of my job is to think of it like an album – what's the opener, what's going to create the right atmosphere, what are the key ballads, the light and shade, how do you bring it home like Springsteen would with four bangers at the end?
"But a great song is a great song – and this will be wall-to-wall great songs. All night."
---
The concerts
Roddy Hart and The Lonesome Fire's Roaming Roots Revue: Born to Run will be bolstered tonight and tomorrow with a line-up including Grammy-winning songwriter Ryan Bingham, The Hold Steady frontman Craig Finn and singer Jonathan Wilson.
Here, we hear from three acts joining the celebration of The Boss's 70th birthday.
Karine Polwart, Folk singer
"His songs are stories, strong narratives with strong characters. They're about the disaffected, the marginalised, the invisible people, the people who don't count. And in that respect, they have a lot in common with what would constitute Scottish or English or Irish folk music.
"The Ghost Of Tom Joad is one of the songs I'm going to be singing, which harks back to The Grapes of Wrath by John Steinbeck. it's about the disaffected people of America.
"He's explicitly making a connection between contemporary America and the 1930s, the Great Depression era. His writing is super-politicised. It's hard not to read a lot of his writing in the last decade as being about what capitalism has done to America.
"My favourite is Streets Of Philadelphia, a song about someone who has no value, no worth, who is clinging on to hope. That song, written during the peak of the AIDS crisis, was a very bold thing for a writer at the top of his game to do at that time – to humanise the experience. The songs which are more fragile and vulnerable are the ones I think are more beautiful."
James Welbourne, One half of folk duo The Rails with wife Kami Thompson
"I was a latecomer to Bruce Springsteen. I was in my 20s before I really delved into his back catalogue, becoming a huge fan of the breadth of his work from Nebraska to The River.
"It's a really amazing songbook. People can relate to him. He's an honest songwriter. He admits he has never worked a day in his life. His songs go straight to the heart.
"One of the songs Kami and I are doing is Racing In the Street. It's my favourite Springsteen song. We do it our own way, we sing in harmony.
"It's a daunting task to deliver one of his songs and do it justice. He's just always been there, the great American songwriter."
Phil Campbell, Formerly of The Temperance Movement, now with The Bisons
"I'm doing Born To Run and Darkness On The Edge Of Town and a few others.
"It's a big thing, playing any Bruce Springsteen song, doing anything to do with Springsteen, because the songs mean so much to people.
"So you want to do it justice and perform it in the right spirit of joy with the performance bravado he has.
"Roddy Hart hasn't just gone for average versions. He's picked out a few live versions of songs which I'm sure the diehard fans will pick up on.
"I can't wait to do this. It's going to be great to be around all these really great musicians. It's such a gift.
"I met Roddy when I was working in a coffee shop years ago, and I'm blessed to have met him.
"Roaming Roots Revue is the best thing in the Celtic Connections festival."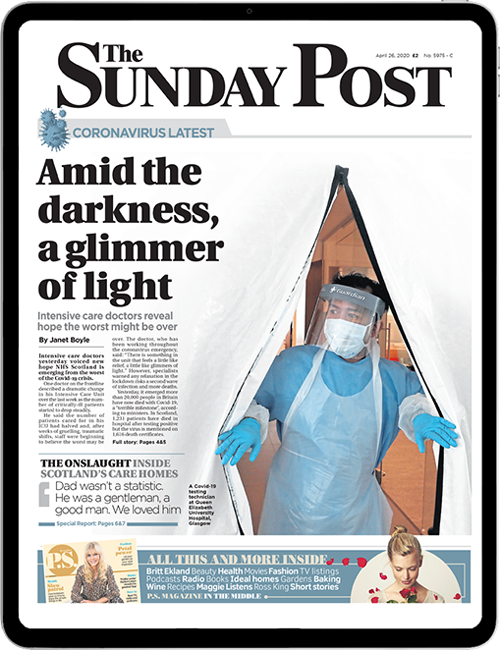 Enjoy the convenience of having The Sunday Post delivered as a digital ePaper straight to your smartphone, tablet or computer.
Subscribe for only £5.49 a month and enjoy all the benefits of the printed paper as a digital replica.
Subscribe