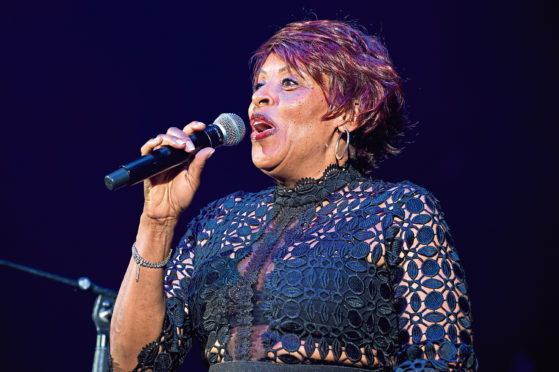 The Car Wash is still a funky place to be if you bump into Rose Royce while you are there or, more especially, if you bump into Gwen Dickey, who is the amazing voice singing that fantastic song.
Pick your own Rose Royce favourite and you will almost certainly be hearing the voice of Gwen Dickey on such classics as Car Wash, I Wanna Get Next To You, Love Don't Live Here Anymore, Wishin' On A Star, Ooh Boy and I'm Goin' Down.
Gwen has fought against the odds and is still packing venues everywhere despite a freak accident that has almost paralysed her.
"It was one of those ridiculous things," she explained. "You hear about freak accidents and that is exactly what happened.
"I was going to Barbados for a holiday and needed to get some swimwear out of my loft.
"To reach it I needed a stepladder. I had done this many times before and always checked that it was stable.
"This time I stepped up and it kind of just gave way. I fell about eight feet to the ground and landed in a heap.
"It was very painful and I knew straight away that I had done something serious. When I tried to move I just could not get my legs to work. I was helpless and in an awful lot of pain.
"It turned out that I had damaged my spinal cord and the messages from my brain were no longer getting through to my legs.
"The pain was bad enough but the agony of not knowing what the future held was also pretty awful."
When Gwen was a little girl, she wanted to have a career that would be exciting and mean a lot of travelling.
But she did not have it in mind to sing professionally when she was growing up in Mississippi where she was born in 1954. Gwen wanted to be an air hostess.
"I loved music from a very early age, probably from the moment I first heard a song," she recalled.
"Music worked its magic on me and I used to sing all the time when I was little. We were not well off so we made our own amusement and singing was something just about everyone in the neighbourhood did.
"I never thought of singing professionally though, I would go so far as saying that it was something I definitely did not want to do. I wanted to travel and being an air stewardess seemed like a good option.
"That didn't work out and I was living in Miami when someone persuaded me to do some singing.
"Well, one thing led to another, you start to meet people who hear you, like you and the doors start to open.
"That's what happened to me and I joined Rose Royce. I loved the music of people like Earth, Wind and Fire, we all did.
"I still do by the way and we wanted to have the same kind of feel good as they and others had. Car Wash was just perfect in 1976 and everybody loved it.
"So, I never made it as an air hostess but I have travelled quite a bit and had a lot of fun along the way. You cannot help having fun when your whole life is about music."
Gwen still has people calling her Rose Royce instead of her real name.
"Yes, a lot of people seemed to actually think that my name was Rose Royce," she laughed.
"It got to the point that I started introducing myself as Rose and the press knew that I was called Rose. Even today when some people see me they go 'Hey, Miss Rose Royce' and I don't correct them.
"The problem was that the rest of the band did not like it very much because it started to sound as if it was my band, named after me and that was not at all the case, we were all in it together.
"So I felt that I had to come up with a surname and for a while I was known as Rose Norwalt.
"We were in big demand for gigs, TV, radio and interviews and it was not at all the kind of life I had been brought up to expect so I found it quite stressful really.
"I wasn't used to the fact that every time you walk out of your house there are people hanging outside waiting to take your picture for a magazine or a newspaper.
"You had to be careful who you were talking to because you could be talking to someone who you thought was just a normal person like yourself and you didn't know that it was a journalist looking for an angle until it was too late and you were in print.
"Most were not like that but you had to be careful and I was very inexperienced.
"Even when you were going out with a friend to have a burger or something you could end up with a picture of yourself on the front page with your mouth open trying to eat a burger.
"For me, because I was so young and reserved, it was very stressful. I don't think I handled it very well but I am much better at it now I hope.
"I do understand when people become famous quite young and almost overnight and they hide from the media. Being constantly on show and having to watch what you say can be really stressful."
Far from giving up and retiring after her accident, Gwen resolved to keep on recording and performing.
"I have always been an optimistic person and I felt the love of the fans here in Britain where I have been living for some years and also back in the States and other parts of the world.
"I have had so many cards and letters and good wishes notes and people urging me not to give up so I knew that retirement was not going to be an option. I couldn't do it, I would go crazy.
"So, I carried on and it is going great. The music seems to be as popular as ever. I have hurt my back but not my voice.
"I realised that people come to listen to me, not to see me. It doesn't matter that I'm in a wheelchair or on a stool or using a walker, it's the music which counts."
In fact, Gwen is usually carried on to the stage on a luxurious red chaise-longue which makes for a grand entrance.
She was right, her fans understand that she cannot dance as she used to but she can certainly sing.
"I am very grateful that I can still sing and I still love the music and even though I cannot actually dance, I am dancing in my mind and with the rest of my body and everyone at the gig does some extra dancing for me so every night is a great night!"