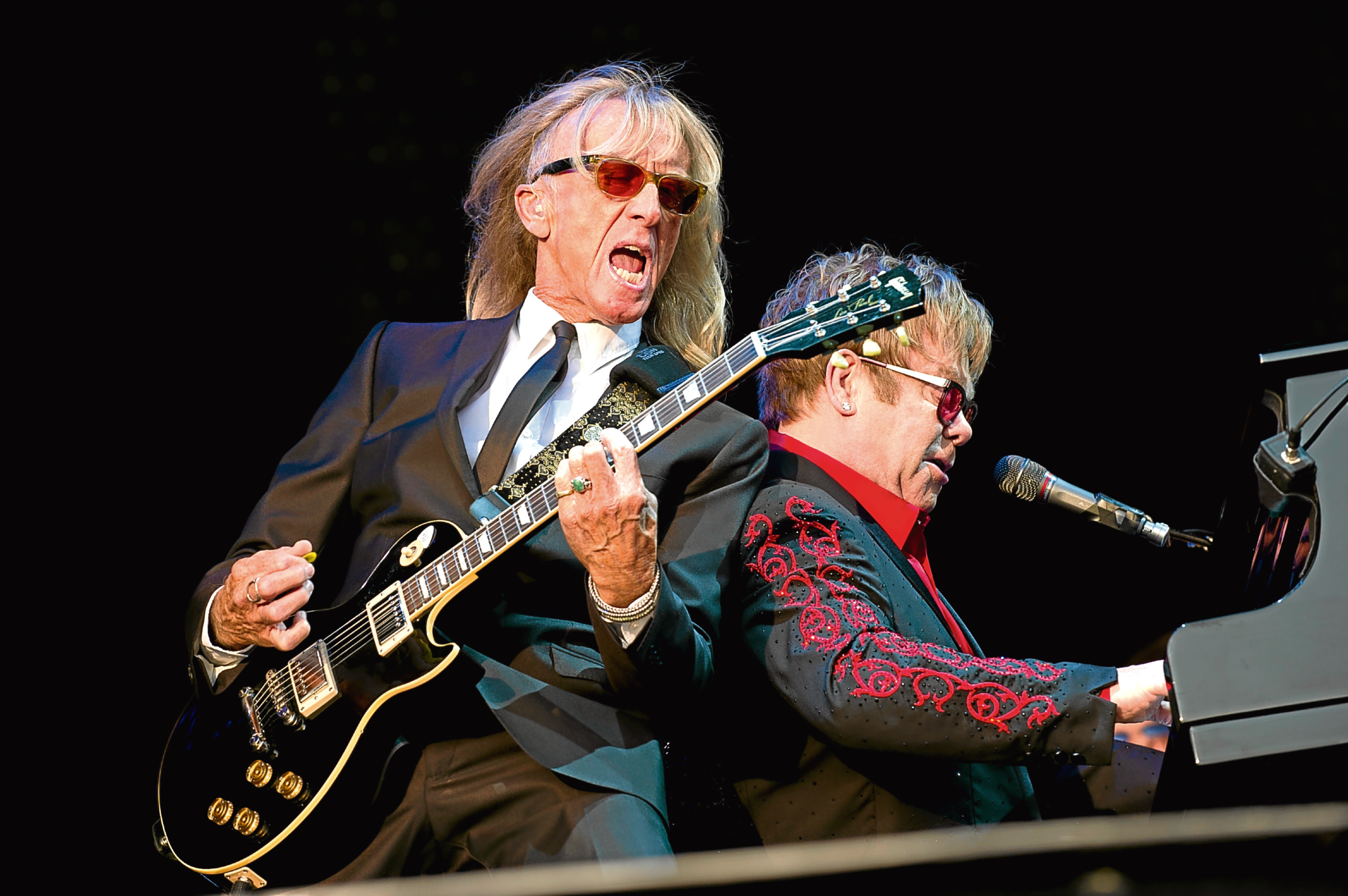 BACK in the day, Davey Johnstone's get-togethers with big pal Billy Connolly were a boozy affair.
Davey, who is Elton John's musical director and long-time guitarist, says their meetings now are much tamer affairs.
"I first met Billy in Airdrie when I was 15 and he was about 20 and in the Humblebums," Davey, 65, told iN10.
"Our schedules are such that we mostly keep in touch via text and email. I knocked drinking on the head eight years ago – it had become a habit to go to the bar, not the room, whenever I checked in to a hotel and it was just getting OTT.
"Billy obviously did the same years ago. He never made a fuss about it and is still hilarious.
"When we got together back in the old days it'd be a session in the pub with pints of Guinness. Now we go out and have afternoon tea."
Edinburgh-born Davey will, as it happens, be making a return trip to Airdrie with Elton in June on the megastar's latest tour.
Elton will be at the Excelsior Stadium, delighting fans with a run-through of his greatest hits on his Wonderful Crazy Nights tour.
Davey has played on just about all of them during his remarkable 46-year association with Elton. He was asked to play as a session musician and then full-time band member back in 1971 in the days when Scot John Reid was Elton's manager.
"He was kind of bubbling under at the time," recalls Davey. "What struck me was how open he was to ideas.
"If I suggested something different to what the producers or more experienced band members said then he didn't see me as some young upstart.
"If it was a rubbish idea he'd tell you and he's still as feisty as he ever was."
Despite that, and Elton's reputation for blow-ups and Davey says they don't argue.
And the respect in which he holds Elton is clear.
Davey paints a picture of a super-smart individual who devours crossword puzzles as if they're going out of fashion.
He recalls a recent one hour and 40 minute flight back from El Paso during which Elton rattled through six of the hardest brainteasers.
"He's very funny and we share a sick sense of humour," confides Davey. "Some people mistake that for being obnoxious, but that's not the case.
"Because he's such a big star, when he walks into a room it's like the air actually changes.
"He's quite shy in his own way and he's had to develop a way of dealing with people and those situations. I think he's done that brilliantly."
Ask Davey what Elton isn't good at and he's quick to admit that rehearsals aren't his strong point.
But with a "surrogate Elton" standing in for those times, it means the band are all good to go by the time they're joined at show time.
And Davey insists performances are more fun than they ever were, with changes and impromptu moments thrown in as musicians who just love what they do.
There's certainly plenty of opportunity to practise, with Davey detailing a hefty touring schedule.
So hectic, he has to turn down requests to do other work with big names such as acclaimed film composer Hans Zimmer and Stevie Nicks from Fleetwood Mac.
Over the years Davey has, however, worked with some of the biggest names in the business, including Meat Loaf and Alice Cooper.
And he can't help but chortle as he recalls Elton, who reckoned he knew everyone, being a bit miffed when Davey introduced him to pal George Best.
These days, after many hell-raising times along the way, life is quieter if no less hectic for Davey.
He lives in Calabasas in California, now famous – or infamous he suggests – as home to the Kardashian clan.
"I've had the house here for about 30 years, long before the Kardashians," he adds.
"It's still very rural and when I look out the window over my back yard I can't see another house.
"When I first came in the '70s I didn't like it at all. It was all too hot and bright – not what I was used to in Scotland.
"But it grew on me. The thing I still miss is the humour and the chat from back home."
Elton John, Excelsior Stadium Airdrie, Sat, June 24. Tickets are available from ticketmaster.co.uk/eltonjohn