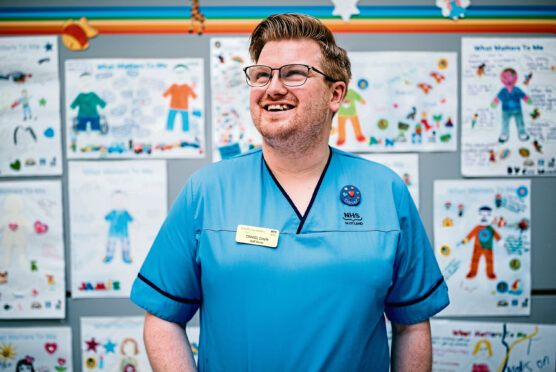 Enduring a chaotic childhood in Govan, 24-year-old Daniel Doyle could have easily lost his way in life.
He didn't though and today the dedicated nurse is the latest to be nominated in The Sunday Post's People's Choice award in the Royal College of Nursing Scotland's Awards.
He told how his mother suffered from crippling bipolar disorder and, unable to be the mum she wanted to be, he was often left to support his younger brother.
"You grow up fast when faced with the responsibilities of adulthood," said Doyle. "I do not blame my mother because mental illness can affect any of us and I am still on good terms with her and love her dearly.
"One of the most important things I learned growing up is not to be overwhelmed by huge challenges. Thankfully, my dad and family provided us with a major support system. Aberlour Child Care Trust stepped in to help provide us with a focus and helped mentor us through some really challenging times.
"Without everyone, we could have easily been lost in the chaos that affects so many children like us."
He left school at 17 with enough standard grades to gain entry to a college course in social care and left with an HNC, which was to become a passport to a nursing degree at Glasgow Caledonian University.
"From there I got a staff nurse post attending children with serious congenital heart disorders at the Royal Hospital for Children in Glasgow.
"Children with major heart defects from all over Scotland are referred to the unit.
"It carries huge responsibilities. There is the lovely feeling of joy being able to help save and improve young lives. Then there is also the heartbreak of children so seriously compromised with heart defects or the complications that arise after treatment that they cannot survive."
After leaving his job with Scotland's youngest heart patients he heads off to help patients in distress living on the streets of Glasgow.
He spends his weekends off duty as a nurse volunteer clinician with Glasgow Street Aid.
The medical street team charity deals with emergency medical trauma including drug overdoses, cardiac arrests, serious injuries, attempted suicides and other major mental health ordeals.
Administering Naloxone to reverse lethal opiate overdoses of street drugs is a common act of mercy in city streets.
"Most people end up on the streets because the mayhem of life becomes too much to deal with," he adds.
"Saving lives is the first step to ­rescuing them. It's a privilege to nurse patients at their most vulnerable. We have all lived through terrible times at some point, and we all know and recognise desperation.
"At Glasgow Street Aid we are all able to turn around lives when all hope seems lost. Nurses don't walk by on the other side."
Doyle is the latest nomination in The Sunday Post's People's Choice award in the Royal College of Nursing Scotland's Awards.
The Post's People's Choice Award is a wonderful opportunity for everyone to thank a nurse, midwife or nursing support worker who has gone above and beyond the call of duty to improve a patient's life and care.
Julie Lamberth, RCN Scotland board chair, said: "All the nominations that we receive will demonstrate how nursing staff go the extra mile to provide high-quality nursing care, day in day out, for the people of Scotland."
Nominate today at
rcn.org.uk/ScotAwards
, email scotlandnurseawards@rcn.org.uk or write to Royal College of Nursing Scotland, 42 South Oswald Road, Edinburgh, EH9 2HH.
Just explain who you are; who your nominated nurse, midwife of nursing support worker is; and why. Nominations will be accepted over the summer and are also open to nurses who are not members of the college. The awards ceremony will take place in the Grand Gallery of the National Museum of Scotland on November 30.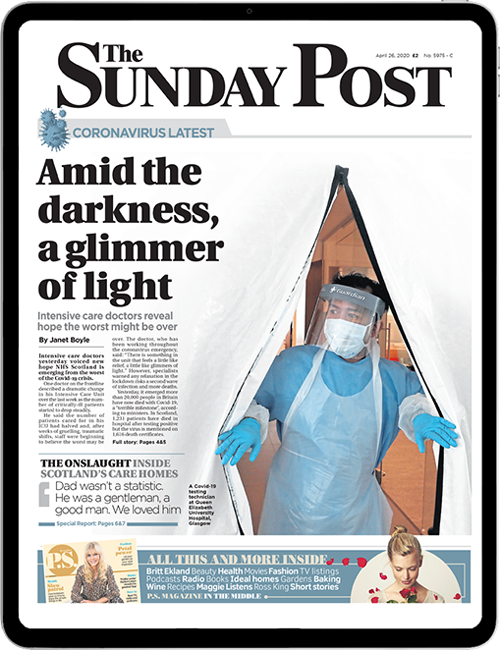 Enjoy the convenience of having The Sunday Post delivered as a digital ePaper straight to your smartphone, tablet or computer.
Subscribe for only £5.49 a month and enjoy all the benefits of the printed paper as a digital replica.
Subscribe