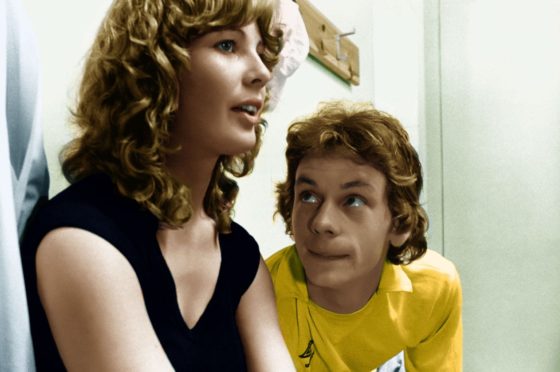 Forty years ago this month, Gregory's Girl captured the hearts of cinemagoers. Despite its low budget, Bill Forsyth's coming-of-age romantic comedy about a schoolboy goalie who falls for his female centre-forward delighted fans and critics alike with its quirky tale of teenage angst, first love and football.
Apart from a few well-known adults, such as comedian Chic Murray, the film's cast consisted largely of unknown young actors.
However, it made stars of John Gordon Sinclair, Dee Hepburn and Clare Grogan, while its cinematographer, Mike Coulter, would go on to work on such successes as Four Weddings And A Funeral, Notting Hill, Sense And Sensibility, and Love Actually, earning himself an Oscar nomination. The film also paved the way for a new wave of Scots movies, ranging from Local Hero to Shallow Grave and Trainspotting, and put Scotland – especially Cumbernauld – firmly on the world movie-making map.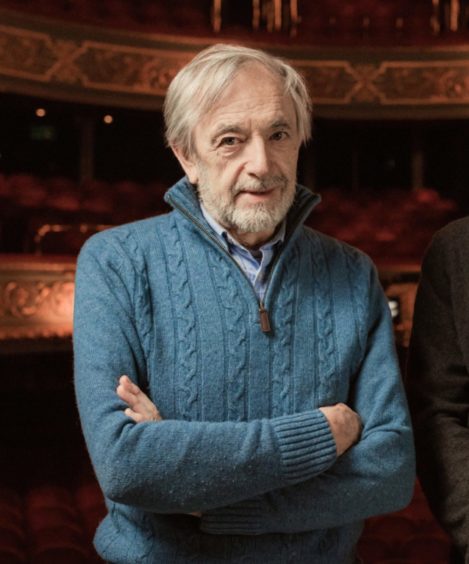 Why Cumbernauld? "At the time there was huge unemployment in Glasgow with heavy industries closing and strikes," recalls Bill Forsyth. "The city wasn't looking or feeling its best."
On the other hand, Cumbernauld was only 10 years old, a new town set between Glasgow and Edinburgh. When it was built, TV adverts tried to tempt people to make it their new home with the cheery reminder – "What's it called? Cumbernauld".
Bill Forsyth and Gregory's Girl took up the challenge, portraying the Lanarkshire town as a youthful oasis of smart, sparky women and permanent sunshine where "there's definitely something in the air" as schoolboy Andy (Rab Buchanan) excitedly declares to his pal.
To celebrate its 40th birthday, The Sunday Post revisits the movie's most-loved moments with Bill and some of his stars.
---
The locker room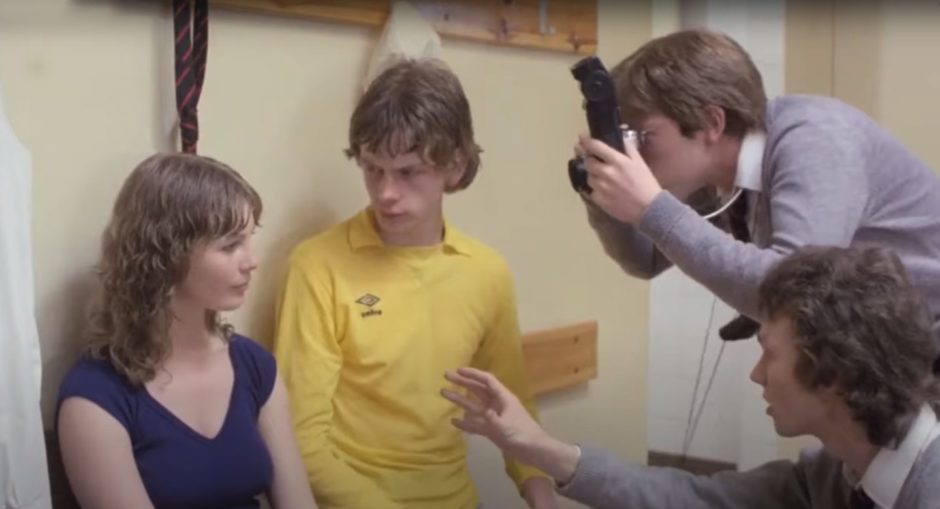 When Gregory is frozen out by the school reporter interviewing Dorothy, John Gordon Sinclair wasn't acting.
Director Bill Forsyth said John had been enjoying his scenes with Dee Hepburn, when the actor playing the reporter started flirting with her: "During that scene, Gordon became jealous because, between takes, the other guy was chatting up Dee. And he had a car he could really drive. So the whole thing became real. He was really mad, you know?"
---
The school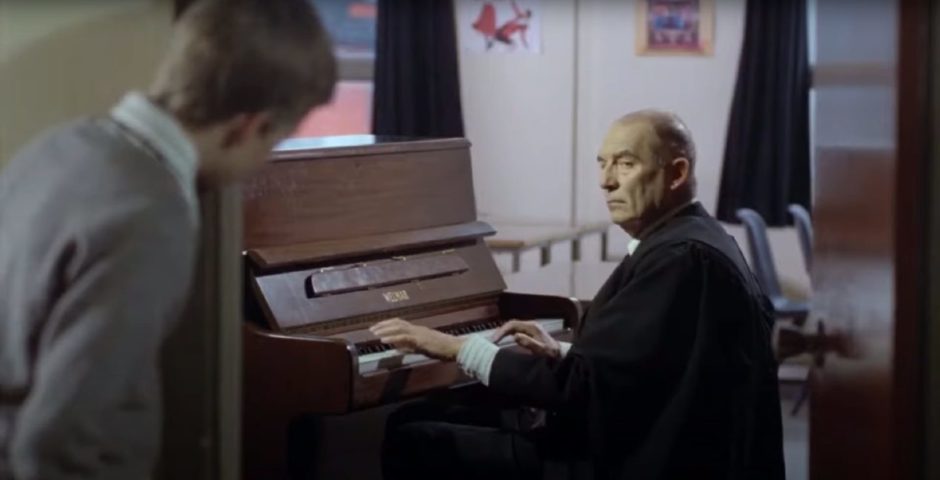 Abronhill High School became the film's HQ for the duration of the shoot. The movie was made during the school holidays in 1980, so the production had the run of the place as location, base and canteen.
The success of the movie transformed the school and its red ash football pitch into a movie landmark until it finally closed in 2014.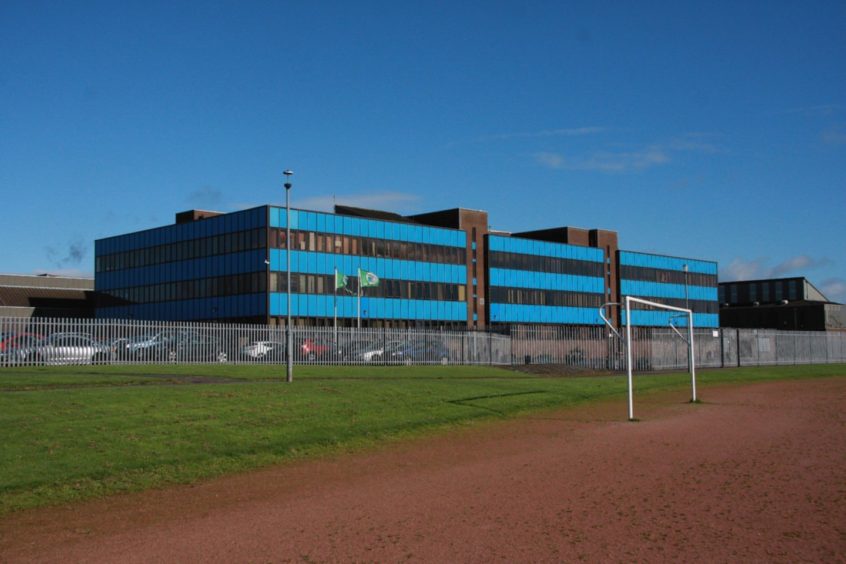 Despite protests, the school was demolished as part of cost-cutting plans by North Lanarkshire council. The piano played by movie headmaster Chic Murray survived, however, and is now at Cumbernauld High.
---
The top scorer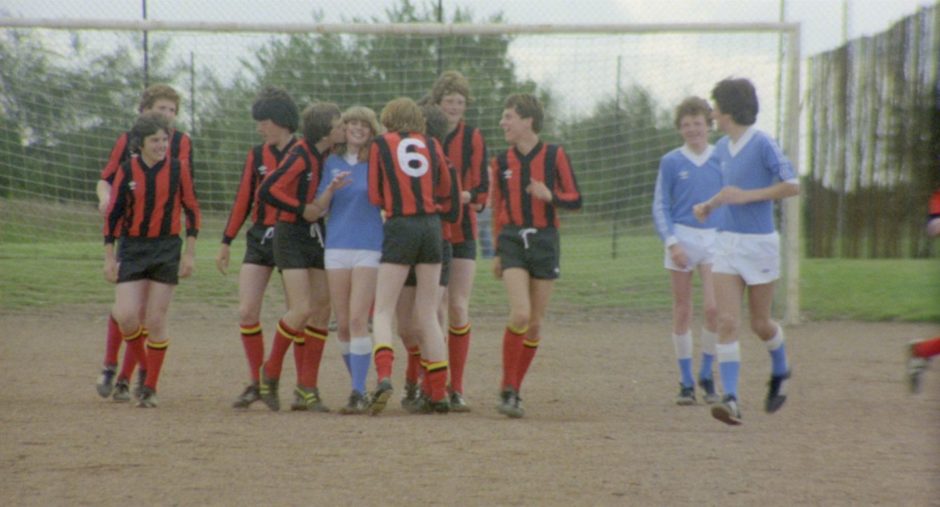 Dee Hepburn as ace footballer Dorothy was one of the few performers with previous acting experience, but she had never played football before.
"We arranged for her to be coached at Partick Thistle," recalls Bill.
One of her coaches was Alan Rough, then the Scotland goalkeeper, fresh from the disastrous 1978 World Cup. By the end of the training, Dee had learned to do keepie-uppies for 40 minutes but she didn't get much of a chance to show off these new skills on screen. Instead, at Cumbernauld Tryst, she played games with wee boys who kicked lumps out of her legs.
Dorothy's debut for the school team was shot on a wet day. "When I was trying to find something to give the cast as a souvenir I bought a couple of dozen of the referee's whistles and had them engraved," says Bill.
"On the side it said 'the worst summer since 1907' because that's what it officially was. The pitch changed colour in the rain, then the sun would come out and it would dry up and go from deep orange to pink in half an hour. The cameraman was going crazy."
---
The romance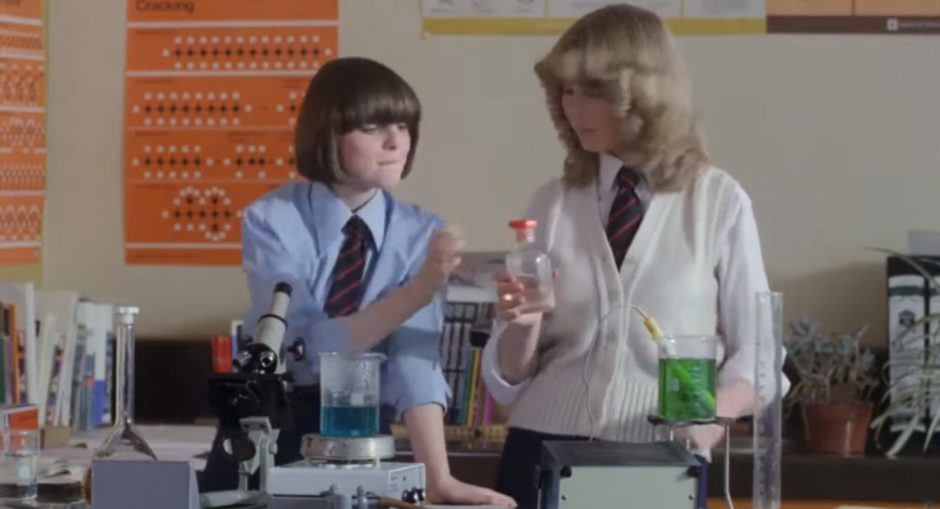 Clare Grogan was talent-spotted while serving Bill Forsyth pasta in a Glasgow restaurant. "Had I been to Cumbernauld before? Never," she remembers with a laugh.
"There were no rehearsals for us and before we knew it, we were all on set getting on with it. I remember being annoyed because I'd just left school and now here I was putting on another school uniform."
"The other clothes I wore were my own or belonged to my two big sisters – and that bob haircut was my idea. I still love it when people quote me lines from the film and say I used to have the same bob haircut Susan had.
"Mind you, at the end of my first day, the make-up lady said to me, 'When you come back tomorrow, could you wash your hair?' I was mortified."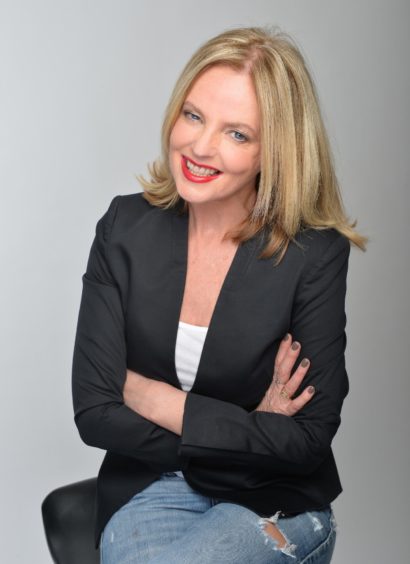 Clare remembers a lot of it "really clearly". "I particularly remember the part with me sitting on a bollard whistling, waiting for John Gordon to come out on our date. Bill had been determined I had to be a whistler. Unfortunately, I was a seriously bad whistler, so I had to practise for weeks. Bill was so reassuring, he'd say "I picked you for a reason" to give me confidence."
As for the two of them lying on the grass, trading favourite numbers, as they dance by waving their hands in the air? "That very much came from Bill," according to Clare. "I've been asked to do that in many places, by many different people, to recreate that moment – even on the Tube. It was a bit more embarrassing doing the kissing scene on the doorstep in front of a crew for an entire evening. I don't think I'd even had a boyfriend at that point!
"Fortunately, Gordon and I got on really well, although when we first met up I was a bit worried because he was wearing flares at a time when the rest of the world had moved on to straight-leg jeans!"
---
The young team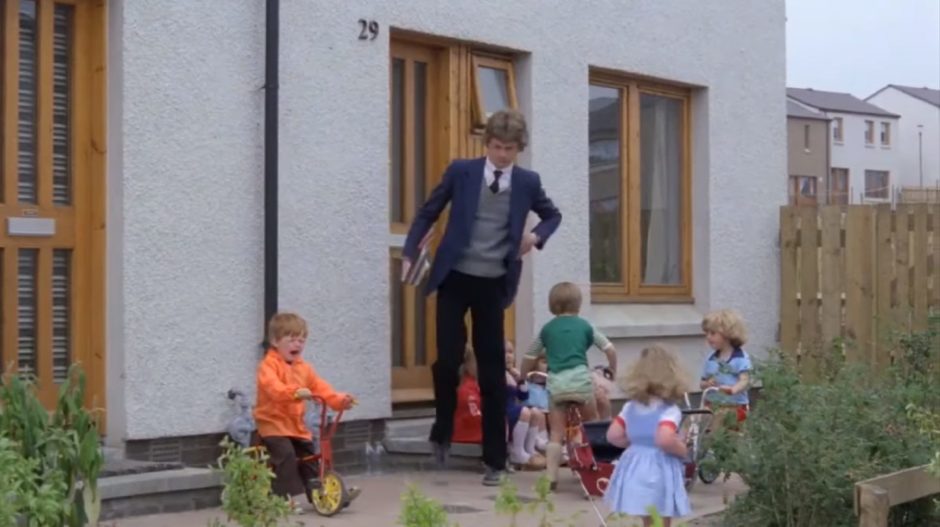 Director Bill Forsyth remembers the scene with Gordon navigating a crowd of toddlers and said it was perfect for such a young town.
"I thought to myself, 'why don't we set the film in an adolescent town?'" says Bill. "Even the trees in Cumbernauld are 17-year-old teenagers so everything fits. The town itself struck me not as modern or futuristic, but gawky and not yet settled in its way."
"In the same sense, there are very few grown-ups in the film. During that time in your life, your parents and other adults recede into the background, almost as if they had disappeared."
Teenage electrician John Gordon Sinclair had appeared in Bill's first film That Sinking Feeling but was amazed to be offered the all-important role of Gregory. "During filming, I didn't really know what was happening," he said. "I was just thrilled to be there with Bill and some friends.
"At the time it was very special in the sense it was a movie being made in Scotland and it was exciting being a part of that. Gregory's life experience was much the same as mine. I used to be dragged through life by the hair."
---
The big date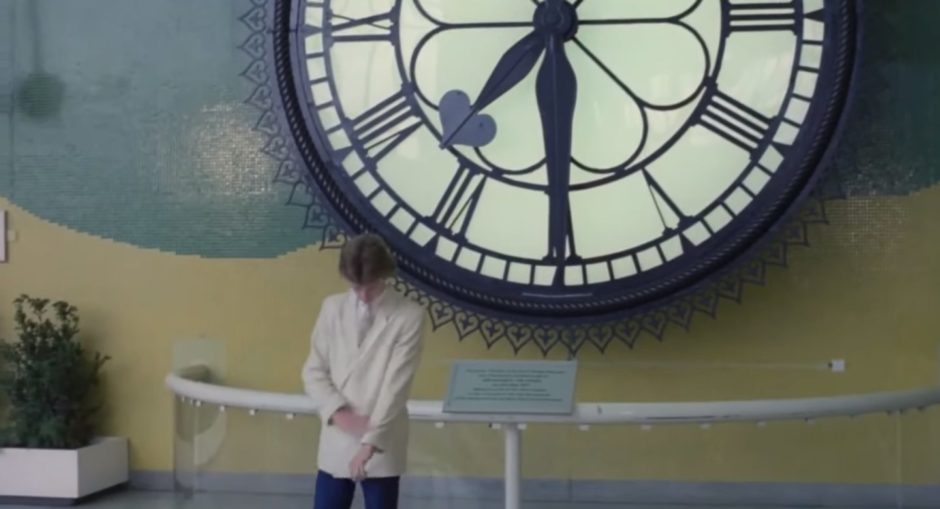 After plucking up the courage and asking Dorothy on a date, Gregory waits under the clock at the Plaza Shopping Centre.
The area has since been redeveloped and the clock is in storage but you can still get chips at the Trio chip shop on Ash Road where Dorothy's friend Carol (Caroline Guthrie) launches Gregory's long journey across town that eventually leads to love.
"The legs you see coming down the stairs to meet Gregory at the clock aren't mine! They belong to the make-up artist because they filmed it on a day I wasn't there," recalls Caroline. During their walk, Carol makes Gregory wait outside a phone box while she changes into her clubbing gear of miniskirt and off-the-shoulder top.
"I had to stand on a box because I was too short for the camera angle. I remember an old man walking by who was not impressed by my costume at all and told me exactly what he thought I looked like!"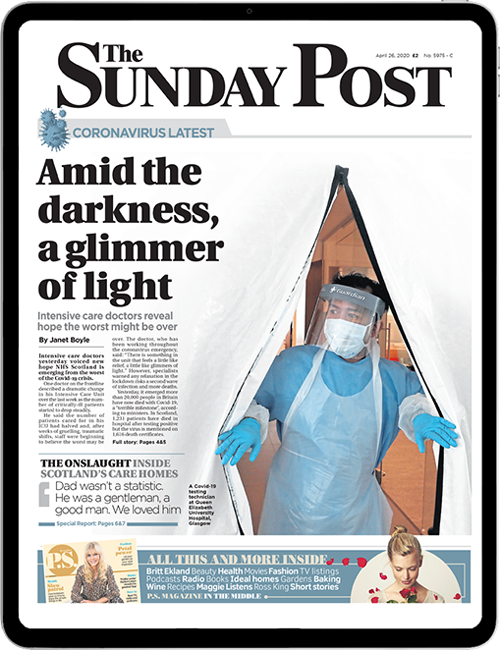 Enjoy the convenience of having The Sunday Post delivered as a digital ePaper straight to your smartphone, tablet or computer.
Subscribe for only £5.49 a month and enjoy all the benefits of the printed paper as a digital replica.
Subscribe