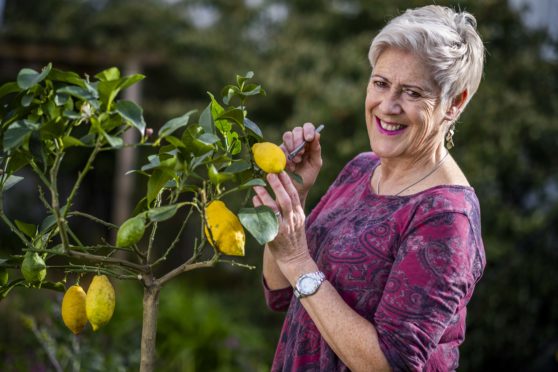 Scotland's annual festival of gardening will bloom again this week when the grounds of the Royal Highland Centre in Edinburgh will be transformed.
Preparations for Gardening Scotland 2019 and the green-fingered extravagangaza will be celebrating its 20th anniversary when, for three days, from Friday, garden lovers will head to Ingliston to immerse themselves in the flowers, gardens, plant sales, workshops and demonstrations.
That first show in the year 2000 was put together in a matter of months by a group of horticulturists who thought Scotland deserved its own gardening celebration. And they were right.
Visitors poured through the gates in huge numbers and they've continued to flock to Gardening Scotland ever since, eager to snap up plants, be inspired by glamorous show gardens, talk to experts and discover ways to make their plot a haven for wildlife.
Over the years all kinds of people, from politicians to celebrities have been known to pop in for plants and gardening advice. Princess Anne has visited twice. And the Show has also had an impact on the wider gardening world.
The popular Pallet Garden challenge, organised by Scotland's Garden Forum, was launched at the event more than a decade ago and has since been copied by schools and organisations across the country who are keen to get children gardening.
Jimmy Gilchrist, chairman of Gardening Scotland, says: "The show is a celebration of all that's great about gardening in Scotland. We have wonderful nurseries, a varied climate that allows us to grow all kinds of different plants, an impressive list of experts and organisations that are at the forefront of horticulture and a public that understand the many benefits that gardening can bring to their lives.
"It's why, after 20 years, Gardening Scotland is such a much-loved event."
Now the race is on to get this year's show ready in time for Friday's opening.
Over the next few days, gardeners, designers and landscapers will work through the night, building walls, planting trees, manoeuvring sun rooms into place and then covering the gardens in flowers and foliage with the aim of making them look as if they've always grown there.
But it's not just the landscape that's undergoing a transformation. For some of those involved in the show, gardening has also been the catalyst for major change.
Here we speak to three of the lecturers and students from Scotland's Rural College who this year are involved in creating College Street – a line-up of identical front gardens, each designed and planted in a radically different way – and for whom a passion for gardening has grown into an entirely new career.
---
Heather Munro
Before she turned to watering plants, Heather Munro used a hose pipe to save lives. For 15 years she was a fire fighter with Lothian and Border Fire Brigade, rising to the position of Watch Manager before her love of gardening got the better of her and she enrolled in a horticulture course with Scotland's Rural College. More studies and work experienced followed and now Heather is a lecturer at SRUC's Elmwood campus in Cupar.
"Horticulture has definitely changed my life, " says Heather, whose earliest gardening memories are of picking brambles and hunting for four-leaf clovers in her grandmother's garden in Dunfermline,
"I have always had a passion for gardening and now I can spend all my time doing things that I love including teaching students to take cuttings in order to make new plants. It's like magic when you see it happen, it doesn't cost anything and it is so satisfying."
Gardening is not Heather's first career switch. After leaving school at 16 she attended night school to gain qualifications for university from where she graduated with a clutch of degrees, but being amongst plants is what she loves best and she even set up her own garden maintenance business to help her through her horticulture studies.
And Heather is still on her own educational journey having recently returned from a trip to Romania where she was looking at horticulture and small-scale farming. She's going back over the summer but not before she and her students complete their College Street garden.
Heather says: "Gardening Scotland is just a great place to be if you love horticulture."
Favourite flower:
"I love French marigolds because they are bright and cheerful and because they deter greenfly."
Top Tip
"Cucumbers don't like water anywhere near their leaves so sink a 9cm pot into the soil of the larger pot where the cucumber is growing so that you can pour water into the small pot avoiding a water splash."
---
Marc Harper
When Marc was made redundant from his job on a construction site in Cyprus his wife was pregnant and he had to find a way of supporting his family, so he began working in a neighbour's garden three days a week until a local Cypriot garden offered him a full time job.
"It was a career I seemed to just fall into. The lightbulb moment for me though was the first time I saw a tendril growing on a plant and I was fascinated by it" says Marc.
Five years later, when he returned home to Fife, he decided that it was time to get qualified.
"I was very nervous about going to college. I was 29 at the time and had never really enjoyed school, but college offered me something different. The class was very mixed in terms of ages and backgrounds and I felt as if I was in the right place".
Struggling initially with botany, plant identification and photosynthesis, Marc volunteered at National Trust for Scotland gardens in Culross and Falkland Palace and worked at a plant market and as his knowledge and experience grew he went on to win several college prizes.
Marc then embarked on a degree at the Royal Botanic Garden Edinburgh, where his passion for plant classification and ecology won him yet another prize.
Soon after graduating Marc was offered a job as a lecturer at Elmwood where he enjoys passing on his knowledge to other.
"Teaching is challenging and hard work but I love it," he says.
"I enjoyed being a labourer, but this is much more rewarding. I've got a love for nature and for getting my hands dirty and sometimes when I'm doing practical tasks with students I forget that it is a job.
"Horticulture has changed my life."
Favourite Plant:
"Gunnera is my favourite plant because of memories of my daughter aged around three, running and hiding under it's in the Edinburgh Botanic gardens."
Top Tip:
"Don't be scared to try anything. If you kill a plant it doesn't really matter.You'll learn from it and won't make the same mistake again."
---
Mairi MacRitchie
Garden design student Mari MacRitchie has swapped crimping celebrity hair for cultivating plants after a lifestyle change saw her make a return to college.
Mari, 61, who is studying for an HND in Garden Design at SRUC in Edinburgh started her career as a hair and makeup artist for film and television, working with stars such as David Bowie and Duran Duran.
After a trip to Australia in 1988, where she was introduced to Chinese medicine, she trained to be a shiatsu practitioner and ran a complementary and yoga centre in Glasgow. But it wasn't until she moved to Millport, on the island of Cumbrae in the Clyde, that Mairi got the gardening bug.
"I had always liked gardens and flowers but suffered a lot with hayfever when I was young and that had put me off spending time with plants. But my allergy has greatly reduced and on Millport I was thrown in at the deep end, having to design a large garden.
"I knew very little but I thought it looked great and I took on a community plot too, which
inspired me to study horticulture," she says.
As part of her course, Mari is working as part of a team to design a front garden for College Street. Mari's team have named their garden Bayet – Arabic for home – with the design incorporating a curved bridge path, water channel and plants that can grow in both a Mediterranean and Scottish climate.
"Gardening is a big challenge for me because I've been used to working with people and listening to them. Now I need to understand how plants communicate in order to give them what they need."
Favourite Flower:
"Some of my favourite plants are heucheras. There are so many different cultivars and I like the way their leaf forms contrast with their wispy flowers."
Top Tip:
"Even if you know very little about gardening just spending time looking and listening, with a little weeding, is can bring you and your plants lots of joy.
---