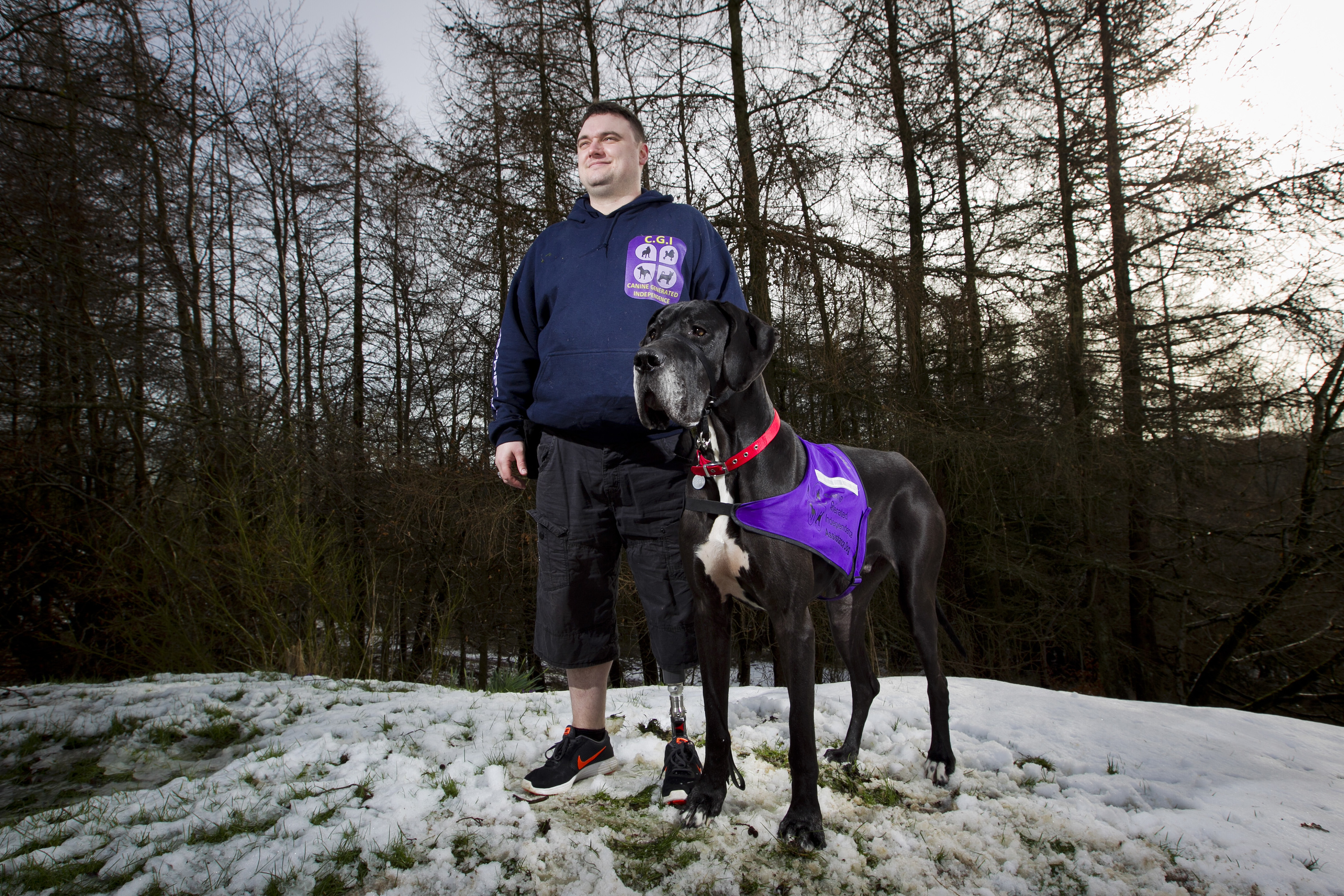 MEET Bruce, the unlikeliest nurse in Scotland.
The 12-stone Great Dane has transformed the life of his owner, Michael Keane, and is now up for a top award at the world's biggest dog show, Crufts.
Bruce came into Michael's life when the 28-year-old was at his lowest ebb.
A stroke at just 23 led to the former charge nurse's left leg being amputated, while frequent seizures and spasms made him afraid to leave the house.
His relationship with his wife Jennifer, who became his carer, also suffered.
But that's all changed thanks to his unmissable assistance dog, who Michael trained himself.
"Before Bruce came along I was majorly depressed and totally unsociable," dad-of-two Michael explained. "But he's opened up a whole new lease of life for me and gave me back my wife and kids."
Michael, from Cumbernauld, was a seemingly fit young man when he suffered the stroke.
"I didn't smoke or do drugs, so the doctors thought the most likely explanation was stress.
"My left side stopped working and for a while I was in a wheelchair. When I did get on my feet, I constantly fell over.
"I underwent skin grafts for the ulcers on my leg, but it was eventually amputated to help with the pain and they hoped a prosthetic would give me a better quality of life."
Soon after, Michael bought Bruce.
"I'm sure people were wondering what I was doing, buying a six-month-old Great Dane just after losing a limb," he smiled.
"I'd read that Great Danes were being used in America for people with PTSD, which I have, Parkinson's and multiple sclerosis, but the same didn't seem to be on offer here."
Michael came across a small non-profit organisation called Canine Generated Independence, based in England, which helped him to train Bruce as a qualified assistance dog.
"It took about a year to train him and is still very much ongoing," Michael continued.
"CGI supports me all the way and examines the dog until it gets public access rights.
"I'm now a trustee on the CGI board, an examiner and head of the board of discipline. Just last month we flew to Milton Keynes to do testing. That was the sixth time Bruce has flown – we have to sit at the front of the plane to give him enough room!
"Bruce fetches my medication, blocks people when I become anxious in a big crowd and also helps me if I fall.
"He'll come over and let me lean on him to pull myself up. I can put my weight on him – can you imagine a 15-stone guy leaning on a Labrador?
"I never used to go out on my own but now I'm happy to go anywhere."
Michael, kids Lauren and Callum, and Jennifer – who is pregnant with their third child – will travel to Birmingham for Crufts, where Bruce is a finalist in the Friends For Life category, next weekend.
He smiled: "Members at CGI put me forward. I didn't know anything about it until I was told to visit the Crufts website and Bruce was staring back at me from the screen."
Michael added: "Jennifer and my brother became my carers after the stroke and when that happens you lose the personal relationship.
"Now Jennifer has her husband back and it's all thanks to my nurse, Bruce."