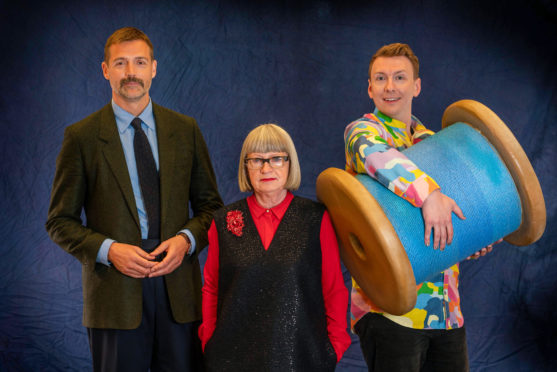 In just a few weeks The Great British Sewing Bee has inspired thousands of Scots to reach for their needles and thread.
But, instead of making shirts or tea dresses, this year viewers are sewing scrubs and face coverings for NHS and care home staff, with love, hope and kindness stitched into every garment.
And the show's co-host, Patrick Grant, couldn't be prouder. "Some of the stories have moved me to tears," said the Savile Row tailor. "People have been sewing gowns and masks across the country. The dedication of these groups is incredible. They have distribution networks, delivery drivers, quality control and fabric sourcing.
"Sewing Bees have ­traditionally been a community effort. Even the Queen Mother set up one in Buckingham Palace to help the war effort in 1939."
Patrick, who was born in Edinburgh, returned to our TV screens last month for the sixth series of The Great British Sewing Bee, alongside fellow judge Esme Young and presenter Joe Lycett.
The latest episode pulled in six million viewers, with many praising the show for offering light relief during the pandemic.
"Our viewing figures last week were six million. For a show about sewing, that boggles the mind a bit!" laughed Patrick.
Haberdashery sales have soared in the past two months and Hobbycraft has reported searches on its website for mask-making materials such as cotton fabric were up more than 500%.
Last week, Patrick helped launch the Big Community Sew, a drive to encourage the public to sew simple face coverings for their communities. It follows new UK Government advice for people to wear face coverings in enclosed spaces, such as public transport and shops.
Home sewers across Scotland have been fashioning homemade PPE, from the Shetland Scrubs collective to Patrick's mum, Sue, in Edinburgh.
"My mum sent me an email to say she'd made an improvised face covering. She said it wasn't the best thing she's ever made but I love that her and her neighbours are leaping into action. That's what the Big Community Sew is all about. We need to preserve supplies of medical-grade masks for health and social care workers.
"As a way of introducing ­yourself to the world of sewing, making an improvised face covering is about as easy as it gets."
He added: "Any craft activity is also incredibly good for your mental health and especially important now when anxiety is so much higher than normal."
While his Savile Row outfitter, Norton & Sons, remains closed, Patrick has swapped his London home for a "granny annexe" of a farmhouse so he can head up PPE production at his Cookson & Clegg factory in Blackburn.
"We will probably make over 150,000 pieces this week, including NHS-standard gowns and anti-viral snoods and face-coverings," he said. "We are using locally-made fabric and have employed some staff that were furloughed at other factories.
"We have completely ­transformed the way our business operates, moving to a two-shift system to make sure it's as safe as possible."
Pulling in 90-hour work weeks leaves little time for Patrick to worry about feeling bored – "I do squeeze in a bike ride a day if I'm lucky". He's also swapped his trademark three-piece suit and tie for a laidback lockdown look.
"For the last two months I've been wearing the same sweatshirt, field trousers and slip-on Vans every day.
"My hair is getting longer and the beard has gone full Tom Hanks in Castaway and looks the same in black and white as it does in colour… but who cares right now?"
Patrick also hopes the current crisis may change the public attitude to the country's manufacturing workforce.
"For a long time, traditional manufacturing jobs have been seen as second-class and that's wrong.
"If some good can come out of this, I think people's perceptions of those who make things for a living will change dramatically. They will be valued and respected in a way they haven't been for quite a long time."
The Great British Sewing Bee continues Wednesday on BBC1, 9pm.
---
Sound and Vision: TV tailor's favourite things
My ultimate dinner party guest
I think I'd say my fellow judge Esme Young. I'm missing her and Joe so much right now. We have a lot of fun. Esme is so smart and has the best stories. She was a big-time designer in the 1970s and 80s and made clothes for everyone, so the names she casually drops into the conversation are spectacular! Let's just say, when it comes to rock'n'roll royalty, she's worked with them all.
The comedian who makes me laugh endlessly
Well, I really have to say Joe Lycett because he literally does make me laugh endlessly everyday on WhatsApp… and not just with his hopeless sewing skills! Not that I'm not a fan of other comedians but I'm rather lucky that I get more access to Joe.
My style icon
Jarvis Cocker or Prince Charles! For both of them, you could blank out their face and tell it was them solely by their outfits. That's because the way they dress is so personal, so unique and so completely in keeping with their character. Many famous people are dressed by stylists or brands but both of them have such a personal, idiosyncratic style. I find that incredibly stylish.
The album I play on repeat
Right now, the music I've been listening to on repeat is Michael Kiwanuka. His third album, Kiwanuka, is genuinely brilliant and probably the best album I've heard in a very long time.
My boxset binge
I've been working up to 100 hours a week and have limited internet access so I've not been able to watch much TV at all. However, I have been watching the Great British Sewing Bee on my phone. That's probably sounds a bit narcissistic but, because Esme and myself do a lot of filming away from the group, we miss a lot of the lovely interactions between Joe and our sewers, so I do enjoy finally getting to see that side of the show.
My favourite designer
It has to be Scottish designer Christopher Kane. I love him dearly as a friend. He's such a nice guy but he's also an incredible talent. His work is just so creative and inventive. Every single season, he invents new ways of using fabric to tell stories through his clothes. It's so clever.
Book I'll read again and again
Wolf Hall by Hilary Mantel. In fact, I've just started re-reading that full trilogy. I love this series for Mantel's wonderful writing. But it's also partly because I quite like Thomas Cromwell's work attitude and work ethic. It seems very akin to my own.