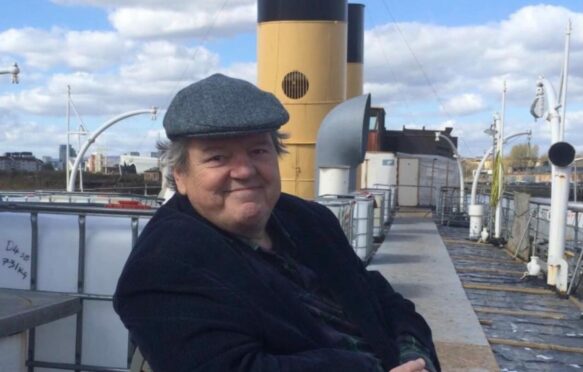 Steamship enthusiasts saluted Robbie Coltrane yesterday as tributes continued to the actor after his death aged 72.
The campaign group that saved a historic steamship with his support hailed the Harry Potter star as a "true friend" while other actors, comics and writers paid tribute.
The Scot, who starred in James Bond films as well as TV hit Cracker, died on Friday. Off screen, Coltrane was a fan of engineering, a vintage car enthusiast who led a multimillion-pound fund­raising drive to restore TS Queen Mary, a famous Clyde steamer now undergoing restoration at Prince's Dock in Glasgow.
The actor, who also played Danny McGlone in '80s iconic TV drama Tutti Frutti, was among thousands who took trips on the steamer, built at Dumbarton in 1933, when it sailed the Clyde to resorts including Rothesay and Dunoon.
The chairman of Friends Of TS Queen Mary, Iain Sim, said: "Robbie Coltrane was a star of international renown, enjoying a glittering career in film, theatre and television. To us, however, he was first and foremost a true friend, in every sense of the word.
"Robbie was unstinting in his ­passion, enthusiasm and support for TS Queen Mary, a ship he often referred to as being his beautiful baby. Away from the public eye he would spend countless hours helping us to engage with donors and corporate sponsors, even taking the time to sign around 300 Christmas cards every year.
"He loved casting his eye over the new plans and schematics for TS Queen Mary – he was an excellent engineer – and he took real pleasure in sitting on her boat deck and imagining her getting ready to cast off.
"When we last met with Robbie he was in good spirits. He encouraged us to keep going, and to make sure that his beautiful baby, which he helped to save in 2015, has a bright future. That is exactly what we will do, with renewed determination.
"We will, of course, miss Robbie greatly, and we extend our heartfelt condolences to his family. However, this is not goodbye. TS Queen Mary was such a huge part of Robbie's life that wherever his beautiful baby goes, a part of him will remain with her."
The vessel carried 13,000 ­ passengers each week and famous passengers included then-princesses Elizabeth and Margaret, US first lady Eleanor Roosevelt, Viscount Montgomery of Alamein and music hall legend Sir Harry Lauder.
Coltrane, who played Hagrid the giant in all the Potter movies, spoke fondly of the ship, saying he fell in love with her during trips down the Clyde in the 1960s with his late dad, Glasgow police ­surgeon Dr Ian Baxter McMillan.
"I remember the first time I went on her, when I was around 10, with my father and sisters," Coltrane recalled. "To me, she was like an ocean liner. I'd only ever seen paddle boats and ferries. I remember thinking how glamorous she was. I remember the white tablecloths and Brown Windsor soup. She didn't stop service until 1977 and I was born in 1950, so I went on her many times."
Coltrane, who was patron of the Queen Mary charity, said he dreamed of the day engines would be put back in her and he could again sail her down the Clyde. "I believed it could be done, and I believed that it should be done," he said.
Princess Anne, after whose ­great-grandmother the ship is named, recently announced it would sail again on the Clyde to boost tourism. It's hoped she will be back in service in 2024.
His agent of 40 years, Belinda Wright, said Coltrane died on Friday at Forth Valley Royal Hospital in Larbert. In a statement, she added: "Robbie was a unique talent, sharing the Guinness Book of Records' Award for winning three consecutive Best Actor Baftas for his portrayal of Fitz in Granada TV's series Cracker in 1994, 1995 and 1996 with Sir Michael Gambon.
"He will probably be best ­remembered for decades to come as Hagrid in the Harry Potter films – a role that brought joy to children and adults alike all over the world, prompting a stream of fan letters every week for over 20 years. James Bond fans write too to applaud his role in GoldenEye and The World Is Not Enough."
Born Anthony Robert McMillan in Rutherglen, South Lanarkshire, in 1950, Coltrane was the son of teacher and pianist Jean Ross and general practitioner Ian Baxter McMillan, and was educated at independent school Glenalmond College in Perth and Kinross.
He later attended Glasgow School of Art and opened the institution's Reid Building in 2014. Professor Penny Macbeth, director of the art school, said: "Robbie was a great supporter and ambassador of the school, demonstrating the impact creative education can play in transforming lives and enriching the lives of others. He will be greatly missed by us all."
Actress Miriam Margolyes also paid tribute to the actor, who she starred alongside in the Harry Potter films, on Radio 4 yesterday morning. She said "He was a very fine actor and a delightful man. Huge in stature, in personality, in heart.
"He was exceptional and I'm really sad. I didn't know he was ill. He acted with passion, he was really wonderful. He was kind, he was sweet, he was affectionate."
However, the interview ended ­suddenly after the 81-year-old star told the presenters Martha Kearney and Justin Webb that she had greeted new chancellor Jeremy Hunt, who had been interviewed on the programme before her. She said: "When I saw him there I just said: 'You've got a hell of a job, the best of luck'. What I really wanted to say (was) 'f*** you, you b******', but you can't say that."
Webb quickly apologised for the language, adding: "Oh, no, no, no, you mustn't say that. No, you can't say that!"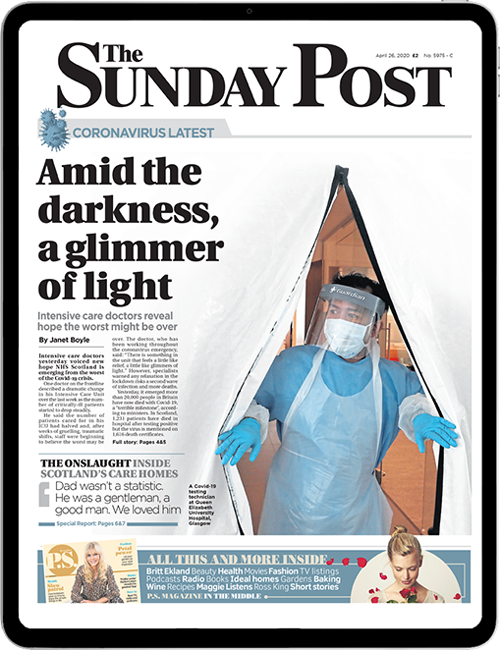 Enjoy the convenience of having The Sunday Post delivered as a digital ePaper straight to your smartphone, tablet or computer.
Subscribe for only £5.49 a month and enjoy all the benefits of the printed paper as a digital replica.
Subscribe