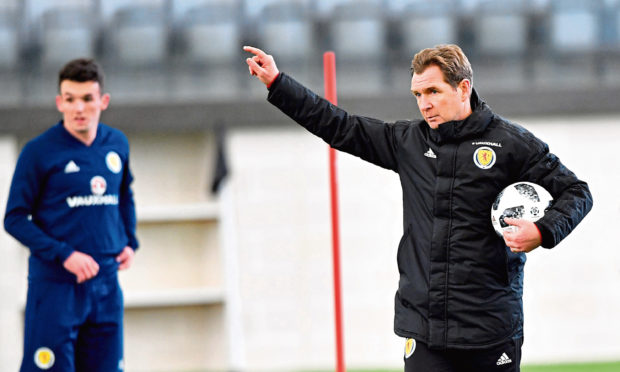 Scotland assistant coach Peter Grant insists players need to win a mental battle against plastic pitches.
The Scots will kick-off their Euro 2020 qualifying campaign by facing Kazakhstan on an artificial surface at the Astana Arena.
Two players – Ryan Fraser and Callum Paterson – have already been ruled out of Thursday's match because they won't play on plastic.
They will join up with the squad for next Sunday's fixture in San Marino.
There have been a host of football figures condemning the use of artificial turf in recent weeks.
Rangers boss Steven Gerrard, Aberdeen manager Derek McInnes and Celtic defender Jozo Simunovic all called for the pitches to be banned.
However, Grant is a man who seems to be swimming against the tide.
He maintains some modern grass parks are actually harder than their artificial equivalent.
Scotland, the 53-year-old states, will not be using the Kazakhstan pitch as an excuse.
He said: "The pitch looks OK.
"It's not the ideal scenario but, let's be honest, there's a lot of these new football pitches – the grass ones – that are harder than the astroturf.
"I think psychologically, because people have always said the plastic pitch is no good and you can't play on them, that's already in our mindset.
"I think the difference with some of them is that there are those comfortable on it, others aren't.
"John Souttar's a bit younger, he's been used to training on it since he was a kid.
"So he's slightly different. He's trained on it, played on it, doesn't have an issue with it.
"Probably in years to come they might all be that way because they're all starting to make the pitches on grass and sand.
"If you go to some of the training pitches, they're hard.
"We were at Aston Villa and they had the highest bounce in British football.
"They used to do a test on it where you drop a hammer on to the grass.
"It was the hardest, but it was a magnificent pitch to play on.
"It was rock-solid, harder than I would say some of these 4Gs are.
"A pitch is a pitch for us.
"We got one put in at West Ham and we actually stopped training on it because it was too slippy.
"It was fantastic, it was like a bowling green, but boys were sliding all over the place.
"They also felt sore – and this was grass."
Grant reckons there are other outside factors making players think twice about playing on artificial turf.
He went on: "Insurance is a big part of it now.
"With the wages players are getting nowadays, clubs are saying, 'Well, hold on a minute. We'll maybe get to cover you for this, but we can't cover you for that'.
"We don't know that, but that could be the situation.
"It's a big issue because you get a medical bill for someone being out if they're injured, god forbid.
"But it could happen on grass. You could get the same injury, probably worse on grass.
"It's just the way it is right now."
Grant hopes Oli Burke – a player he worked with during his time with Scotland's younger age groups – can make the fans forget about missing strikers such as Steven Fletcher and Stevie Naismith.
Burke is getting more game time as a centre-forward during his loan spell at Celtic from West Brom. But Grant says a style of play has to be developed to maximise the impact of his pace.
He said: "People are frightened of pace in the final third.
"But you can have all the pace in the world. If that was all that mattered sprinters would be playing.
"If they don't have a football brain, it's a waste of time.
"We need to give Oli that wee bit of knowledge and, hopefully, the game time he has had with Celtic, the understanding of playing a different position, will help.
"Everybody you speak to says he has all the tools. Now we need to work out how we get the best out of him.
'It's no use picking Oli Burke if we are not going to play a certain style or a certain way.
"He is not a straight-line runner who runs offside a lot.
"He makes wee, darting runs and I feel the biggest problem is that if you don't pass the ball the next bit is the problem.
"How does he get back into his position, how does he evolve again? That's what he needs to work on."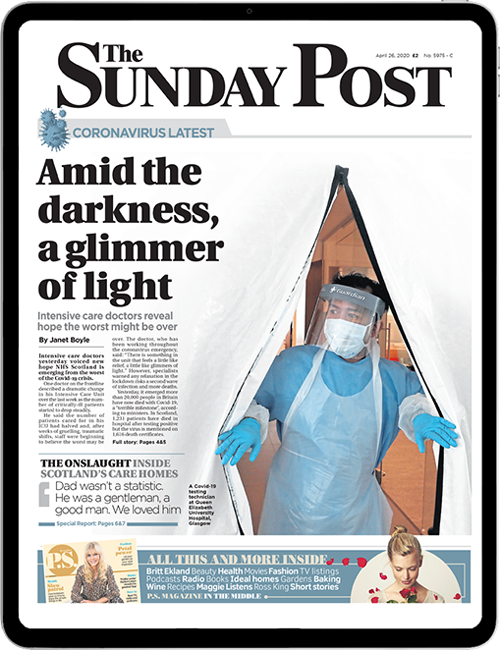 Enjoy the convenience of having The Sunday Post delivered as a digital ePaper straight to your smartphone, tablet or computer.
Subscribe for only £5.49 a month and enjoy all the benefits of the printed paper as a digital replica.
Subscribe