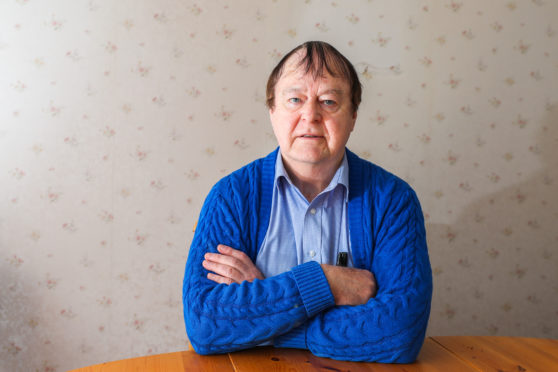 Richard Powell is losing out on extra pension income he didn't know he was due.
The former insurance underwriter paid a financial adviser to pick a retirement deal for him when he stopped working in 2006.
He had a pension pot of £146,000 and opted for an annuity with Prudential, paying him around £8,000 a year.
However, three years ago Richard, 72, from Perth, discovered he could have had about 5% more because he had diseased arteries that led to a heart attack in 2003.
Prudential acknowledges his entitlement, but said his adviser had not disclosed the medical condition to the company, so it has declined to pay Richard the enhanced pension rate he believes he is entitled to.
"I feel really hard done by. I would hate to see anyone else having to go through the same," said Richard.
"It is only about £40 a month but that would make a big difference to my life while it is nothing to a big pension company.
"If they had a heart, they would pay out."
He added: "I only discovered that I should have been getting more money after I read an article about enhanced pensions on a financial website.
"I would urge anyone approaching retirement age to check all the details surrounding their pension are correct before signing anything."
In February last year, Prudential wrote to Richard stating that based on the information he had later provided "an enhancement would have been offered".But the company said it was unable to support his claim because his medical conditions were not brought to its attention when the annuity was sold to him in 2006.
The grandfather of two took his case to the Financial Ombudsman and Financial Services Compensation Scheme (FSCS), but although both organisations expressed sympathy for his position, they were unable to offer redress.
The FSCS said his financial adviser had insisted Richard's pre-existing medical condition was not disclosed to him at the time he applied for the annuity on his behalf.
Richard insists he had no idea his condition would have qualified him for an enhanced retirement income. The firm his former adviser worked for, Financial Strategies (North) Ltd, is no longer in business.
"I was simply never asked for such detailed information about my medical history," said Richard.
"I was asked all the usual general health questions but I had no idea that mentioning my heart condition would have entitled me to extra money.
"I had been in hospital after a heart attack in 2003 which was related to cardiac artery disease. This would have been very easy to prove.
"I have already lost out on about £4,000 and will continue to lose out for the rest of my days."
Richard wrote to Raw Deal about the situation and we asked Prudential to investigate.
However, the company said its hands were tied.
Prudential said: "We have every sympathy for Mr Powell. Had his adviser informed us of his heart condition at the time, we would have been able to offer Mr Powell an enhanced income.
"Sadly, we cannot make retrospective changes to an annuity contract we agreed with Mr Powell and his adviser in good faith 13 years ago. This view has been upheld by both the Financial Ombudsman Service and the Financial Services Compensation Scheme."