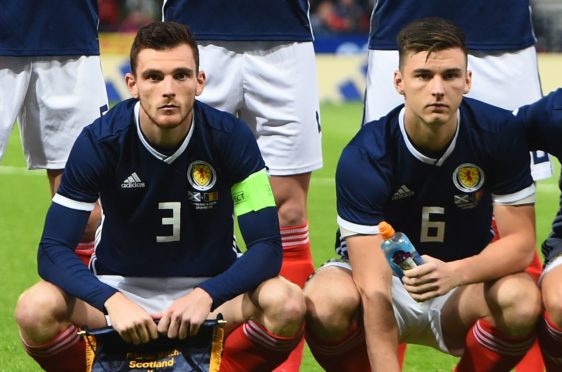 Graham Alexander argues he is proof a way can be found to play Kieran Tierney with Andy Robertson for Scotland.
The confirmation of Tierney's long-awaited switch from Celtic to Arsenal was a reminder of the conundrum Steve Clarke inherited with the national side.
What to do when your two best players both want to operate in the same position?
One was famously rejected by Celtic as a 15-year-old for being too small, only to become a Champions League winner with Liverpool a decade later.
The other was so precocious, that by the age of 21, he had captained both club and country.
"They are two tremendous talents," said Alexander, who won 40 caps for Scotland between 2002 and 2009 and is now working in England as manager of Salford City.
"Everyone knows what Andy is capable of. He is one of the most exciting footballers, not just in the UK, but in Europe.
"He took a little time to settle at Liverpool – time which Jurgen Klopp gave him – but now he is excelling at the top level.
"You see him up against the likes of Lionel Messi, Eden Hazard or Sergio Aguero, and he more than holds his own.
"You can see that he loves the challenge, and he makes opponents worry about what he is doing, rather than the other way around.
"Kieran isn't so well known in England. But I am sure that will change when he's playing there.
"I have followed him since he first broke through to the Celtic side as a teenager. I'm a big admirer.
"Like Andy, he is powerful, pacy and has amazing stamina, which allows him to bomb up and down the pitch from first whistle to last.
"Again, he seems to have the perfect attitude to be a success in the game.
"I was up in Scotland at a dinner a couple of years back when Kieran picked up a young player of the year award. I was really impressed by his acceptance speech.
"He was polite and humble, yet at the same time there was no mistaking that here was a kid who was focused and very ambitious to go as far as he could in the game.
"His record at Celtic was really impressive for someone his age. He has won all the domestic honours a number of times over and has lots of European club and international experience.
"This will be a step up for him. You really get punished for any errors in the EPL, especially when you are up against the biggest clubs.
"There is so much money about that all the sides have clinical finishers, who are ready to pounce on any chances that come their way.
"At the same time, there is no reason to doubt he can make the same adjustment Virgil did, and revel in the opportunity that has been presented to him.
"You add it all up, and Steve Clarke is going to have a big decision to make.
"You can't have either Tierney or Robertson sitting on the substitutes' bench.
"They are two of the best assets Scotland have, and they need to be out there on the park where they can have an impact on the outcome of the game.
"Both can't play at left-back. So you have to be pragmatic and say: 'Right, where else can I get a turn out of one of them?'.
"This is playing for your country, so guys are going to go anywhere they are put.
"I was 30 when I won my first cap and it was such an honour for me, it was unreal. I had achieved my lifelong ambition.
"If you had suggested even a year earlier I would run out in that jersey, I would have said you were dreaming.
"I would have settled for just the one cap. But in the seven years that followed I got 40 – and played in five different positions for four different managers!
"I played on both flanks, in central midfield and, for Berti Vogts on one wet night in Portugal, I even ended up in the middle of defence!
"You do what the manager wants you to do. Different guys deploy different systems, so they have varying requirements from their players.
"Steve Clarke is a brilliant manager, and I am sure he will already have run through all the varying possibilities open to him with these two guys.
"I have heard all the arguments that Kieran didn't look comfortable on the right when he was switched across.
"Also the suggestion that the two guys kept bumping into each other when played together at left-back and left midfield.
"There will be ways to make it work, and I am sure Steve is the man to make it work.
"Kieran's move is exciting for him. But it is also, I am sure, good for the long-term future of the Scottish national team.
"Players at the academies up and down the country will see this as another example of what is possible, and it will serve as an inspiration to them to be the very best they can be."
---
Graham Alexander (below) and his club will feature on Sky's fly-on-the-wall documentary, Class Of '92, which returns tonight.