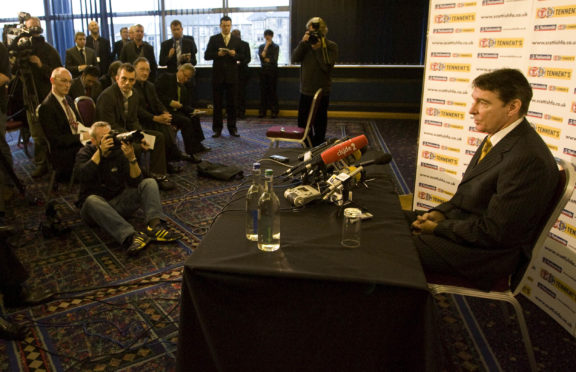 Many people through the course of their working life have to perform tasks they would rather avoid.
Ten years ago, while chief executive of the SFA, I found myself in that position twice in quick succession.
First, I had to go and tell George Burley he had been sacked as Scotland manager.
I didn't agree with the board's decision.
Yes, we had failed to qualify for the 2010 World Cup, but we only missed out on finishing in runners-up spot to Holland on goal difference.
And while our display in the 3-0 defeat to Wales, which immediately preceded the decision, was certainly poor, the game was a friendly and, as such, had no impact on our prospects of qualifying for the 2012 Euros.
That didn't matter, though.
The majority of the SFA board voted for him to go, and the right thing to do was to tell him.
On my suggestion, we even allowed him to have an input as to how his departure was framed.
Had he wished, we would have said he was going by mutual consent.
George, who was very disappointed by the news, would have none of it.
"You are sacking me," he said, "so that is what to tell people".
The second task was to face the media to put the decision we had made – and our reasons for making it – up for scrutiny.
It wasn't something I enjoyed.
As I have explained, I didn't believe George should have been removed from the post in the first place.
But again that wasn't important.
The SFA board had acted and, as chief executive, it was my responsibility to explain the thinking behind it – through the media – to the supporters.
I mention these duties just now because it seems there has been little adherence to those principles with the sacking of Alex McLeish.
Alex, a man who was a legendary central defender for the country, and who led the nation with credit in his first spell as Scotland manager.
From here, it looks very much like he was hung out to dry by the SFA.
In the wake of the 3-0 loss away to Kazakhstan in the first of the European qualifiers proper, reports appeared in a national newspaper that he was to be sacked.
There was the suggestion the stress of the job was affecting big Alex's health, something later denied by his family.
Three weeks on, the "prediction" that he would be removed from his position has come to pass.
The question is, when was the decision reached?
Did current chief executive, Ian Maxwell, know what would be coming when he flew down to London to meet with the manager for talks at the start of the month?
To drag out the sacking the way it was did no one any favours, and treated McLeish shabbily.
There is no argument that Alex is a likable, honest guy, or that he did his best in the post.
Of more relevance is whether he should have been put in charge in the first place.
Following the drawn-out failure to land our top target, Northern Ireland's Michael O'Neill, it is easy to see why Alex would have been an attractive candidate for Alan McRae and Rod Petrie, the Association's President and Vice-President respectively, back at the beginning of 2018.
McLeish had done the job before, nearly leading us to Euro 2008, and – crucially – they knew he would take the job because he was out of work and had publicly expressed his desire to get back into football.
A dozen years since his previous exit, and a dozen games of his second spell in charge behind us, Scotland are again looking for a new manager.
That this is a decision the SFA need to get right goes without saying.
It is more than 20 years since we last qualified for the finals of a major tournament.
Generations of fans are being denied the chance to join in with the greatest events the game of football has to offer.
Euro 2020 has to be where we put it right.
Hampden Park is one of the host stadia. Qualify, and we will have it as our home base.
After so many years of missing out, the excitement levels will go through the roof if we can book our place.
Not just among football fans, either, but throughout the whole country.
To do that, though, we have to bring the right man in.
There will be those who favour giving Under-21 manager Scot Gemmill, a chance to show what he can do much as England have done with Gareth Southgate.
A better move, however, would be to appoint Kilmarnock's Steve Clarke.
Steve has already proved himself to be a very good manager, coach and motivator.
Whether that happens remains to be seen.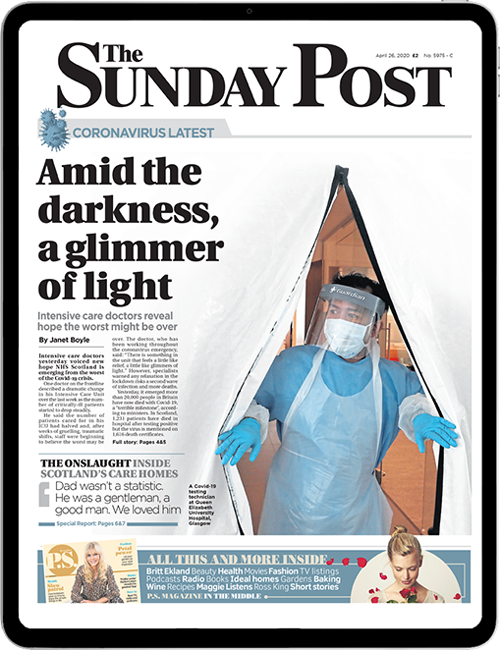 Enjoy the convenience of having The Sunday Post delivered as a digital ePaper straight to your smartphone, tablet or computer.
Subscribe for only £5.49 a month and enjoy all the benefits of the printed paper as a digital replica.
Subscribe