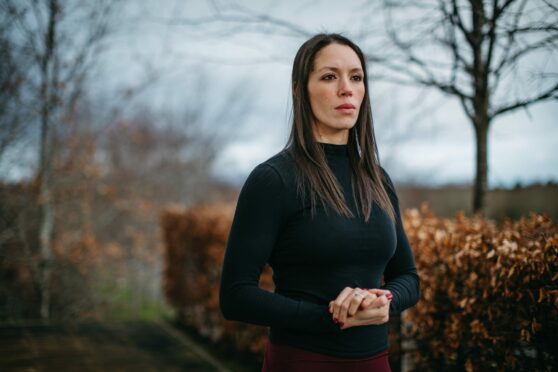 The woman raped by two footballers who never stood trial has asked the Lord Advocate to allow a private prosecution.
Denise Clair has written to Scotland's most senior law officer seeking permission to mount her own prosecution of unrepentant David Goodwillie and his former teammate David Robertson.
If the Lord Advocate agrees, Ms Clair must then convince a panel of judges that exceptional circumstances mean a private prosecution is the only hope of seeing justice done.
Neither man was prosecuted by the Crown Office after the attack in January 2011 but a judge ruled them rapists after Ms Clair mounted a landmark civil action in 2017.
Robertson was never charged and the case against Goodwillie had been controversially dropped by prosecutors despite evidence suggesting Ms Clair was too drunk or drugged to give consent.
Her lawyers wrote to Lord Advocate Dorothy Bain on Friday giving her notice of their intention to bring a private prosecution, a rare move that cannot go ahead if the Crown Office refuses permission.
The move came after Ms Clair discussed her case with her legal team, Thomas Ross QC and lawyer Melissa Rutherford. Goodwillie and Robertson raped Ms Clair after taking her from a nightclub to an empty flat despite witnesses saying she could barely walk or talk, while tests later revealed she had potentially lethal levels of alcohol in her blood.
Yesterday, Ms Clair, 35, said: "I asked the Crown Office for justice 11 years ago and was failed. They cannot fail me again. All these years later, I don't want to be here. I don't want to be doing this. I want to put it behind me but I cannot stop wanting to see justice done. I cannot stop hoping that these men will be properly held to account for what they did.
"In 2011, the Crown Office asked me to simply walk away when the men who raped me went entirely unpunished. I didn't walk away then and I won't walk away now. It's about me and what happened to me but it's for all the women failed like me. The conviction rate for rape was too low in 2011 and it is still too low."
A shameful silence: The woman raped by footballer David Goodwillie on why Scotland's outrage is many years too late
After Goodwillie's transfer from Clyde to Raith Rovers provoked a national outcry three weeks ago, Ms Clair told The Post how his continuing career in senior football, after Lord Armstrong ruled him a rapist in 2017, disgraced his sport and stained Scotland.
She said: "Eleven years ago, David Goodwillie and David Robertson singled me out on a night out, isolated me, and abducted me, telling door stewards they were taking me home to my mum's to make sure I was safe. Instead, they took me to an empty house, raped me and abandoned me.
"Neither man has shown a shred of remorse. Instead, Goodwillie was allowed to continue his football career as if nothing had happened. It is beyond time for them to properly understand the consequences of what they did and for men like them to understand they will be punished and their actions have consequences."
Her lawyers believe the circumstances of the case will meet the "test of exceptionality" demanded before a private prosecution can be sanctioned. They must prove the decision not to prosecute the players in 2011 was "an egregious or outrageous failure in the exercise of public duty or extravagantly wrong."
Thomas Ross, former president of the Scottish Bar Association, said seeking permission for a private prosecution is no criticism of the current Lord Advocate or the Crown Office but reflects the special circumstances of a case that continues to cause concern more than a decade after being contentiously dropped.
He said a private prosecution would give the two men, who would also have to agree to it, an opportunity to clear their name but also, crucially, restore Ms Clair's faith in justice. He said: "It is very difficult to read Lord Armstrong's judgment in the civil case, without coming to the conclusion that something went badly wrong between the matter being reported to the police and Crown Office giving assurances that there were to be no criminal proceedings six months later.
"Ms Clair feels she was let down by the criminal justice system and we're delighted to accept the challenge of restoring her faith in it.
"It is time to prepare a bill of criminal letters, seeking leave of the court to commence a private prosecution. This is a course that the court will only authorise in exceptional circumstances. There will be many hurdles but the first steps have been taken.
"When all the relevant material is gathered, we hope the current Lord Advocate can be persuaded to concur in the prosecution or, at least, not oppose it."
The Crown Office rarely allows requests for private prosecutions to go before judges. The current Lord Advocate Dorothy Bain has previously been refused after asking on behalf of the families killed in the 2014 Glasgow bin lorry tragedy and relatives left bereft when two students were killed by driver William Payne after he collapsed at the wheel of his car in 2010. Neither driver was prosecuted.
Criminal lawyer Melissa Rutherford, of Rutherford Sheridan Solicitors, wrote to the Lord Advocate on Friday to inform her a bill of criminal letters will be lodged in due course to support Ms Clair's intention to bring a private prosecution.
She said: "Despite everything she has been through over the past 10 years, Denise Clair is a courageous and determined woman. She wants to see justice being done in this case so other victims of rape and sex crimes can have confidence in the system.
"There is no doubt attitudes have changed in recent years but work still needs to be done to ensure Scotland is leading the way in supporting victims of sexual and violent offences against women. Denise hopes her experience will play a part in shaping change and improve the way crimes of this nature are pursued."
Last week, a number of leading lawyers revealed concern at the decision not to prosecute, saying the evidence, including witness statements and toxicology tests, could and should have been presented to a jury in 2011.
A senior official then close to the National Sex Crimes Unit – set up in 2009 specifically to secure justice in cases resting on disputed consent – has revealed "great unease" about the decision to drop the prosecution taken by the head of the unit Derek Ogg QC, who died in 2020, and the level of contact about the case between him and his friend Paul McBride QC, who died in 2012 but was representing Goodwillie at the time.
In the days after the decision – when Goodwillie was unusually given a letter of comfort saying he would not be prosecuted – Scotland manager Craig Levein said the striker would once again be eligible for selection and a £2.8m transfer to Blackburn Rovers was finalised.
When the sex crimes unit launched, Ogg had said: "We will treat a rape the way we would approach a murder, looking at the whole picture. Does that picture present a story of consent or lack of consent?" He later defended the decision not to prosecute and said then Lord Advocate Frank Mulholland, now a judge, was acting on his recommendation.
At the time, new laws had just been introduced making it rape if a victim was intoxicated and incapable of giving consent to sex. Toxicology tests ordered by police investigating the attack revealed Ms Clair's blood alcohol levels were in the highest band and potentially fatal.
Witnesses who saw her leaving Chalmers nightclub, in Bathgate, in the early hours of Sunday, January 2, 2011, said she could barely stand or speak. One steward spoke of her regret at letting her leave with the men, despite their assurances that they were taking her home, adding: "That lassie needed an ambulance not a taxi."
A shameful decision: Victim still baffled why criminal case against David Goodwillie was dropped after prosecutors hailed evidence as strong
Robertson admitted having sex with her but was never charged despite concern around her ability to consent, while the prosecution of Goodwillie was dropped in July 2011 after Ms Clair was repeatedly told the case was strong and going to court. She later won criminal injuries compensation, the maximum possible for rape despite no prosecution, before launching a civil action against the men.
In 2017, Lord Armstrong, in a ruling backed by appeal court judges, said they raped her, adding: "The current law, having regard to the modern defined meaning of consent in this respect, is such that its value is that it sends a clear signal that anyone dealing with someone who is intoxicated is put on notice that that person may not be able to give consent no matter what she says."
Russell Findlay MSP, the Scottish Tories shadow minister for community justice, had written to the Lord Advocate raising Ms Clair's case but Solicitor General Ruth Charteris replied. She explained that Ms Bain's previous involvement in the case meant she felt it was inappropriate to respond and the Crown Office has confirmed Bain will not be part of the decision on Ms Clair's request for a private prosecution.
Charteris stood by the decision to drop the case, saying there was not enough evidence to give a realistic prospect of conviction in a criminal court; said the standard of proof needed is different in civil actions; pointed to a review by senior counsel after the civil ruling which backed the decision; and said there was nothing to suggest the personal friendship between lawyers had played any part in the prosecution being dropped. She ruled out another review.
Findlay responded: "Very experienced prosecutors who have reviewed the evidence do not agree with the Crown's assessment that the charges should have been dropped, and the independent review conducted in 2017 does little to allay concerns, not least because no one outside the Crown Office has ever seen it."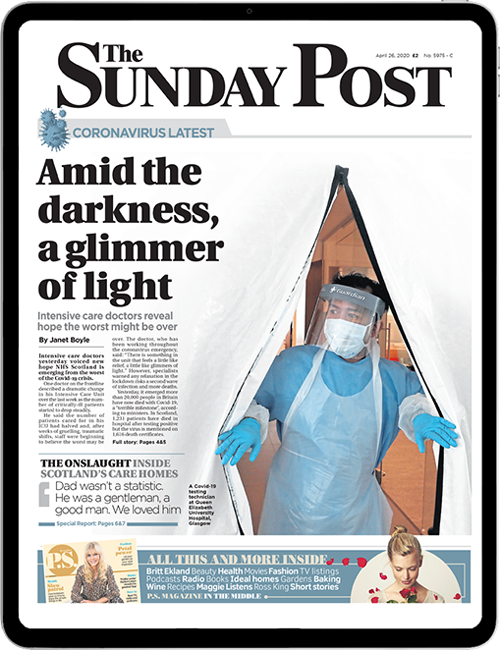 Enjoy the convenience of having The Sunday Post delivered as a digital ePaper straight to your smartphone, tablet or computer.
Subscribe for only £5.49 a month and enjoy all the benefits of the printed paper as a digital replica.
Subscribe