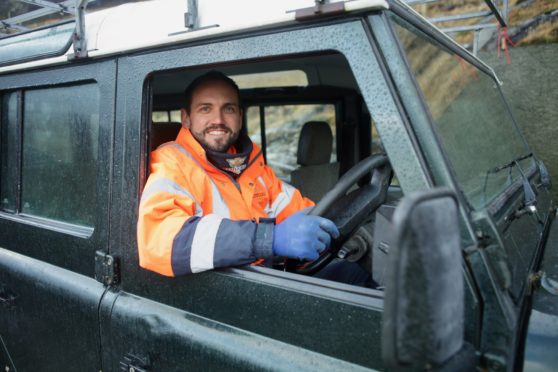 The hills of his dad's farm, with its fool's gold in the river and piles of rubble from the old lead mine, were rich pickings for adventure when Davy Burton was growing up.
More than 40 years on, Davy is still having adventures on his father's land, but now it's much more than glistening iron pyrites he is uncovering.
Davy is the maintenance supervisor of Scotland's first commercial gold mine – located on that same family farmland – and, after many false dawns, the first gold was poured at the Scotgold site at Cononish, near Tyndrum, on St Andrew's Day last year.
Full production is now under way, with estimates of the gold being worth more than £200 million at current market value.
Davy has been involved in the journey from the beginning, when geologists first took samples from the ground in the early 1980s, and today he and wife Nicola wear matching wedding bands made from gold mined there.
"It was a huge relief more than anything else to pour the gold in November," admitted Davy, who features in a new BBC three-parter Gold Town.
"Now there's a big responsibility for all the guys to make it work and to pay back the investors and make them happy."
It was a geologist from Edinburgh, Richard Parker, who first came to Cononish to do some tests on the land of John Burton, a third generation sheep farmer.
"Richard associated gold with the lead mines, so took some samples and found gold," explained Davy.
"He found the vein where the gold was located and persuaded an Irish company to come over and drill through. Over the course of three summers they got good results and it was decided to drill an exploration tunnel."
Davy was studying agricultural engineering at Perth Technical College when he helped out the drilling company with manual labour, but by the time the tunnelling work started, he was working in plant hire and civil engineering and was hired as a contractor.
"We all thought it was going to happen in 1989-90, but in 1991 the gold price dropped and the company didn't have enough money to do the job, so they pulled out and we thought that was the end of it," Davy continued.
"Then Caledonia Mining came along in 1996 with big aspirations, but it fell away again. When Scotgold came along in 2007 we thought here we go again, but they kept at it, invested, and it's now got to this stage.
"I was self-employed all my life until I began working full-time with Scotgold in 2010. It's good to be involved with something that's been connected to me all my days."
If Davy is front and centre, his 83-year-old dad John keeps a keen eye on proceedings from a distance.
"Originally, when the agreement was drawn up, there was no mention of gold or silver, it was just for mining, but when they sent in drilling machines and came out with the ores, we knew there was gold and that was what was being looked for," John said.
While John owns the land midway up Beinn Chuirn, he doesn't have the rights to the gold. Instead, he receives what he calls a healthy but not life-changing amount of rent, as well as having a few shares.
"From an agricultural point of view, we would never get a rental like this from a fairly small area of land, it's just not possible," he explained.
Davy continued: "My dad never thought he'd see it happening, so it's good for him. He can come up and have a look around, but he just shakes his head – he's a sheep farmer and this is a long way from that."
There is now a third generation of the Burton family connected to the goldmine, with Davy's son Conor in the midst of a mechanical engineering apprenticeship with the company.
"He's over the moon to have got his foot in the door and to be learning his trade," Davy said.
---
We will expand exploration and then hit it hard next year
Jason Saint has worked in gold mines around the world, but he says none compares to Scotland.
Originally from Australia, the civil engineer came to the UK in 2004 to work on the Heathrow Terminal 5 project. He agreed to help out a friend who was working on a Romanian gold project, and what was supposed to be a two-week stay lasted four years.
The job has since taken him to South Africa, Canada, France, Belgium and Germany, to name a few, but he's fallen in love with Scotland since he began working on the Scotgold project.
"It's the nicest office view I've ever had," he smiles. "No one told me about
the midges, but they're not enough to send me away."
It hasn't all been plain sailing. There was a delay in design and production on the plant didn't start until the winter, which wasn't ideal conditions, and then more peat was discovered than had been calculated. It made it all the more special when the first gold was poured on St Andrew's Day last year.
There's enough gold in Cononish to mine for nine years, but the company is already looking for the next Scottish discovery.
"I'm working with the exploration team," added Jason. "We've located where we'd like to look next and we have a permanent geology team working with us. We'll expand our exploration efforts more this year and then hit it hard next year.
"We're always optimistic of there being more.
We certainly don't stop because we have one – we'll keep going."
---
Gold Town, BBC Scotland, tonight, 9pm.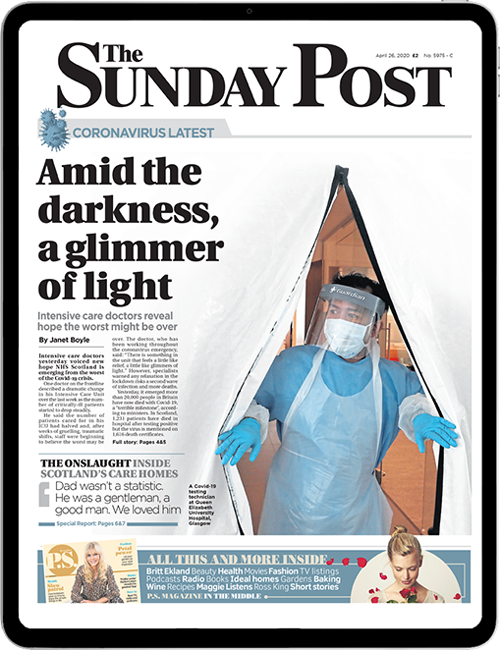 Enjoy the convenience of having The Sunday Post delivered as a digital ePaper straight to your smartphone, tablet or computer.
Subscribe for only £5.49 a month and enjoy all the benefits of the printed paper as a digital replica.
Subscribe