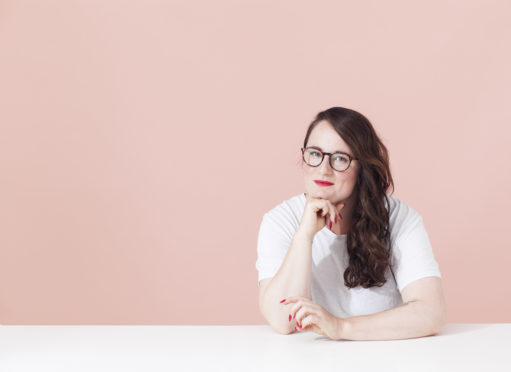 Whether it's a sudden outburst of anger towards the self-scan check-out or weeping quietly on the sofa during an advert for deodorant, a full range of emotions can so easily be dismissed with one word – hormones.
From the first period right through to the last, women's bodies go through a constant cycle of hormonal ebb and flow, causing mood, health and emotions to change almost as frequently as the Scottish weather.
But despite experiencing the effects of fluctuating oestrogen and progesterone on a monthly basis, how many of us really know how our reproductive system works? And why don't we talk more openly about the bodily chemicals that make us unique?
In her new book, Hormonal, journalist and author Eleanor Morgan says understanding and talking about our bodies could be the key to better mental and physical health, as well as, importantly, better healthcare.
"So many of the conversations we as women have about our bodies, and anything that is hormonally underpinned, happen in whispered conversations when we get together – it's almost like that's the only time we feel we have permission to talk about it," she explained.
"That was the real thrust behind writing Hormonal. I've had so many conversations with other women about all the stuff that happens to us, but we don't really talk about it publicly.
"I really believe knowledge is power. If we have a rough baseline sense of what is normal for us and what is going on when, we don't have to play detectives in our own bodies.
"A good, solid awareness of what's going on in our cycle and how it could possibly impact our mood, is just a sensible thing to do."
She added: "It's just absolute fact that women with a reproductive system have fluctuating hormones from puberty right through to menopause.
"So, everything we go through in between – birth, pregnancy, breast feeding, miscarriage, fertility treatment, polycystic ovary syndrome, endometriosis – are all underpinned by hormonal changes.
"Hormones are behind so much of our experiences in life it's odd that 'being hormonal' is used as way to dismiss our feelings, an almost waving of the hand."
Having completed detailed research into everything from contraception and premenstrual syndrome (PMS) to anxiety and depression, Eleanor also looks at the historical context of "being hormonal" and how social stigma and misinformation could be just as impactful as the chemicals themselves.
She explained: "In terms of the biological effect that hormones have, and the interaction with our brain chemistry, the science isn't at all precise.
"There isn't a definite line that would say, for example, when you are on day 26 of your cycle, and peaking in hormone levels before you get your period, there will be a direct impact on your mood. It will be part of it, but the leading doctors say you have to consider what else is going on in your life as well.
"Wouldn't it be much more accurate, kinder and smarter to think about our whole ecosystem instead? What else is making us feel low or anxious? Our relationship, our home, our work – whatever it is, it's important to remember we are never just feeling a certain way because of our biology or our hormones. Obviously, there is the underlying fact of it happening and it can be a precipitator, but it's not the whole story.
"We need to start a conversation where we think about what's actually going on in our bodies, and why we're so quick in society to demonise and almost shut them up."
Using her own experience to illustrate her findings, Eleanor hopes her book will encourage more women to follow her lead, openly discussing their journey and embracing womanhood in all its forms.
"I hope that reading this book will be empowering for women in the same way."
---
How do hormones affect our body?
No two women are the same when it comes to their fertility cycle, but understanding how our hormones work could help us to better understand our own bodies – and know when something isn't quite right. Here's a guide to some common phrases and functions, which are influenced by female hormones.
Your cycle
The average fertility cycle lasts 28 days, but 28 days anything from 21 to 40 days is are normal.
In each cycle, rising levels of the hormone oestrogen cause the ovary to develop and release an egg, beginning ovulation. At this time, the womb lining also starts to thicken.
In the second half of the cycle, the hormone progesterone helps the womb to prepare for implantation of a developing embryo.
The egg travels down the fallopian tubes. If pregnancy doesn't occur, the egg is reabsorbed into the body. Levels of oestrogen and progesterone fall, and the womb lining comes away and leaves the body as a period.
Premenstrual Syndrome (PMS)
The name for the symptoms women can experience in the weeks before their period, PMS can cause mood swings, anxiety, trouble sleeping and even headaches. Experts do not fully understood why women experience PMS, but it may be linked to changes in your hormone levels during the menstrual cycle.
Polycystic ovary syndrome (PCOS)
This common condition affects how a woman's ovaries work, and includes symptoms such as irregular periods, high levels of "male hormones" in your body, and enlarged ovaries with many fluid-filled sacs surrounding the eggs. The exact cause is unknown, however PCOS is related to abnormal hormone levels in the body, including high levels of insulin.
Menopause
The menopause is caused by a change in the body's sex hormones, and usually occurs as you get older. Periods usually start to become less frequent over a few months or years before they stop altogether. Usually occurring between 45 and 55 as a woman's oestrogen levels decline, in the UK, the average age for a woman to reach the menopause is 51. Around 1 in 100 women experience the menopause before the age of 40.
Endometriosis
This condition causes tissue similar to the lining of the womb to start growing in other places, such as the ovaries and fallopian tubes. Symptoms can include abdominal pain and heavy, periods. Although the cause is unknown, it's most common in women in their 30s and 40s.
---
Hormonal: A Conversation About Women's Bodies, Mental Health And Why We Need To Be Heard, Virago, £13.99, is available now.