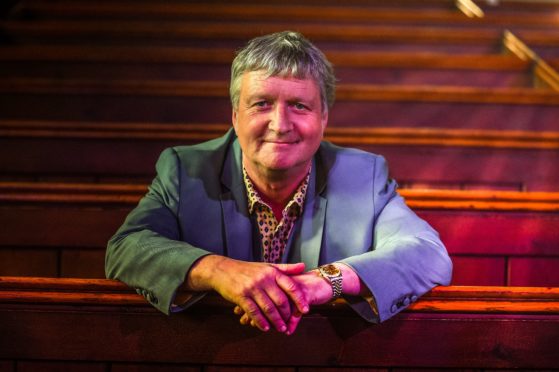 Where do you feel the band is positioned after 45 years?
We just played a tour in America and it was the best reception we've ever had there.
We're selling more tickets and a lot of young people are turning up at the shows. I think that demonstrates the effect of playlists and Spotify, which enable young people to find a way to our music they couldn't before.
So it hasn't always been this way?
I did a solo tour in America about 12 years ago and 15 people turned up in Salt Lake City.
I had a broken ankle, and was carrying two guitars and a bag.
The promoter left before the end of the show and I had to kick my guitars down the road to the hotel.
We played Salt Lake City on the last tour and there were 2,000 people there.
It was the same promoter and he apologised for the previous time.
What makes you carry on in situations like that?
In 1989, I met two people who changed the way I think about myself.
The first was a guy called Ted, an ex-music hall performer who was in his 70s and sang in a pub near me every Sunday lunchtime.
Then there was Keith Richards, who I was introduced to on holiday.
I realised both did what they did for the sheer love of it.
I'm positioned somewhere between the two, but I also love what I do.
What made you decide to ask fans to bring food donations to your concerts?
I saw a BBC Scotland documentary about The Trussell Trust a few years ago and it really stayed with me.
It was heartbreaking to see what people were going through in order to make sure their families could eat.
I got in touch with The Trussell Trust and it resulted in me setting up food donation points at my solo shows. Audiences donated 1.5 tonnes of food.
I mentioned to Chris (songwriting partner Difford) that it would be amazing if we could do the same on a Squeeze tour, which is a much bigger prospect than my solo tours.
I'd rather we weren't in a position where we had to do this, but it's great to make a difference.
People are generous and want to give – to harness that is awesome.
Are you looking forward to performing in Glasgow again?
It sounds like a cliché, but Glasgow is one of the best places in the world for us to play.
There is a warmth that is very genuine and very beautiful.
---
Squeeze, supported by Heaven 17, play Glasgow Royal Concert Hall tomorrow