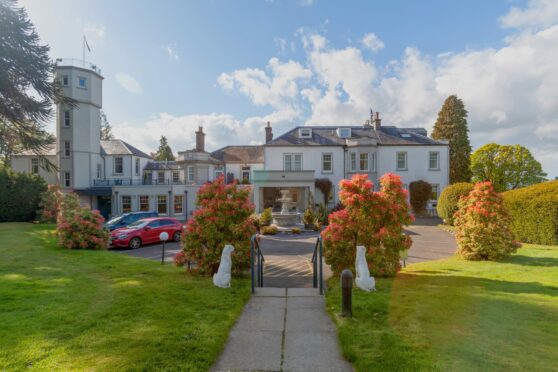 Arriving at the picturesque Gleneagles station, the first thing I notice is how clear the air is. There's at least eight inches of snow and, as I'm whisked away on a short taxi ride to Wyndham Duchally Country Estate, I feel as if it's Christmas again.
We're staying in one of 55 lodges, and it is cosy and comfortable with a balcony and view of the mountains in the distance. It's secluded and peaceful but is easily accessed from Edinburgh, Glasgow or Dundee. There are three spacious bedrooms in our lodge, all with en suite bathrooms. And it's self-catering if you want it to be.
If not, there's Monteaths Restaurant in the hotel, which is of a high standard. Most of the ingredients used are locally sourced and, where possible, certified organic and traceable.
We dump our suitcases and head for the oak-panelled Whisky Bar, with welcoming, crackling real fire, and hunker down as Storm Eunice rages outside. With gin tasting and a Highland safari on our itinerary, it's going to be an exciting weekend.
We soak up the alcohol consumed in the bar with a late dinner in Monteaths. I enjoy the Gatehouse Gin-cured salmon starter with beetroot, pickled kohlrabi, horseradish, cucumber and fennel. My friend has the flat iron steak for main, with skinny fries, Portobello mushrooms and vine-roasted cherry tomatoes, and pronounces it excellent.
I opt for the delicious veggie option – fresh tagliatelle, locally foraged mushrooms, aged Parmesan, smoked paprika, and pine nuts. The cheese board is so tasty that I order it on both of the occasions we're in the restaurant instead of dessert!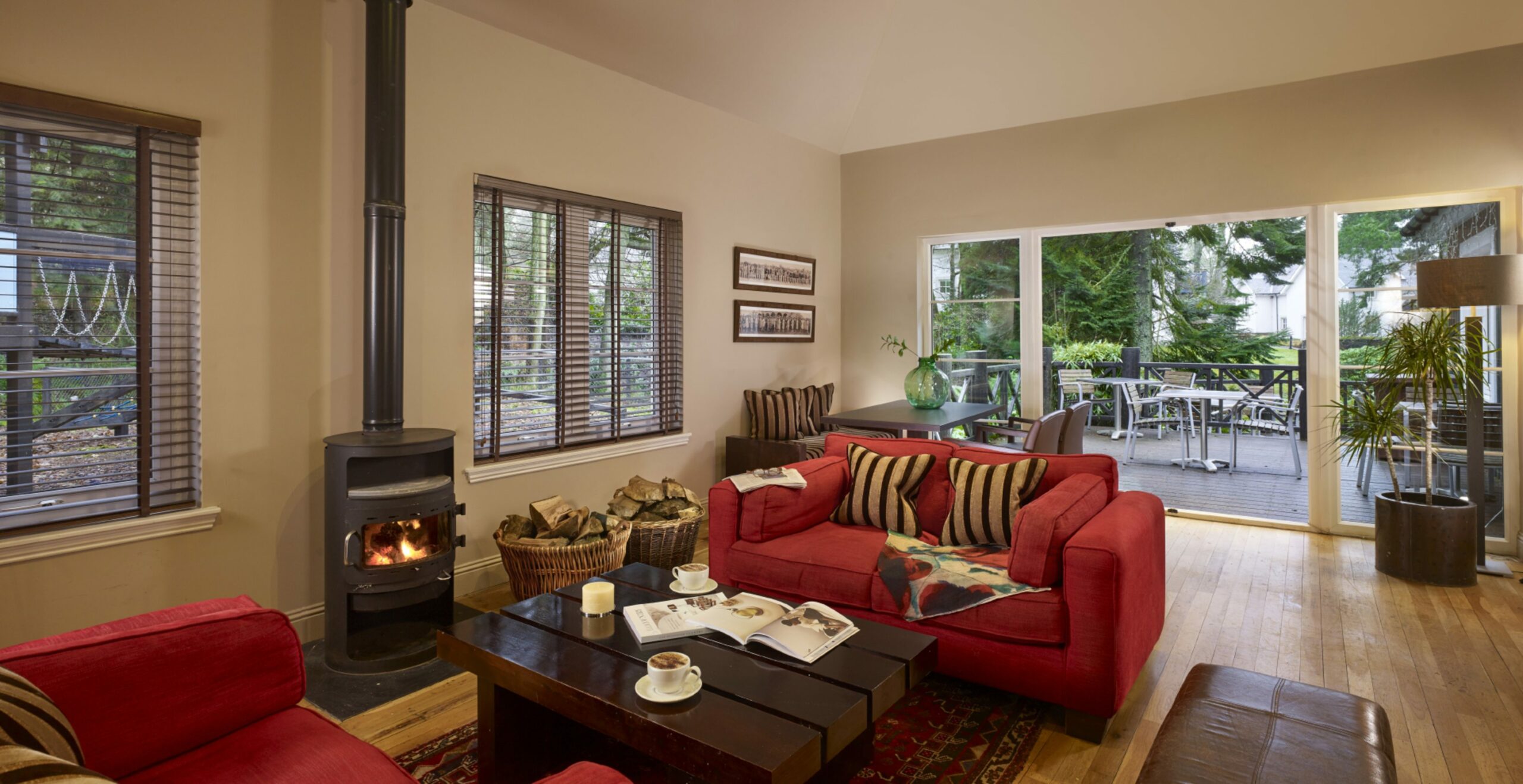 Next day, after a blissful sleep in super-comfy beds, we explore the estate and find out it's home to red squirrels, ducks and hens, as well as white doves.
There's a spa where you can book treatments such as massages – there's a hot stone one for golfers priced at £66, or a super-speedy facial, which uses oats, fruit juices and honey and comes in at £35, for example.
For gentle exercise, there's the swimming pool with a sauna and steam room. If you like more strenuous exercise, you can hire bicycles to explore the countryside.
Next up is a gin-tasting experience where we make our own gin, adding in rose petals, dried orange peel, elderflower and cardamom to a long list of ingredients. Tony Raeman-Clark, founder of the renowned Strathearn Distillery, set up Gatehouse Gin in partnership with the estate and the signature gin is made from a blend of local botanicals, many of which are grown in the gardens. Tony explains and demonstrates the process in a way that's easy to understand and fun.
While we wait for the gin to distil, we enjoy a light buffet lunch with plenty of tasty options for meat-eaters and veggies alike. Back to the Gatehouse, where our gin is ready we each get a souvenir bottle to take with us.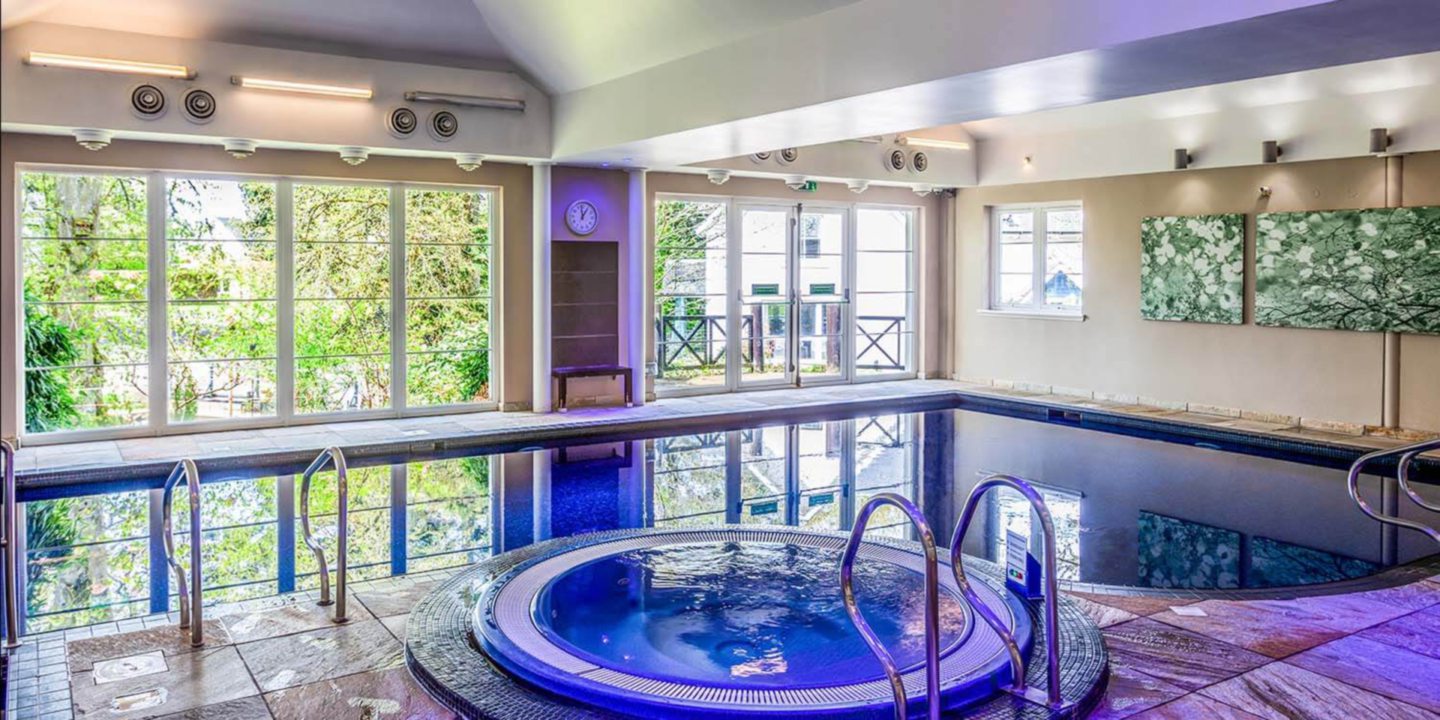 We squeeze in a swim and sauna in the afternoon, and bask and chat in the Jacuzzi and feel wonderfully relaxed before heading out to dinner in Auchterarder at Henderson's Bistro. You can tell a good restaurant because it's packed, and this one serving wholesome food is no exception to the rule. I choose a Thai-style vegan burger, which fills me up nicely.
Sunday's a big day as we're off to Aberfeldy, where highlandsafaris.net are driving us in Jeeps up winding tracks and through a river that's overflowing after the storms high up into the hills for lunch in a bothy. The views are spectacular, and the trees are coated in lichen.
Our guide is knowledgeable and relays all sorts of interesting facts as we bump along. If you like history, you'll be interested to know there are the remains of a Roman Fort up in the hills.
The wooden bothy is so cute with cosy rugs for us all to get warm under as we eat a packed lunch, overlooked by men in kilts in the pictures on the walls. Décor includes reindeer antlers, of course, and vintage skis on the wall. Dewars whisky shots are served to warm us up.
It was a thoroughly enjoyable day, and we feel knocked out by the fresh air as we head back to Wyndham Duchally Estate for a soak in the bath, and then dinner followed by traditional Scottish folk songs in the Whisky Bar. What more could we ask for?
It was a fantastic weekend, and I'll hasten back, perhaps in summer or autumn, as all seasons will be beautiful there.
---
P.S.
Based at Aberfeldy, Highland Safaris has a deer centre and children can enjoy a barn owl experience. A wide selection of safari packages are offered. Visit highlandsafaris.net
Factfile: 
Prices from, per night, two-bed lodge: £150; three-bed lodge: £170; hotel classic room: £125; hotel deluxe room: £170. Call 01764 663071 Visit www.wyndhamduchally.com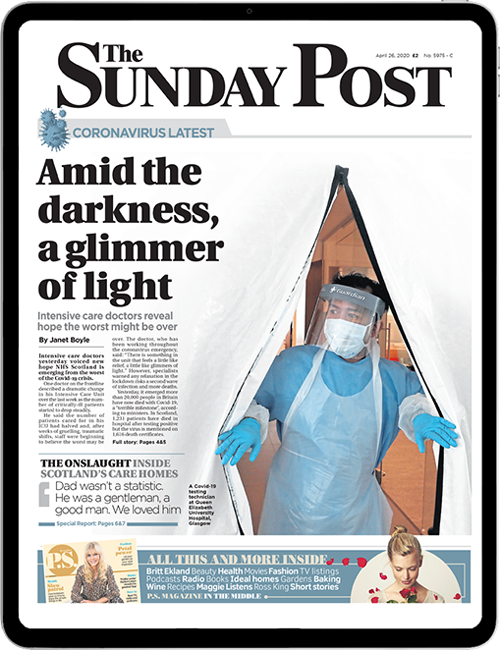 Enjoy the convenience of having The Sunday Post delivered as a digital ePaper straight to your smartphone, tablet or computer.
Subscribe for only £5.49 a month and enjoy all the benefits of the printed paper as a digital replica.
Subscribe