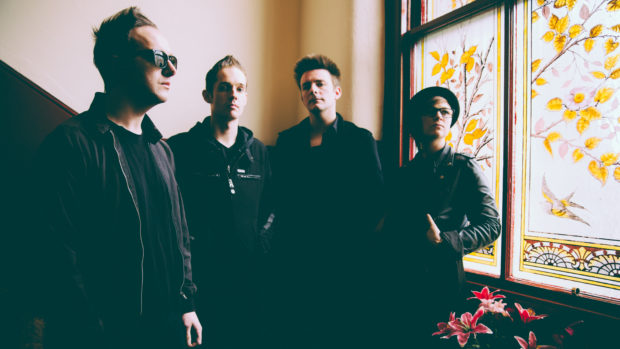 Last year, Glasvegas celebrated a decade since their self-titled debut album propelled them to critical and commercial success worldwide, as well as earning a nomination for the Mercury Music Prize.
Now, with just over six years passing since the release of their third album Later…When the TV Turns to Static, the group are building up to the release of an eagerly-anticipated fourth LP.
Here, the band's vocalist James Allan, 39, looks ahead to their only full band show of the year, reveals the process of making their next record, and reflects on what success really means.
---
The Paisley Spree is your only full band show of the year, how much are you looking forward to it?
I'm looking forward to it a lot. We've been playing some acoustic shows, with the organ and stuff like that, which has been really good.
It's a different thing when you're playing with the band though. It's special. There's nothing else that can make you feel like that.
How does the experience of playing as a full band differ to the acoustic shows, are there certain songs that work better or translate differently?
That's something a lot of people ask and sometimes they will tell us that we should play a specific song, because they think it would sound better acoustic.
I don't feel that any song hasn't worked more stripped back and it's the same the other way around.
The thing is, when you play a song it sometime just lights up, as if it is having a good day. And it doesn't matter if it's at an acoustic show or if it's at a full band one… The song is simply having a good day at that particular gig, acoustic or not.
But some of the songs maybe have a different power or different elements to them that changes depending on the environment.
The sound might be more overpowering at a full band show, but the lyrics can hit you harder and clearer at an acoustic one… It almost becomes two different songs.
It's your first time in Paisley for a number of years, are you excited to get back there to perform?
Aye, we're looking forward to coming back. We've always loved playing in places around Scotland, cause it's home.
I think it was 2008 we last played Paisley, I think someone told me it was in the town hall… And I remember that gig, the audience was mad. In an amazing way.
My fiance was looking up the venue the other day and she mentioned that it looks cool. Some people have been saying that it's really great, which makes it exciting for us.
Many bands have a bond that's like a family, but in this case you are family – how does that affect the dynamic?
Yeah, we're all like family in the band. And my sister is managing. But obviously, the main thing is that me and Rab are cousins, and we play together and we've known each other our whole lives.
I don't know how it affects the dynamic of the band though, this is all that I know. Being in a band with my cousin. My sister managing.
But obviously it must alter dynamics in some way, like the trust. And in some basic ways it's amazing, because life is quite short and it's good to be able to experience some of these things as a family, instead of telling each other the headlines whenever we see each other.
We already know what's happening because we are there together when it happens.
There hasn't been a Glasvegas album since 2013 – why? Was it a case of waiting for the right time, finding the right sound?
Life happens, for a start. I wrote the songs for the new album not long after releasing the third and they still sound the exact same as when I wrote them.
But this is the first album we've done everything completely on our own. I've always written the songs and produced with the band, but it's a different thing, doing everything.
The recording and the engineering has all contributed to it taking a bit longer. I've needed to learn the language of recording and engineering.
I never knew how long it would take to be satisfied, but I guess nobody ever knows. I would have liked it to be quicker, but I probably will be in the future.
With such an impactful debut, how much did its success weigh on your mind when it came to following it up?
Success never weighed on my mind when it came to the second or third album. Or the new album. Or the first album either.
I can always hope for it, but it's been more about getting to write music. To do music. There have been times in my life where I've had less. Then I've gained. Then I've lost. When it comes to music I think it's really important to feel both.
But when it comes to expectations, it not been mainly on the success, but rather on my writing or on our performance. Sometimes it doesn't work out the way you want it and you fall. Then you stand up and try again.
You've had great success worldwide but retained the distinctive Scottish accent and cultural influence – were these important to you to keep?
I had never really been out of Glasgow much before the band got successful. Never really out of Scotland either. I remember going to New York to make our first record and it was the first time any of us had ever been to America. Paul and I were on the plane and we just felt "wow", because we were just simple Scottish guys, you know? And we still are.
We all still live mainly in Glasgow, just Glaswegian guys. Glasgow and Scotland was all I had ever known when I started writing songs and I sing with a Glaswegian accent, because that's the way I speak. And that's the way we have travelled the world.
Sometimes people won't understand what I'm saying. When I've been in the pub with my Swedish friends they start looking confused because they won't understand my accent… but then I just pull out my American accent, trying to be Clint Eastwood. I'm no bad at it if I may say so myself… But other than that I'm Scottish.
I take what I see and reflect it out to the world. I'm just being me. I think that's the important thing in music, to really be successful. Being real. And I'm not meaning money success, I mean the success of feeling satisfied with who you are and what you give out to the world.
A lot of Glasvegas songs contain dark but very real subject matter, how important has music been for you to tell these stories and paint these pictures?
It's been the vehicle I've chosen to express some of my thoughts. The thoughts didn't come first, it was being into music that happened first for me. The subjects were always there though, I just never knew I was going to express them through music and through sound.  I never knew I was going to say any of that stuff. It just happened.
People send messages or tell me that the songs have impacted them in different ways. It's hard for me to know and understand the individual and personal connection that people make with the music I write. Because they were there, at that time, when they heard it and they know what they were going through or what they were thinking. Or how a piece of music helped them.
People tell me and it's always a hard thing to grasp, but I try really hard to understand and it makes me feel proud and really lucky to have been able to do that.
What's coming up from the band in 2020?
It's material, I guess. That's what I'm expecting from myself. A lot of material.
---
Glasvegas, Tuesday October 15, Spiegeltent, Paisley, TIckets at https://paisley.is/glasvegas/