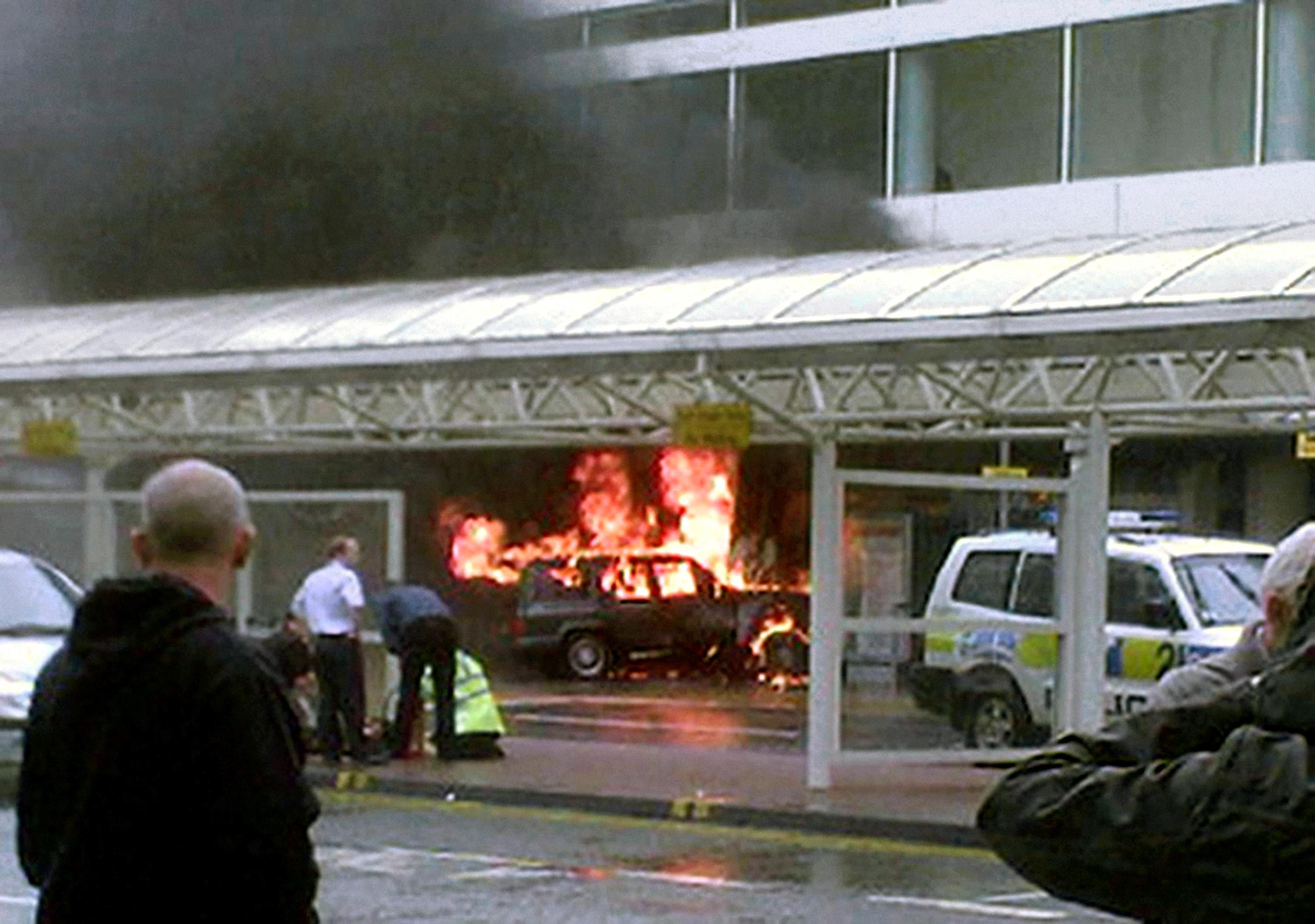 A decade on from airport which shook the nation, we ask: how safe is Scotland now?
It was the moment holiday joy turned to panic and fear.
On Friday, it will be exactly 10 years since the Glasgow Airport attack.
A jeep laden with propane gas canisters was rammed into the building, causing a huge fireball. 
In the decade since, the terror landscape has changed beyond recognition. 
Here, the brave taxi driver who confronted the terrorists that June day reveals his concerns for his grandkids, as they grow up in a world where fear has become the new norm for millions. 
We also talk to a security specialist who assesses the chances of another Scottish attack, while a psychologist looks at how people respond to trauma.
Alex MIlveen: 'It's a scary world. I'm frightened for my grandkids.'
HE was hailed one of the heroes of the Glasgow Airport terror attack, helping to save many lives.
Fearless cabbie Alex McIlveen tore a tendon in his foot when he kicked burning bomber Kafeel Ahmed in the groin.
He was one of seven people to receive bravery awards following the drama on June 30, 2007, while baggage handler John Smeaton got the Queen's Gallantry Medal.
But 10 years on, modest Alex, 55, says it wasn't a big deal – though he might now run away if faced head-on with another terrorist attack.
"I wasn't so much a hero as foolish," the father of two told The Sunday Post.
"When I see what's happening now in terms of terrorist attacks and look back, I do wonder: 'What was I thinking?'
"But I just did what anyone would. If it hadn't been me who stepped in, it would have been someone else.
"Faced with another terrorist attack now, I honestly don't know what I'd do.
"If I had my sensible head on, I'd probably run in the opposite direction!
"Who knows though? I tend to act first and think later, so I'd probably end up in the thick of it." Alex, from Drumchapel, doesn't think much about the events of 10 years ago unless questioned by passengers who recognise him. But he'll certainly never forget it.
The grandfather of two said: "It's a scary world we live in and I'm frightened for my kids and my grandkids.
"My kids used to be safe playing in the street, but we don't let the grandkids out of the door.
"We need to accept that terrorists aren't going to go away. In the last 10 years things have only got worse. But we still need to live our lives and try to get over the fear."
Alex had just arrived at the airport to drop off a fare when he saw terrorists Bilal Abdullah and Kafeel Ahmed drive a Cherokee Jeep into the terminal.
"I had a woman in the car who was picking up her son from a flight from Barcelona.
"She was just paying and getting out when I saw the Jeep drive into the barriers at the front of the building.
"I knew right away what was happening. I told her to run for her life – and I jumped out of the taxi.
"I acted so quickly, I didn't really give the consequences much thought."
Alex punched Jeep passenger Ahmed on the face and kicked him twice. Then he went after driver Abdullah.
"I thought he might be trying to get a gun so I punched him in the face."
Watching coverage of the recent attacks in Manchester and London brought the memories flooding back.
"Glasgow was a drop in the ocean," he said. "Nobody was badly hurt that day, nobody died. When you think that it was one of the busiest days in the airport with about 20 or 30,000 people passing through the terminal, it hits home just how serious it could have been.
"If me and all the other guys just stood by and watched, you never know what might have happened. It could have been a lot worse. But we did what we did because someone had to.
"Things are better now with much better security at the airport.
"But if a terrorist is determined enough, I reckon they would find a way."
Alex's sense of humour has helped him keep things in perspective.
"I'm still getting over the £30 parking ticket I found when I went to pick my car up at the airport. Ten years is a long time, but it will take a bit longer to forget that!"
—————————————————————————————————————————————–
PUBLIC fears have grown in the decade since the Glasgow Airport attack.
Yet, the Global Terrorism Database's research reveals terror kills far fewer people in the UK now than in the 1990s, during the height of the Irish troubles.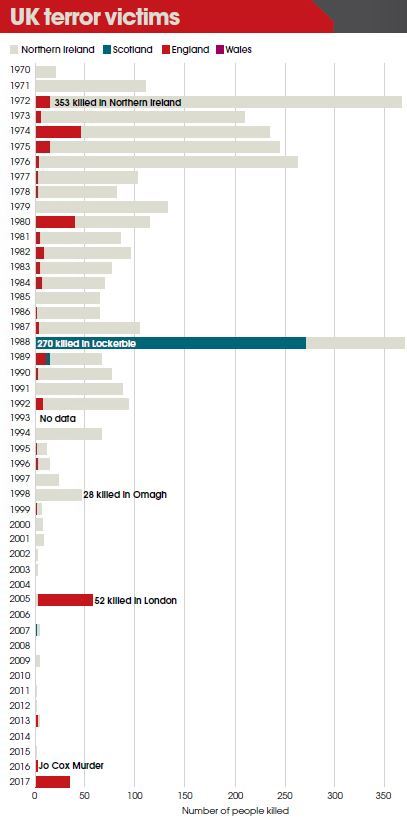 In the last 10 years, 42 people have been killed in UK terrorist attacks.
That's a significant drop on 2211 terrorism-related deaths between 1970 and 1984, and 1142 between 1985 and 2006, the period including 1988's Lockerbie air disaster, which claimed 270 victims.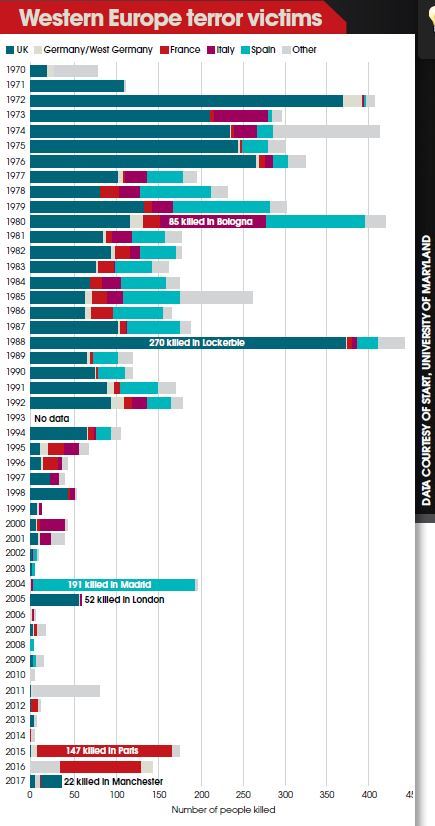 As our graphs show, while there have been several shocking attacks in recent years, Western Europe is relatively safe compared to previous decades.
PSYCHOLOGIST PENNY WOOLNOUGH
FOR many of us, the Glasgow Airport attack was genuinely shocking.
It brought the dangers of terrorism closer to home.
A decade on, there have been several terror attacks across the UK.
Are we more fearful when we're out and about?
According to Dr Penny Woolnough, the public has a great ability to "bounce back" from terrorist incidents. "The public tends to be remarkably resilient in dealing with terrorism," she said.
"This has been the finding even in regions which experience attacks on a frequent and widespread basis."
Terrorists set out to harm and divide us and to drive fear into communities.
It's common, though, for the opposite to happen. You only have to look at how people in Manchester and London came together after the recent attacks.
Dr Woolnough, of Dundee's Abertay University, explained: "Terrorism can make communities more united.
"In the face of a shared threat, people identify more strongly with those around them.
"The shared sense of outrage pulls people together. It's powerful."
Dr Woolnough said communities uniting had a ripple effect. "After Manchester and London, that will have spread – it's likely even other countries which have been affected by terrorism, like France and America, will have felt the impact.
"For instance, I've been on holiday to Nice many times. So after the Nice attack in 2016, I felt the impact. That's normal.
"The threat is more at the forefront of people's minds. But there's no need to change our behaviour."
TERROR EXPERT CHRIS PHILLIPS
THE former chief of the National Counter Terrorism Security Office has warned that Scotland cannot assume it is safe from terrorism – despite a decade without major incident.
Referring to last month's Ariana Grande concert tragedy in which 23 people died, Chris Phillips warned: "We could see another Manchester."
Speaking to The Sunday Post in a week when London, Brussels and Paris were all targeted, Mr Phillips said: "If you'd asked me a couple of months ago if there would be an attack in Manchester or Edinburgh I would have said they were the same because they are, in the eyes of the terrorists, both good targets for attack; both are big cities with crowded places and would attract lots of publicity."
The expert, who now runs the security consultancy firm International Protect & Prepare Security Office, said: "We cannot assume in Scotland that it is not going to happened to us. That's the biggest mistake you can make. Complacency is our enemy."
Mr Phillips, who specialises in protecting crowded places such as sports stadia, pop concert arenas and transport hubs, said: "It will take at least a generation or two to get through this.
"And the trouble is we are going to have big attacks.
"Big attacks will change our world. That is exactly what the terrorists want to happen.
"We shouldn't give into them and should go about our business as usual.
"But I can see a day when we have to go through a body scanner just to get into a shopping centre or train station. We are just at the beginning of things."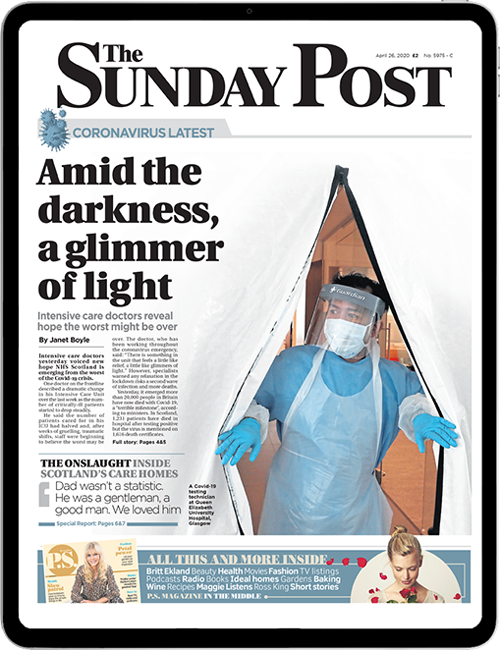 Enjoy the convenience of having The Sunday Post delivered as a digital ePaper straight to your smartphone, tablet or computer.
Subscribe for only £5.49 a month and enjoy all the benefits of the printed paper as a digital replica.
Subscribe