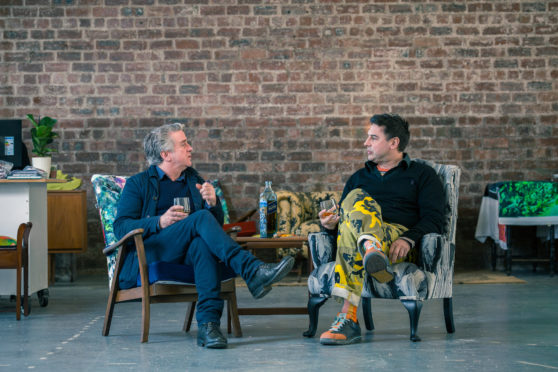 An award-winning Glasgow textile studio has collaborated with Scots whisky brand Johnnie Walker to create a limited edition bottle, in a celebration of Scotland's rarity.
Timorous Beasties have designed the intricate bottle, Johnnie Walker Blue Label Rare Side of Scotland, with the delicate artwork hoping to bring to life the flora and fauna found across the four corners of the country.
The bottle aims to celebrate Johnnie Walker's Scottish roots, and features the detailed designs Timorous Beasties are famed for.
Alistair McAuley, co-founder and one half of Timorous Beasties, said: "We've always been passionate about seeking out the rarest beauty to be found in Scotland and showcasing it to the world, and that's definitely a passion shared by the Johnnie Walker team.
"We take great inspiration from the natural beauty of the local landscape, and it was a privilege to mark this with a bespoke design – an invitation to everyone to come and experience the rugged and rare charm of the Scottish wilderness."
Only 1 in 10,000 casks in Johnnie Walker's reserves of over ten million maturing Scotch whiskies has the richness and character required to intricately craft Johnnie Walker Blue Label, one of the most prestigious in the Johnnie Walker range.
They say the result is a velvety-smooth whisky, with a rare depth of character.
Johnnie Walker Master Blender Dr. Jim Beveridge, said, "Exploring the rarest spirits from the four corners of Scotland has been a remarkable privilege and a personal passion throughout my four decades at Johnnie Walker.
"The celebration of rare, exceptional Scotch whiskies – paired with the rare craftsmanship of our team of expert whisky makers – will always be at the very heart of Johnnie Walker Blue Label. We know that our devotion to our craft is mirrored by Timorous Beasties, and this is highlighted by these beautiful bottle designs."
---
Johnnie Walker Blue Label Rare Side of Scotland – A Limited Edition Design by the Timorous Beasties Studio will be available from selected stockists from December 1 at a RRP of £235.