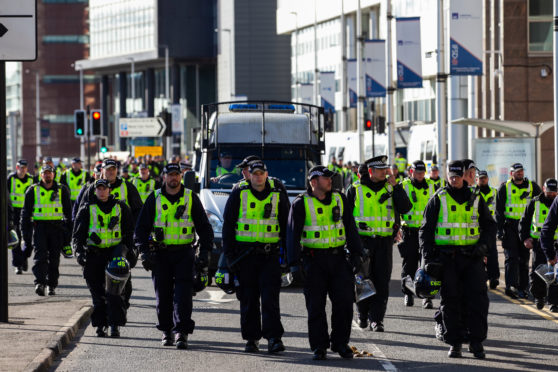 A Glasgow MSP has suggested limiting the number of "sectarian" marches after weekends of violence in the city.
A policeman was injured on Saturday after being hit by a pyrotechnic thrown by a protester, while 11 people were arrested as the two marches through the streets of Glasgow descended into violence.
With 14 marches planned during the rest of September – including 11 believed to involve republican or loyalist groups – SNP MSP for Glasgow Shettleston John Mason argued the number of demonstrations should be reduced.
Mr Mason told the BBC's Good Morning Scotland programme that while the right to protest should be protected, he wanted the Scottish Government to consider looking at ways to cut the amount of demonstrations taking place.
"I think the quantity of marches is one issue and I would certainly like the Government and the council to be looking at if there are ways to reduce the marches," he said.
"If there's 14 and if about nine or 11 of them are loyalist organisations, do they really need that number, or could it be one?"
Asked whether he would want the marches banned, Mr Mason said: "I don't think we can go that far, certainly initially.
"We have freedom of speech, we have freedom of expression, all of these kinds of things. We're a democracy so we want to protect these.
"I think one of the marches coming up is commemorating the Somme, which is highly commendable.
"One I think is a Muslim organisation and the rest are perhaps more sectarian."
Of the republican or loyalist marches planned in Glasgow during the rest of the month, four are expected to take place this Saturday while five are scheduled for the following Saturday, including the 800-strong Pride of Govan Flute Band procession.
Mr Mason said: "There are lots of marches and lots of good reasons for marches."
But he predicted if there was a referendum in Glasgow, it would likely be a majority in favour of banning them.
"In the past politicians have been afraid about talking about sectarianism," he said.
"From the Government's point of view, we do need clarity around the law.
"The council and to some extent the Government are not quite sure what powers they all have.
"Does the council have the powers to actually ban a march or only to reroute it or change the timings?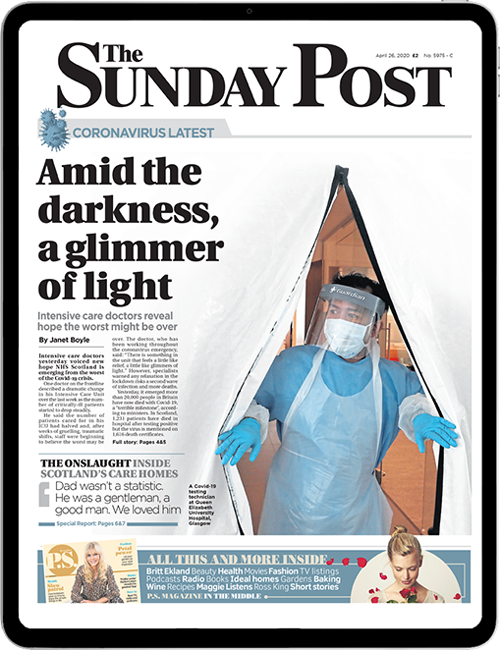 Enjoy the convenience of having The Sunday Post delivered as a digital ePaper straight to your smartphone, tablet or computer.
Subscribe for only £5.49 a month and enjoy all the benefits of the printed paper as a digital replica.
Subscribe