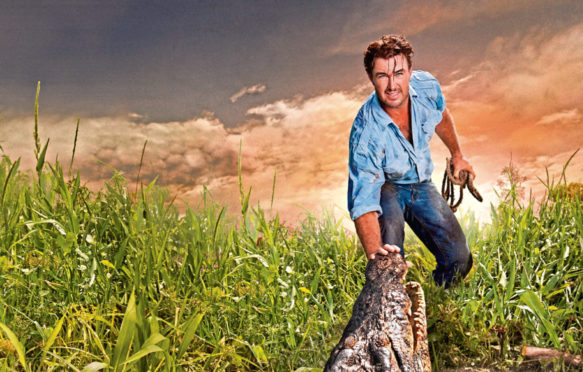 If there's anything that would put the fear of God into the rest of us, you can bet Matt Wright does it on a regular basis.
A fearless helicopter pilot, he works with deadly snakes, polar bears, buffalo, spiders and sharks, has mustered wild horses in the Australian outback, and goes to extreme lengths to look after wildlife.
While most would run a mile, for instance, from 19-foot crocodiles, Matt locates them – sometimes from a tiny, fragile boat – and miraculously relocates them to somewhere that is safer for the animals and for the people on whose land he finds them.
His latest TV series, Monster Croc Wrangler, begins on National Geographic WILD on Tuesday October 15, and he spoke exclusively about his life and work to us.
"Mate, you're always going to have some fear!" laughs Matt, who was brought up in the wilds of Papua New Guinea and is known as the real-life Crocodile Dundee. "Height, there you go – height from a tall building!
"The most difficult animal I've dealt with? Trying to catch a king cobra over in Borneo. It gave me a bit of a run for my money.
"About 14 or 15 feet and it stood about five feet in the air, and they can get at you fast. A big animal!
"I was also trying to get it uphill in a jungle. Every time I got close to it, it launched itself a couple of metres at me. I think that was my most difficult situation."
Clearly, Matt's also a master of understatement.
"Like all bears, polar bears are really fast," he says. "But catching them is a lot different, because you're darting them from the chopper and you're not on the ground. If I was trying to catch them on the ground, I don't think I'd stand a chance.
"That wasn't hands-on, like it is with the crocs. Polar bears, wolves and caribou are all done from the chopper."
Matt has had a deep love for all kinds of animals since childhood.
In fact, it's said that he used to get into trouble at school for bringing in his pets – he even kept three deadly king brown snakes in his bedroom!
Would he give it all up if a loved one got too worried and begged him to take a nice cosy office job?
"Hell, no! No way!" he insists. "What would I do that for? You just bring those people with you, get them involved.
"I get asked all the time where I learned this stuff, but it's something you can't study and learn. You've got to be there, hands-on 24/7.
"You never stop learning. The more you do it, the more you're around wildlife, you just embrace every moment, learn everything about how animals work and how they react.
"I can teach you, but you have got to be around me all the time to learn. I actually have a young apprentice working with me now, being around crocs, and he is doing very well.
"He is 18, but I would definitely recommend that kids who work with wildlife from a very young age, since they could walk and talk, would be good candidates and they could come and do work with me."
As he explains, the way Matt works is going to be good for the animal in the long run, as he gets it to a safer place, where it can thrive without being hunted. It also means the farmers whose land it's on don't have to take the ultimate drastic action.
"There was a time when a shovel to the back of the snake's head was how they did it, but I didn't agree with that," he explains. "I was always doing everything I could to stop them getting their heads chopped off.
"I knew it was a dangerous animal, but I just couldn't understand why people did that – there was no reason to kill it, just because it was in the wrong place.
"That's why I learned a lot about how to catch wildlife, sometimes using their aggression in my favour to catch them.
"With the crocs, it's not so much the damage they will do if I don't relocate them – it's the damage that's going to be done to the crocodile. Left there, it's gonna get shot.
"Just recently, I've had four or five phone calls asking me to start removing some more. If not, people will start shooting them out. You can't save every one of them, but you do your best.
"It's not hunters – it is just property owners, farmers. They might want to put a fence over a waterhole but they can't get into it until that crocodile is gone.
"They really don't want to kill it, but if I can't come and catch it, they will shoot it."
There is a truly terrifying video on YouTube of Matt and two colleagues trying to catch a massive crocodile, which thumps their small boat and almost sends them into the water. It's just inches from the guy at the back of the boat. It will have the palms of your hands sweating if you see it.
As Matt explains, he has had plenty of near things over the years.
"I got a lot of that out of the way as a kid," he says matter-of-factly. "I had a lot of stitches, a lot of cuts and broken bones, and I did get clicked by a crocodile last year and broke my ankle.
"When you are working with wildlife, things are going to go wrong. You can't control every minute of it and you just do your best. Mitigate the risk, and that's all you can do.
"I've been caught in the water, going backwards and fighting off a crocodile with my stick in its mouth. Those are pretty intense moments.
"I've been flipped about eight feet in the air and landed on my head and snapped my neck. When elephants are coming after you, you just hide behind a tree and hope to God they don't see you!
"It's just the luck of the draw, but you also have to have a good idea of what you're doing."
There aren't many blokes like Matt Wright around – a sad fact for the world's scariest creatures, as he can be their best friend, despite all the hassle.
So, does he have to be careful with his lifestyle and watch what he eats and drinks, to keep himself as fit as an athlete?
"Yeah, reasonably," he admits, "but when I'm out there working all the time, I can pretty much eat whatever I want. I have my coffees; have a couple of beers in the afternoon. Enjoy it, but don't gorge yourself on doughnuts and cream rolls, certainly not!
"I've just turned 40, so I have started to get so many aches and pains now. I might have to do a bit more yoga and go to the gym!"
For all the supersized crocs and superfast snakes, one of Matt's hardest tasks involved animals that have defeated even the toughest cowboys – wild horses.
"I reckon one of my hardest jobs was bringing in some wild horses, after spending three days rounding them up," he says.
"Breaking in 30-odd wild horses was a big job. I had to get them all ready for people to take as working horses. Yeah, that really hurt the body a lot.
"Three days of hard grind, and then on horseback for another three weeks, getting bucked off every day or dragged through the mud. A pretty tough job!"
It's not an easy life, but Matt's works connects with fans across the world.
"We're trying to come up with a solution," he adds, "to find a balance in a human-animal conflict."
---
Monster Croc Wrangler returns with Season 4 on Nat Geo WILD on Tuesday October 15 at 8pm. Season 3 airs every Sunday morning on BLAZE, Freeview channel 63.