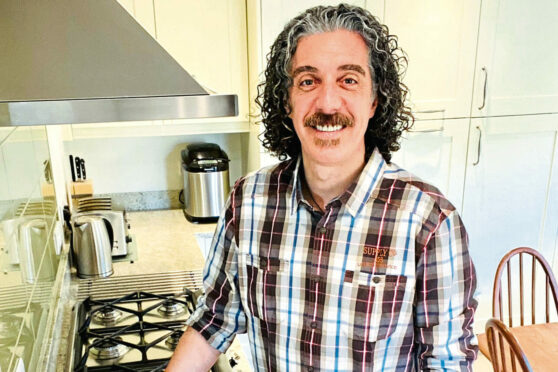 With his precise bakes, warm smile and infectious enthusiasm, it's easy to see why Giuseppe Dell'Anno won the hearts of the nation, the judges and, ultimately, The Great British Bake Off title.
As a self-confessed super fan of the series, the dad of three admits being one of last year's 12 contestants was a dream come true – but not one he ever saw himself fulfilling.
His lack of self-belief, however, wasn't entirely down to his baking abilities or even the fear of crumbling under the pressure of performing for a legend like Paul Hollywood. No, his biggest worry – and his wife's initial concern – was maintaining focus while under the spotlight.
"The entertainment was, and still is, entirely alien to me," explained Dell'Anno, who is originally from Milan, Italy, but now lives in Bristol with his family. "It was like stepping into a dimension where everything was new and had to be discovered.
"The filming day is very long and the baking requires all your attention otherwise you'll make mistakes. And then there is the welcomed disturbance of the judges and the presenters when they come over every now and then for a discussion!
"One of the later stages of the audition is actually all about how you interact with the producers and cameras while you are baking. I'm a chatty type of person, but keeping that up while you are doing 3,000 other things isn't easy.
"In fact, when I told my wife about that stage of the auditions, she said to me, 'Oh well you are never going to pass that'. I am unable to do anything else while doing one thing – if I'm typing up a message on my phone, the entire world could collapse and I wouldn't notice! But she was wrong, thankfully."
Now in its 12th series, Bake Off is often described as one of the most wholesome shows on television. Apart from marvelling at the show-stopping bakes (and perhaps the occasional schadenfreude when something goes wrong), watching the on-screen friendships blossom between the contestants, presenters and judges is one of the show's unique draws. But it is still a competition.
So does rivalry still secretly swirl under the surface? According to Dell'Anno, no, everyone really is a lovely as they seem, and the family-like atmosphere is there from day one. He said: "When you put together a bunch of people with very strong common interests, and then put them all through a very challenging time, it's natural that you end up bonding.
"You've got plenty to talk to talk about, you've got plenty of hints and tips to share, and you are all going through the same challenges, so there is a lot of mutual support, too. You end up genuinely becoming really good friends, and that's what happened to us."
Named star baker twice, the judges praised Dell'Anno's bakes for being "simple but very effective", and his creations often relied on quality ingredients, brought together with care. Growing up in Italy, he says, had a huge impact on how he cooks and eats, not least because his father was a professional chef.
"Probably one of the things I spend most time, most money and most effort on is trying to source the ingredients of the quality and type that I like," he said. "I remember when I first moved to the UK, I was sharing a flat with my mates at university. There was a friend – still a very good friend – who was British born and bred, 100% Londoner.
"He kept taking the mickey out of me because I was very picky about the shape of pasta I would have with a specific sauce. And he was like, 'Farfalle, penne, what does it matter? It's still pasta'.
"He's right, but something in my head still tells me that, for example, if you're having pesto you've got to have it with fusilli. It's ingrained in us ever since we were born."
Although that's not to say Dell'Anno hasn't developed a taste for British cuisine. In fact, one of his first post-Bake Off projects has been developing healthier versions of the first meal that converted him – the traditional full English breakfast.
Dell'Anno explained: "In Italy, most people stop by a bar for a typical breakfast of a cappuccino with a cornetto, which is effectively the Italian version of a croissant, or at home they'll have a caffè latte with biscuits dipped into it. That's it.
"So, I was a bit sniffy and snobby about having savoury stuff in the morning. I thought I couldn't possibly stomach it. Then I was introduced to the full English, and it was love at first sight."
Collaborating with health food brand Linwoods, the Bake Off champion has created a two-course breakfast feast that, while a far cry from a fry-up, is still just as tasty.
He continued: "I really enjoy savoury stuff in the morning now, but obviously a cooked breakfast is something you can only indulge in once a week. So I was happy to try to come up with something as pleasurable and fulfilling, like a full English but also healthy, and that you could have every day."
Dell'Anno's recipe for eggs and smoked salmon with cheesy spinach is loaded with nutrients, including vitamins A, C, D, E and K and Omega-3 fatty acids – and it even gets the thumbs-up from his biggest critics.
He said with a smile: "I've often make the recipe for myself and the kids now. If you get kids of five and seven years old telling you they like spinach with goat cheese, you've done something right."
For more recipes, follow Giuseppe on Instagram: @giuseppecooks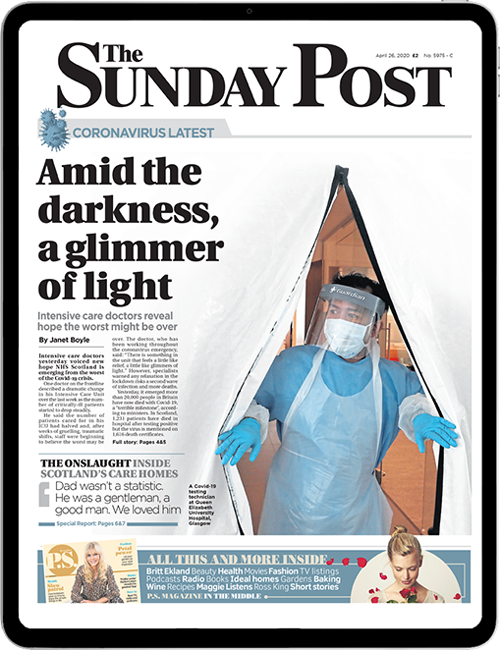 Enjoy the convenience of having The Sunday Post delivered as a digital ePaper straight to your smartphone, tablet or computer.
Subscribe for only £5.49 a month and enjoy all the benefits of the printed paper as a digital replica.
Subscribe