More flashbacks, more backstories, and a big emotional journey for Alison – that's a taster of what series three of Ghosts has in store.
The sitcom has been hugely successful and comes from the creators and stars of Horrible Histories.
The plot focuses on Alison (Charlotte Ritchie) and Mike (Kiell Smith-Bynoe), a young couple who have inherited a grand country estate – only to discover it is overrun with various, hilarious ghosts who are restless and constantly squabbling with each other.
There's also the fact their manor, Button House, is falling apart – but the pair are trying hard to make their dreams of turning the place into a "guest house" a reality.
Ghosts, to Ritchie's delight, seems to appeal to all ages. "It's amazing to be able to appeal to small people and older people," she said.
"It makes kids feel good to be able to watch a show that adults like too. That's quite cool for kids. It doesn't talk down to them at all.
"It's not designed particularly for them, but it just so happens that they are able to watch it. And that's great because I think that is rare."
While Ghosts makes those of us at home laugh it's nothing compared to being on set. "I just watched a couple of the episodes from the new series, and I can't believe how much every single person makes me laugh out loud, and hits everything on point," added the 31-year-old star of Call The Midwife, Fresh Meat and Dead Pixels.
"There are some scenes I've seen so far in this new series that I'm like, 'I don't know if I got away with that!'
"I don't know if it was the extra hysteria of having been in lockdown. Yeah, I do laugh a lot. They're funny, what can you do?!"
This latest series sees revelations about Ritchie's character.
"There's always a question over Alison's family, and we don't know much about her parents and stuff," she added. "We do find out more about her family in general…"
It's a twist sure to captivate fans of the show, and these fans are valued by the cast.
"I've had some really nice interactions with people, members of the public who have watched it, saying it's the only thing they can watch with their children," said Smith-Bynoe, Ritchie's co-star.
"People are so forthcoming about how they feel, watching it. It gets quite deep sometimes, quite emotional."
Ghosts, BBC1, Monday, 8.30pm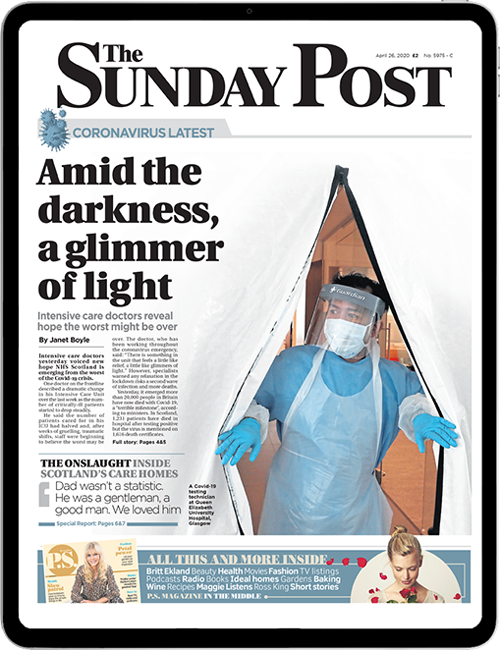 Enjoy the convenience of having The Sunday Post delivered as a digital ePaper straight to your smartphone, tablet or computer.
Subscribe for only £5.49 a month and enjoy all the benefits of the printed paper as a digital replica.
Subscribe