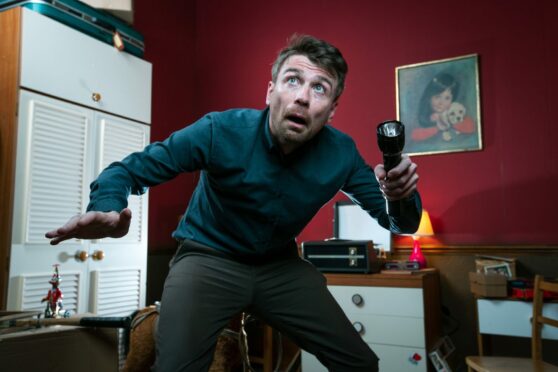 Could you survive 90 minutes in a theatre experience so terrifying it comes with its own health warning? Ghosthunter, an interactive show where audiences become paranormal investigators in a haunted house, has begun its run in Glasgow.
Despite cautions about how spine-chilling it is – and creators have had to add a panic room where terrified theatregoers can escape – Ghosthunter has sold out before its opening night.
The director now expects to take the show, which is strictly for ages 16+, but aimed at teenagers and young people, to thrillseekers around the country. But just how unnerving is Ghosthunter?
We take on Ghosthunter
I've come along to a preview at the specially constructed creepy vintage townhouse in the 5,000 sq ft Silver Cloud Studios to find out.
Given I once had to switch off an episode of Buffy The Vampire Slayer shown in broad daylight, the chances of me not retreating to the safety of the panic room are slim.
This was described as an escape room crossed with the movie Paranormal Activity, at least as far as I know, because I had to switch it off and put Springwatch on instead.
After being gleefully asked by staff if we have any medical conditions – apparently, being a big cowardy-custard doesn't preclude you from entering – audience members are placed outside the front door of the home of the troubled Buchanan family.
Answering our knock is a supernatural detective who guides the group into a wood-panelled hallway; the furniture in the Buchanan house is of the leftover 1970s MFI variety, and so unsettling even the Salvation Army wouldn't uplift it.
Our guide (whose name I missed, so I internally dubbed her ParaNorma) is there to assist investigations as much as she is to perform a set role.
There's a lot of improvisation and, it being an interactive experience, I wonder if she or the rest of the team had to deal with guests even more unruly than the poltergeist haunting the home.
"The actor has to respond to the things said by the audience," explains the show's creative director, Dougie Irvine. "But what we've discovered is they tend to be so scared they don't stray off the path at all.
"No one on the crew has had a smack in the face, no. Folk tend to be too afraid to do anything except grab on to each other."
A spooky EastEnders
Our group consists of a select few writers and influencers, the latter group being especially unnerved at having to leave their phones at reception.
Part of the experience, according to Dougie, is not having your phone – and not just because the light from screens would ruin the fun. This is also about having an offline experience away from social media, at least for the duration.
Our initial bravado mostly melts away – or at least it does with me – after a few of us are handed a torch and told to explore some of the pitch-black rooms away from the main group.
We're also given a handheld device that alerts us to the presence of spirits, which is a bit like a joist finder but for ghosts.
Exploring a kitchen results in someone almost dropping the torch, which may or may not have been me, when some loud banging noises start coming from the walls, which is followed by the deathly wail of a woman, which it turns out definitely is me.
"That sounds like the crew making a noise," says one of the baseball cap-wearing influencers, grumpily. I can't blame him for breaking the immersion – it turns out not having access to Instagram is an ordeal in itself.
The heat is also oppressive; this is the hottest day of the year and being in a windowless rehearsal space for two hours means some of the rooms, which are sometimes pumped with cold air to chill your spine, are a relief.
Over the course of nearly two hours we uncover mysteries in the form of locked boxes, increasingly unnerving messages from deceased family members and whispers over ParaNorma's listening devices. The story we uncover, with her gentle prompting, is a family drama except with ghosts, like a spooky EastEnders. We find a very creepy family photo, which the influencer sniffily says looks as if it's been Photoshopped.
"Expectations are different about these shows," says Dougie afterwards when I ask about the interactive nature of the experience. "This is a bit different from theatre productions where audiences sit passively. People, especially young people, maybe don't want to sit aside and watch.
"They want to be engaged with a story, and this is about them taking part and having a voice when the story is being told."
It's not long before ParaNorma sends us back into the house, and we venture into a neglected child's bedroom.
"I've detected a rift there," says ParaNorma over the radio. The handheld scanner takes us around the room to a creepy mirror. I won't spoil what happens next but if I'd been shaving there's a chance I'd have decapitated myself.
We return to the living room with haste for the terrifying finale around the Buchanan family dinner table; the lights go off leaving us in pitch darkness.
Once again I won't spoil what happens but, thanks to the pre-theatre macaroni pie for lunch, I detect a rift of my own in the lower half of my body.
The lights come on and even the cynical member of our group is crouching under the table; it turns out he really is an influencer because I immediately try to join him.
Dougie reveals afterwards the plan is to take Ghosthunter to other Scottish cities, hopefully starting with Aberdeen.
And, if you get scared, then who ya gonna call? Not me, I've got Springwatch recorded.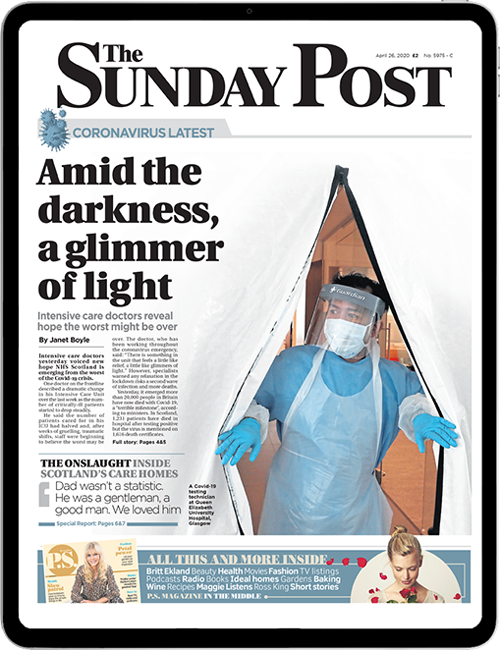 Enjoy the convenience of having The Sunday Post delivered as a digital ePaper straight to your smartphone, tablet or computer.
Subscribe for only £5.49 a month and enjoy all the benefits of the printed paper as a digital replica.
Subscribe