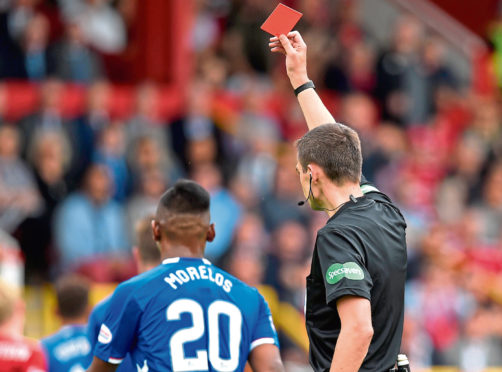 The potential pairing of Rangers and Celtic in the Scottish Cup semi-finals has got everybody talking.
And plenty of Bluenoses, it seems, would have Steven Gerrard rest Alfredo Morelos for Tuesday's replay against Aberdeen.
With the Colombian just a booking away from missing the derby, should his side progress, they worry using him against the Dons – against whom he has been sent off three times this season – would be just too risky.
Better, the argument goes, to trust in Jermain Defoe and Kyle Lafferty to get the job done, and then unleash the country's top scorer on the holders.
There is a big problem with that logic, though, and anyone who enjoyed the terrific Champions League action this midweek should be able to spot it.
Before Manchester United's miracle in Paris, we saw Real Madrid thrashed 4-1 by Ajax in the Bernabeu.
Now, I know the Spanish giants are having a bad season. But this was dramatically bad and, as their own players admitted later, had a lot to do with the absence of their skipper, Sergio Ramos.
Ramos had deliberately got himself booked in the first leg in Amsterdam so he could get his ban over in time for the latter stages of the competition.
That arrogance ended up costing Real dear.
So there is a clear lesson there for Gerrard.
He can't afford to rest Morelos as he can't be sure his team will win against the Dons without him.
For any Rangers fans still not convinced, I'd suggest they have a think back to this season's League Cup semi-final.
Then, with Morelos suspended, Rangers were beaten by Tuesday's opponents, who went on to lose to Celtic in the Final.
The Light Blues dominated the game, but with Umar Sadiq proving a poor replacement for their first-choice striker, Gerrard's side couldn't find a way through the determined Dons.
Sadiq is gone now, but doubts remain about the other strikers on the books.
Defoe and Lafferty can both score great goals but don't create opportunities for themselves the way Morelos does.
So the Colombian has to play at Ibrox on Tuesday.
One of the reasons Brendan Rodgers was so successful at Celtic before going south was his ability to entirely focus on the next game.
Where his predecessors had used League Cup ties or games after European matches to make wholescale changes, he was much more inclined to just tweak things instead.
Rodgers was well aware losing matches slows momentum.
In Rangers' case, it is more important than that. This Cup replay is a season-defining game for both clubs.
So the task for Gerrard is to convince Morelos between now and Tuesday night that it is essential to the team that he keeps his discipline.
It is a message he will have delivered on many occasions already this season.
This time he has to make sure it gets through.
Of course, it might not be a 90-minute concern.
If Rangers can get themselves into a winning position with a chunk of the match remaining, then the manager will be free to take Morelos off to prevent him doing something stupid.
A similar approach, in fact, to one you'd have of a player who had been yellow-carded looking in danger of being sent off.
There is no understating this issue.
If Morelos can avoid cautions then Rangers have a puncher's chance, not just of beating Aberdeen but of winning the Scottish Cup itself.
It's to be hoped the match passes off without the sort of unsavoury incidents that have blighted the game this season.
To coin throwing and sectarian chanting we can now add the bottle that was thrown in the direction of Celtic's Scott Sinclair at Easter Road last Saturday.
I have stated in this column before the need for clubs to have HD CCTV.
They have to be able to identify the culprits and hold them responsible for their actions.
And with it being hard for police to take action against large groups chanting offensive songs, I believe strict liability must be the answer.
If fans know their actions could see their team being deducted sufficient points to drop a league position, they would think twice about opening their mouths.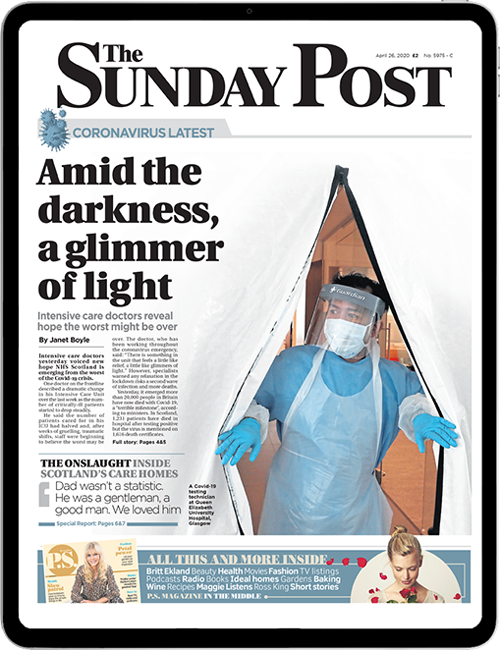 Enjoy the convenience of having The Sunday Post delivered as a digital ePaper straight to your smartphone, tablet or computer.
Subscribe for only £5.49 a month and enjoy all the benefits of the printed paper as a digital replica.
Subscribe