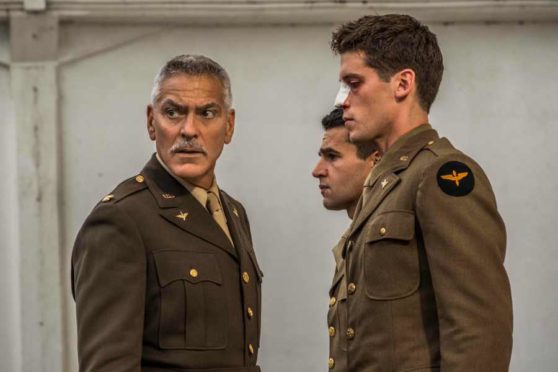 George Clooney's memories of Catch-22 hark back to his school days.
And the Oscar-winner, who not only stars in but produced and co-directed the TV adaptation of Joseph Heller's 1961 novel, remembers it well.
"It was one of the must-reads – but it was dense!" he says of the classic title.
"It's hard reading, it took a lot. But at the time, it felt like the kind of writing that we hadn't seen much of.
"We've seen some since but it's nice when you go back and read a book 40 years later and it doesn't let you down – that doesn't happen all that often!
"It's like when you see movies. My wife is considerably younger than me and I say, 'Oh, you've gotta see this film, it's one of the greatest films I've ever seen'.
"And we watch it and it's terrible now. What was I thinking?" says Clooney 58, who has twins with human rights lawyer Amal 41.
"So the experience I had with Catch-22 as a young man is you're supposed to read it, and the fun part as an old man is it was nice to read it."
The six-part anti-war satire follows the ludicrous and darkly-comic actions of US Air Force pilots during the Second World War.
The main man is Captain John Yossarian, played by Christopher Abbott, who is enraged that thousands of people he has never met are trying to kill him.
But any attempt to refuse to fly combat missions would put him in violation of Catch-22, a bureaucratic rule which states that a man is considered insane if he willingly continues to fly dangerous sorties whereas a request to be removed from duty is evidence of sanity!
Joining Yossarian is the obsessive Colonel Cathcart, the fierce Major de Coverley (our own Hugh Laurie) and Clooney's moustache-wielding General Scheisskopf.
It marks his first television role since his career-making stint in ER ended 20 years ago, and a return to the Second World War after directing The Monuments Men back in 2014.
"If I'm flicking through the channels, it's the history channels that I end up on, just to watch old documentaries," admits the self-confessed history buff.
And there's never a bad time to "talk about the absurdity of war" either, Clooney insists.
"There's also never a bad time to talk about trying to beat the system," maintains the Kentucky-born star.
"Because the system pretty much always wins, and most people feel that way.
"I feel like we are facing a pretty absurd time in our lives – all of us, every country around the world right now.
"So any time we're able to laugh about it and remind ourselves that these things are temporary, it's probably a good thing to do.
"If you don't have your sense of humour, if you can't mock, make fun of and jab that guy in the eye every once in a while, then you know…
"It's a good thing to have. It's healthy."
This isn't the novel's first screen outing. The popular classic – which gave us the now-commonplace catch-22 phrase – was originally seen on the big screen in 1970 with Alan Arkin, Michael Sheen, Jon Voight and Art Garfunkel among its stellar cast.
"This is a way to tackle this story that you haven't been able to do, that you couldn't do, in two hours," Clooney explains.
"We kill a lot of people but when you kill them in the movie, you don't get to learn who Garfunkel's character is or who Martin Sheen's character is.
"Whereas with a six-hour piece, their deaths have some resonance, and it's not just funny.
"The beauty of being able to tell it in a longer form is why we wanted to do it.
"It's hard to find good pieces of material. I read tons of garbage, quite honestly, and go, 'Oh my God, they're going to make this and do a show or a movie. Oh my God'. And then they do!
"We got handed six scripts for Catch-22 that were spectacular, and I thought, 'Well, I'd like to see that show and I'd like to be involved in whatever way I can'. Because our main job is to supply escapism and entertainment and hopefully do a good job with that. That's what we focused on.
"If you're going to direct something that's going to take one-and-a-half years out of your life – and with kids, two years – it has to be something that you're willing to take a risk on, something that's worth doing."
Catch-22 is on Channel 4 on Thursdays at 9pm.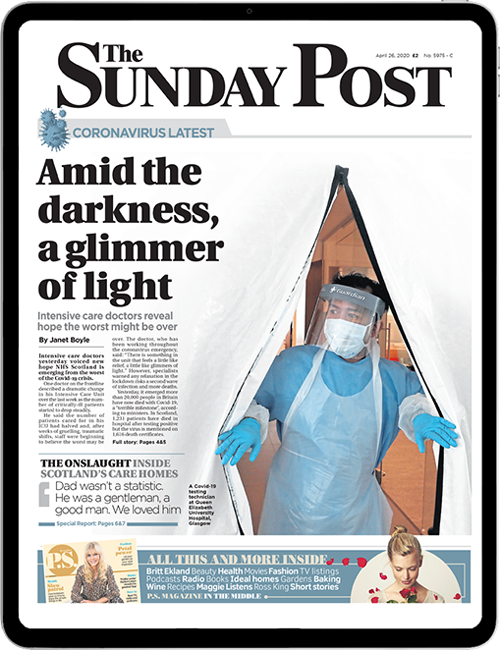 Enjoy the convenience of having The Sunday Post delivered as a digital ePaper straight to your smartphone, tablet or computer.
Subscribe for only £5.49 a month and enjoy all the benefits of the printed paper as a digital replica.
Subscribe