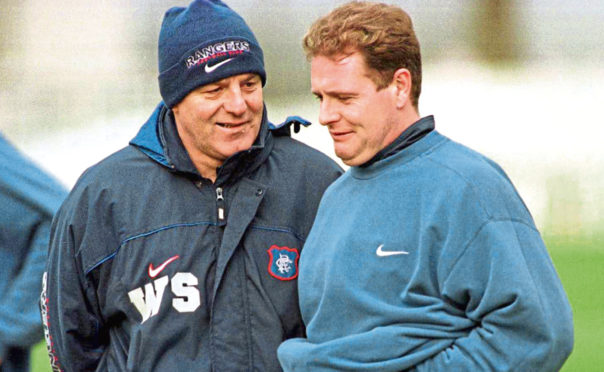 Being the manager of Rangers is one of the hardest jobs in football.
But the players can make it a lot easier for Steven Gerrard when he's preparing for occasions like today's Old Firm game and crunch European ties.
There's a widely-held view that Gerrard will do his level best to bring success to the Ibrox club and then leave to pursue his dream of becoming Liverpool boss.
Time will tell if that happens, but Paul Gascoigne doesn't believe that would bring the former England man any greater satisfaction.
Gazza himself found no bigger thrill than playing for Rangers.
Of course, Gerrard doesn't have stars who indulge in the colourful, off-field activities that often got the Geordie into trouble.
Gascoigne said: "Steven Gerrard is a great lad.
"I was going to say he'll go on to better things – but it can't get any better than being the manager of Glasgow Rangers, as far as I'm concerned.
"When we went away with England, it used to say on the list Paul Gascoigne (Lazio) and Terry Butcher (Rangers). I used to give Butcher stick, saying: 'Oh look, he's at Rangers up in Scotland'.
"He came back with: 'Don't knock it until you've tried it' and he was spot on."
Gazza, in Scotland promoting television coverage of Italian football, often tested the patience of manager Walter Smith.
He recalls nearly being sacked for being caught having a shandy.
He went on: "I was staying in the hotel at Loch Lomond, I did a few weights and thought: 'I'll have a shandy'.
"But I then saw him looking at me. I said: 'Hi Gaffer' and just put the shandy down and went to my room.
"I reckoned I was going to get a dressing down the next day.
"I went into dressing room, and put my kit and boots on. It was 20 minutes past two and I thought: 'If I just play well for him today, it might be alright'.
"He came in and said: 'Can I have a word with you in the office?'. As I walked out of the dressing room, the lads went: 'Oh, oh'.
"He asked me: 'What was that you had last night?' and I said it was a sip of shandy.
"He said: 'Good lad, go back in there, take your kit off, put your suit on and get out my club and never come back'.
"I was laughing but he went: 'No, I'm serious', and slammed the door in my face.
"I went back and started taking my kit off and the lads said: 'Where are you going?'. I replied: 'He's kicked me out the club'.
"I was so embarrassed. I put my suit on and all the fans were coming into the ground and I'm walking through them at 20 minutes to three.
"They are saying: 'Where are you off to?' and I'm saying: 'Stomach bug, I don't feel well'.
"He made me stay in the house for three days. I couldn't move, no training or anything.
"I had to sit and wait on him phoning, thinking: 'Please ring'. Finally, he phoned, and said I could come back in, but don't ever do that again."
Today's Old Firm game will throw up plenty of talking points. It always does.
Gazza had experienced the North London and Rome derbies, but quickly realised what a unique occasion this is.
He said: "John Brown was a hard player, but at 12 o'clock he'd be on his back, his legs up against the wall, blowing into a brown-paper bag. He was trying to let off a bit of steam.
"When I saw him do that, I thought: 'God, this is serious'."
Premier Sports will screen up to six live Serie A matches each week including Juventus v Napoli and Lazio v Roma this weekend. See premiersports.com for details of a Special Serie A offer.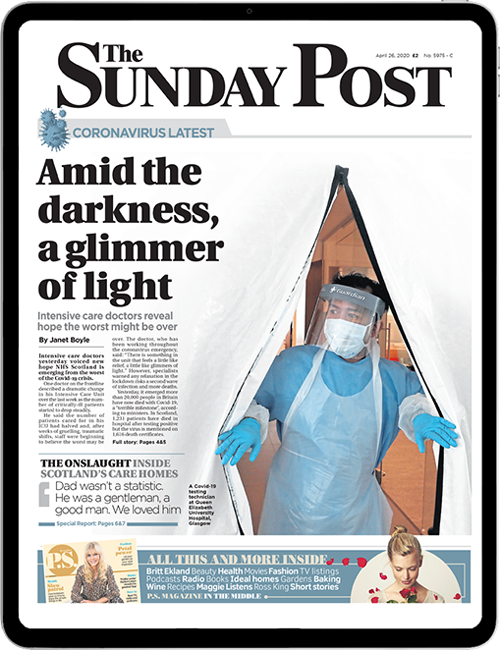 Enjoy the convenience of having The Sunday Post delivered as a digital ePaper straight to your smartphone, tablet or computer.
Subscribe for only £5.49 a month and enjoy all the benefits of the printed paper as a digital replica.
Subscribe