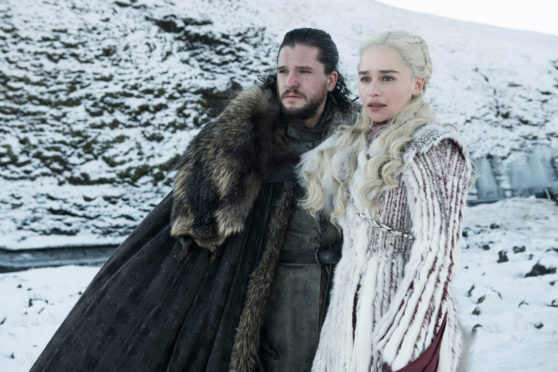 It's been a long time – especially as, disappointingly, HBO didn't accidentally leak episodes like in past seasons of yore – but Game of Thrones is finally back on our TV screens and illegal online streams.
Since GoT has a history and mythology denser than a Brexit dossier and I'm working with a limited word count, let's start this recap with a speed swifter than Jamie Lannister's express horse from Kings Landing to Winterfell.
We open with a rather frosty homecoming for Jon Snow and his dragon queen Daenerys Targaryen, and it isn't just because it's high season in the Westerosi Alps. Despite returning with an elite army fashionably accessorised with two on-trend fire-breathing dragons, the Northerners are annoyed at Jon because he engaged in some basic political diplomacy with Daenerys to get her literal firepower to join the cause.
The way the locals see it, last season, they gave Jon Snow their crown, but the very next day, he bent the knee. Yet Jon is struggling to see what the problem is – Daenerys' dragons breathe fire, one of the very few things that can kill the soldiers of the undead army, and like – can't they see how pretty Daenerys is? Surely someone that pretty can't be so bad?
But half-sister Sansa has an eye on logistics. Sure, Daenerys and her entourage are both figuratively and literally hot, but they didn't RSVP to her winter soirée and now she doesn't have enough canapés to keep them fed for long. It also doesn't help that Daenerys is openly galled at not being embraced as the mother and saviour of the Northerners right off the bat of a dragon's wing – I mean, do they really not see how gorgeous she is?
Back in Kings Landing, Cersei is given good news and bad news. The good news is Euron Greyjoy managed to secure the prestigious fighting force The Second Sons to help bolster the Lannister army. The bad news is, they couldn't bring their elephants along on such a long sea voyage, which in better times, would have been a romantic deal breaker for animal lover Cersei. Alas, things are bleak, so Cersei gives into Euron's pressure to consummate their business relationship regardless. Despite all of Euron's blistering arrogance, once the deed is done he still can't stop himself from having the 'was it good for you?' conversation with Cersei. Oh Euron, you know what they say: if you have to ask…
We head back to Winterfell to see Sam and Bran bicker over who should tell Jon his true heritage (which, if you have forgotten, is that he is the true heir to the Iron Throne and, by the way, is accidentally committing incest with his paternal aunt). Sam doesn't think it should be him, but when Daenerys drops by his study to reveal that she fried his father and brother last season for refusing to bend the knee, he quickly lets go of his reservations and finds the courage to grass up her inferior claim to Jon. Cue excellent 'smell the fart' acting from Kit Harrington as he processes this horrible, no good, very bad news.
Race to the throne
Daenerys' entire story arc from the beginning of GoT until now has been all about learning to be a great ruler, so while the writers are trying to sow doubt by drawing attention to how entitled Daenerys can sometimes be, I don't think they would throw away seven seasons of character development just for shock value. My Braavosi coin is very much still on her to win.
Race to the grave
Jon Snow has always had a penchant for self-sacrifice, so his chances of making it to the end of the final season alive were already on a bit of a shoogily peg anyway. But now that his claim to the throne is even stronger than that of Daenerys means he's more doomed than ever, because he'll need to be shuffled out of the way if Daenerys story arc is to have any pay-off. While Jon and Daenerys have always mirrored one another throughout the show's run, his trajectory was always one of soldier, not a ruler. And knowing GoT, I don't see it ending with these two ruling the kingdoms in marital bliss – do you?
Death of the week
There was only one significant death this week but it was a doozy. Wee guy Umber went home to collect his people but they were overrun before they could escape the Night King and his Army of the Dead. The rest of his household were recruited into the King's undead ranks, but poor little Umber's body was pinned to a wall and artfully surrounded by a perfectly symmetrical circle of amputated limbs for the last standing members of the Night's Watch and company to find. Said limbs were arranged so artfully that it must have taken some serious time, effort and planning from the White Walkers and wights to pull together. Does anyone else smell a slapstick Chuckle Brothers-esque spinoff about some hapless wights trying to make gruesome art for their icy overlords, or is that just the overwhelming stench of rotting Umber flesh trying to deceive me?