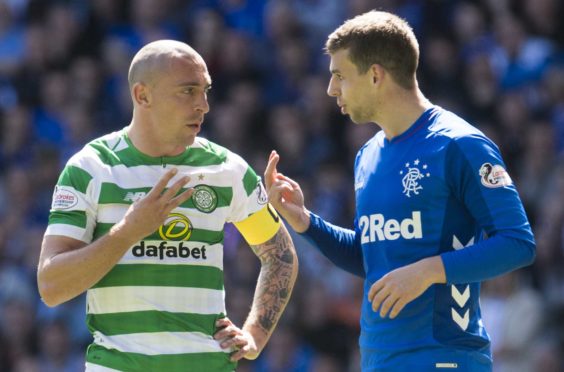 "When the fun stops, stop."
That's the wake-up call bookies use to try stopping problem gamblers in their tracks.
But it looks like Ladbrokes are taking their own advice when it comes to their sponsorship of Scottish football.
There has been plenty of fun along the way but, after five years, the party is over, and the SPFL are on the hunt for a new league sponsor.
I know lots of people will say the game shouldn't be taking money from bookies these days.
They'll say people struggle with gambling issues, and that football needs to do more to distance itself from betting companies, who fuel the problem.
But the real problem is – who else is going to plough money into Scottish football?
Look at the list of recent sponsors for the major Scottish competitions.
Along with the soon-to-depart Ladbrokes, there's William Hill and Betfred.
It's a clean sweep of bookies!
If William Hill and Betfred decide to up sticks like Ladbrokes, we're going to have three competitions in dire need of sponsorship.
And a look at the sponsorship attracted by the Challenge Cup doesn't bode brilliantly for the future.
Don't get me wrong, I'm not averse to a Tunnock's Caramel Wafer.
But as a headline sponsor for a tournament, it's hardly FTSE 100 stuff.
As far as omens for attracting a replacement for Ladbrokes goes, it doesn't look brilliant.
That's the job the SPFL are faced with now, and it's a huge one.
The truth is big companies, outside of betting organisations, won't look at Scottish football and see an opportunity to spread the word about their brand.
Through the week, I stay in Canary Wharf, so I know a wee bit about how the guys in charge of these big companies operate.
In the main, they don't take the game in Scotland particularly seriously – despite my best efforts to convince them that they should.
That's why I can't get on board with people who will be celebrating Ladbrokes' decision to walk away from the SPFL.
It's not as if their departure will remove all mention of gambling from Scottish football.
Both Celtic and Rangers have the names of betting firms plastered across the front of their shirts, for goodness' sake!
And I'm firmly of the belief that we should let adults be adults.
I know it's not a popular point of view, but I don't care.
How many people do each of us know that like to have a wee flutter of a weekend on the football? Particularly on a live game?
There are many thousands of them who gamble for fun, for small stakes, and no harm is done.
I understand some people struggle to stay in control, but they are in the minority.
It's only right that the bookies have policies in place to help those people.
But does it mean we shouldn't see betting advertising at all?
I don't think so.
In England, the Premier League is now so big – and so rich – that it doesn't want, or need, a headline sponsor.
It hasn't had one since 2016, when Barclays were the last company to be involved.
But Scottish football is different.
It needs all the cash it can get, both from TV companies and from sponsors.
The heat is now on the SPFL to sort something special on both fronts – or I fear everyone's fun could be in danger of coming to a stop.