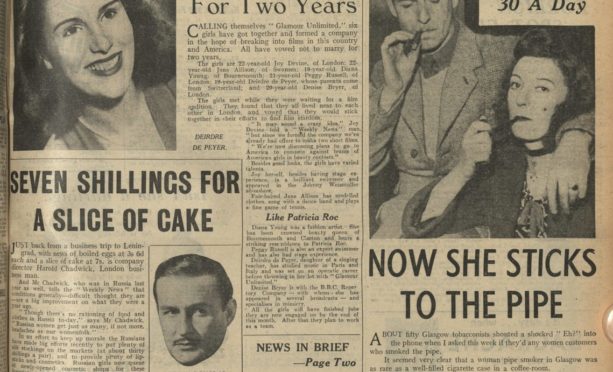 This week saw the publication of the final edition of our sister title The Weekly News.
With a history spanning an incredible 165 years, the paper's archives give a great insight into how life has changed through the generations.
Yesterday, we saw some of the ways in which life has changed throughout the paper's lifespan.
Today,  editor Billy Higgins takes a look back and picks out some more stories of interest, showing how the paper covered the quirkier stories, but also the hard-hitting.
---
Editor's note: From September 11 1948, the story of a Glasgow woman who quit smoking cigarettes… for a pipe!
About 50 Glasgow tobacconists shouted a shocked "Eh?" into the phone when I asked this week if they'd any women customers who smoked the pipe. It seemed very clear that a woman pipe smoker in Glasgow was as rare as a well-filled cigarette case in a coffeeroom.
Then the grapevine got to work and I learned of young Mrs Henrietta Barker, of 74 South Woodside Road, Glasgow, W. "It's true," my undercover man assured me in a dramatic whisper, "she smokes a pipe!"
Without further ado, I hurried along to see this remarkable girl. She turned out to be a pretty redhead of 23, in a stunning New Look costume. I hesitated to ask her about pipe smoking. She helped me out.
"You've heard I smoke a pipe?" she smiled. I could only nod. "Well, there's nothing very remarkable about it," murmured Mrs Barker. Then, under my fascinated gaze, she reached for her handbag and took from it a neat little pink pouch, which she opened. Out came a medium-sized briar pipe. With her pink-painted thumbnail Mrs B pressed down the tobacco in the bowl. Then she put the pipe in her mouth and lit up.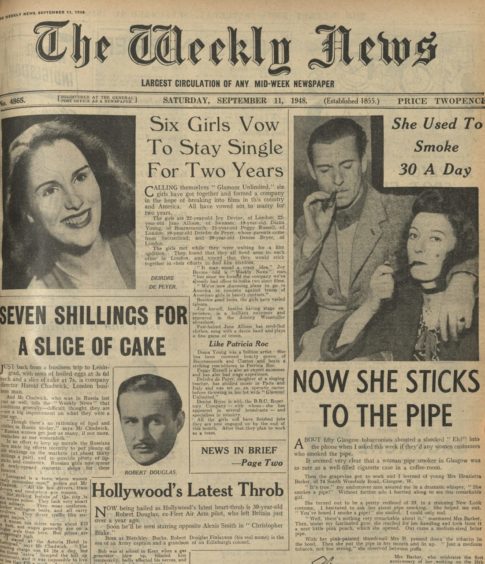 "Just a medium tobacco, not too strong," she observed between puffs. Mrs Barker, who celebrates the first anniversary of her wedding on the 16th of this month, smoked 30 cigarettes per day up till three months ago.
She decided then that that was too much. "I asked my husband to buy me a pipe and some tobacco," she said. It's proved an economical proposition. Instead of 30 cigarettes per day, Mrs Barker smokes only four or five. Her pipe tobacco consumption amounts to an ounce and a half per week.
Mr Barker came in. He was smoking a cigar as he couldn't get cigarettes. "Hetty's all the better for cutting down on cigs and taking up the pipe," he said.  "I think she looks quite nice, too, smoking a pipe."
Only occasionally, however, does Mrs Barker smoke her pipe in public. "Not because I'm afraid," she assured me, "but I'm old-fashioned. I don't like to see girls smoking cigarettes even on trams or in the street."
I asked her if she'd follow the fashionable example of some London girl pipe smokers and eventually invest in one of the ornamental types of pipe. "Not for me," she said emphatically. "I'll stick to my briar."
---
Editor's note: Back in the day, as they say, The Weekly News had a fairly substantial proportion of crime content, both real-life and fiction. Here's an extract from a lengthy 1955 series from real-life London gang boss Johnny The Fix.
I was minding my own business when fate led me down 17 steps to the Soho basement club whose swagger title had tickled my fancy.
Near the bottom, I slipped on a bit of orange peel. Considering the mess I then proceeded to make of my life I figure that peel was stacked on step No 13.
Yet how was I to know I had wandered into the notorious haunt nicknamed The Snake Pit by its mobster customers.
A swell bar, soft light and music, three couples going through the motions of a foxtrot. The usual mixture of customers – theatricals, spivs, businessmen, and a bunch of teenage Wardour Street girls made up to kill.
One of them tacked herself on to me and said hers was a gin and French.
"I can just manage it, sister," I said bluntly. "Been demobbed five days – and you know how it is."
In 36 hours I would be heading for Liverpool and my old civvy job as a mechanic. After a harmless fling in the West End I had just eight quid left.
She knew she was on a loser, but that girl was a sport. She kept the talk going and indicated a man in untidy tweeds escorting a couple of aristocratic dames.
"The Marquis of –," she said. "Comes regularly. Likes to introduce his swell crowd to the mob."
"What mob?"
"Be your age, sonny," she said scathingly. "What's more, keep your trap closed if any of them do walk in. They're liable to give your ideas a shake-up."
They certainly did when a sudden hush heralded the arrival of the gangsters.
First a pair of bodyguards – "minders" in the jargon of the gangs. Next came a dark-skinned, elegantly-dressed guy, all diamonds and Oriental gestures.
"Calls himself Aly Khan," said my pal.
The girl with him was made up to look the double of Jane Russell. Another brace of Hollywood phonies trailed behind – the spit of Humphrey Bogart, and his moll aping Betty Grable.
They oozed vanity and self-admiration. But when they opened their mouths I wanted to yell with laughter. They were crude children of the streets.
Bringing up the rear were two people of a different stamp. One – a benevolent, middle-aged geezer, with pink cheeks, strong glasses and quietly dressed. With him was a smasher of a redhead. Lovely features, white skin, green gown, and no jewellery at all.
"It's the Boss – The Duke himself," whispered my friend.
"With Red Ruby. First time here in months. Something must –"
She broke off when The Duke, as she named him, looked towards us.
He must have given a secret sign to my girlfriend, for she broke away to have a word with one of the "minders" – no doubt to tell him this stranger to the Snake Pit was just an ordinary sucker.
The group settled down in a circle, quickly joined by the genuine marquis and his lady friends. I couldn't keep my eyes away from the redhead until I sensed I was heading for trouble.
The minders were getting restless with me. Time to scarper. I drank up and made for the exit beside the door marked "Toilet."
Along the dingy passage I passed a phone box. Some guy was busy talking. I was still in the toilet when I heard him leave the box and be addressed by another man who must have followed a little while after me.
"Get the chief? All fixed, Spike?"
"Yer, all fixed."
"What's the spiel?"
I could only get snatches, but what I heard was plain enough, ugly enough.
"Be 'ere in 40 minutes… picking up Larry and the tearaways at the Elephant… orders to fix on Duke and Ruby only… slash 'em good and proper about the face… put 'em out of business."
The hoodlums were making off when one of them decided he had need of the room I was in.
He strode up, pushed the door three-quarters open and I had made up my mind for trouble when his pal hissed a warning that someone was coming along.
They vanished practically without a sound – I never knew where. I was past the newcomer and up into the street like a shot. Mixed up in a gang battle? Not me.
I headed towards Shaftesbury Avenue and suddenly stopped. For I had a picture of Redhead being slashed with razors on her lovely face.
That's why, five minutes later, after a tussle with the telephonist at the Snake Pit, I finally got The Duke himself on the blower.
I just told him who I was, repeated what I'd heard, refused to give my name and address – and rang off.
The papers next morning said nothing about any gang outrages in Soho, so I knew my warning had worked.
You could have coshed me with a feather when at teatime, leaving the Corner House, a tough tapped me on the shoulder and said: "Johnny, a couple of friends would like a word with you."
He jerked his thumb. In a Daimler sat The Duke and Ruby, both beckoning me across. They were warm in their thanks.
"What happened?" I asked.
"They came," The Duke said. "The birds had flown – thanks to you. There was no trouble at all."
Ruby chimed in with a suggestion. As it was to be my last night in town, why not be their guests for the evening – cabaret, clubs, dinner?
They wanted to show me their gratitude, give me a real good time before I went back to Liverpool.
"How the heck do you know I'm from Liverpool? Come to think of it, how the heck did your man pick me up here?" I asked.
The Duke laughed. "Don't get rattled. You dropped a clue to a charming little lady yesterday evening. With an organisation such as ours, it was no trouble to trace your hotel, and have you tailed till we could pick you up. No trouble at all."
It seemed to me magic the way they had got on my track. But in the years to follow I was to discover The Duke was only telling the truth.
A No 1 gangster has so many crooks at his command that once he makes up his mind to track down a citizen, he can do it as easily as Scotland Yard.
I didn't argue then. I stepped into the Daimler and I can assure you the night's entertainment lived up to all the promises.
We finished up in one of The Duke's spielers (gambling joints), where guys were gambling £100 on the turn of a card. By this time, I was definitely fuzzed up with champagne.
Having only £4, I wouldn't play the cards, but I did get stiff-necked about being treated. I insisted on paying a round.
I turned down The Duke's offer of a loan of £25 and then he played his trump.
He shammed much concern for me. He put up a proposition which, he said, would put Ruby further into my debt than ever.
"You've got a driving licence, I believe," he said. "I just want you to use it. That's all. It will get Ruby out of a hole. Be worth 50 smackers to you."
He explained patiently. Tomorrow evening I would go to a certain hire-car firm and get a good Austin for 24 hours.
I would drive it to a car park in Kensington and leave it there. I would then go to a certain picture house and see the programme right through.
When I came out I would find the car gone. I would report the loss to the manager and the police and go home to bed.
During the night, the Austin would be found abandoned in Hammersmith none the worse for its adventure. Earlier it would have been used by Ruby as a "switch" car for a snatch of diamonds she had planned.
She would first make her getaway in a Morris; switch over to the Austin; switch again to the Daimler.
By this method of covering the trail she had proof against being tracked down by the cops. And it would be no trouble to me at all. No trouble at all.
I fell. And from that moment was apprentice to the underworld.
The hire-car trick worked as per schedule. Except for one little thing. Next afternoon the "bankers" (short for bankers cheques, meaning 'tecs, in the rhyming slang of the underworld) were going over me at my dingy hotel. They could prove nothing "as yet," said the sergeant ominously, "but watch your step."
I rushed round to The Duke.
"Dear, dear," he sympathised. "Shocking bad luck. If you go home, the Liverpool cops may pitch into you. If you take my advice, Johnny, you'll go to ground here for two or three weeks until it all blows over."
Rather than face my sister, I accepted his offer of a hide-out in an office-cum-flat he used in Charing Cross Road, guarded by three minders.
Because he was keeping out of the limelight himself, I saw a lot of The Duke.
At that time, several ruthless gangs were fighting for control of the West End.
Among them were the Elephant, King's Cross and Upton Park mobs, who waxed fat on terrorising bookies.
There were the "blaggers" (smash-and-grab boys) from Edgeware Road. The Angel Peter mob (safe blowers). The Notting Hill snatchers, who stole loaded lorries. The Kensington cat-burglar outfit. The desperate jewel and mail robbers of Seven Dials. And so on.
Rich spoil waited them in the West End, where 600 drinking clubs, hundreds of spielers, fun fairs, cafes, night clubs, foreign restaurants and fruit-machine halls are helpless before the menacing demand "Pay up – or be smashed up."
To gain control, to overcome their rivals, these terror gangs were only too ready to use the cosh, chiv (knife), razor – and even the gun.
The Duke poured scorn on them.
Gangs who terrified the public by fighting in the streets would be ruthlessly stamped out by the police, he predicted. If there had to be violence, let it be used privately. Keep the public out of it.
He originated the idea of the "fixer" or the "straightener" to see that violence was hushed up as much as possible.
No matter what the price in smackers might be, wounded gangsters must get private medical attention – not in hospital.
If a club was wrecked during a gang battle, then the owner must be paid full compensation within 12 hours.
Wives and children of maimed or arrested gangsters to get big consolation payments. So on and so forth. You'll see later how the scheme worked like a charm and The Duke emerged boss of the underworld.
"And you'd make a grand fixer for me, Johnny," he would say.
"Worth £200 a week, I figure. Just picture you at the end of the year walking out with a fortune in the bank and doing just as you please."
Like a mug, I fell for that old, old story. I threw in my lot with The Duke. From that moment I had only one name – Johnny The Fix.
---
---
Editor's note: Here's a striking piece from 1961 and another example that The Weekly News had a bit more "edge" at times throughout our life. I don't think I'd have run a piece on euthanasia in the 2020 "Paper With The Feelgood Factor" but it's interesting in the context of this retrospective.
HE is a family doctor, a general practitioner.
For 32 years he has cared for people, cured them, helped them to live.
But he would also like to help some of them to die.
For he is a member of the Euthanasia Society, whose main objective is to promote legislation of voluntary euthanasia.
They would like to empower doctors, in certain circumstances, to terminate the life of a patient.
As the law stands at present, the doctor would be accused of murder.
For professional reasons, we are not permitted to disclose the name of the doctor who has answered our questions so frankly.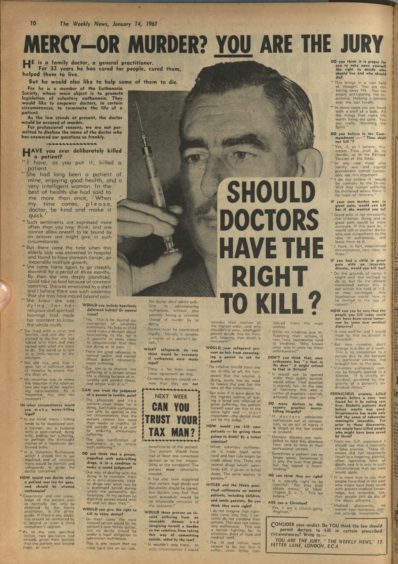 Have you ever deliberately killed a patient?
"I have, as you put it, killed a patient.
"She had long been a patient of mine, enjoying good health, and a very intelligent woman. In the best of health she had said to me more than once: 'When my time comes, please, doctor, be kind and make it quick.'
"Such sentiments are expressed more often than you may think, and one cannot allow oneself to be bound by an answer one might give in such circumstances.
"But there came the time when this elderly lady was examined in hospital and found to have stomach cancer, an inoperable multiple growth.
"She came home again to go steadily downhill for a period of three months. By then she was deeply jaundiced, could take no food because of constant vomiting. She was emaciated to a shell and I believe there was such weakness that she may have moved beyond pain.
"She knew she was dying, for her religious and spiritual leanings had her insistent to know the whole truth.
"She lived with a sister and brother, and one day explained to me that she had talked with them and they agreed with what she chose to do. She asked us to join in a little service in the sickroom.
"We did this, and then I gave her a sufficient dose of morphia to ensure that she slept on.
"My intention was to renew the injection if the relatives saw any sign of her regaining consciousness. As it happened this was not necessary."
In what circumstances would you make mercy killing legal?
"In my mind, mercy killing tends to be associated with a layman, say a husband with a pain-racked, dying wife, ending her suffering, or perhaps the distraught mother of a hopelessly-deformed baby.
"It is voluntary euthanasia which I should like to see legalised, and of necessity there would be controls and safeguards to guide the doctor concerned."
How would you decide when a patient was too far gone and should be allowed euthanasia?
"Experience and real knowledge of the patient, such as normally can only be obtained by the family practitioner, is the prime guide. If there is any doubt, this should be reinforced by a second or even a third consultant's opinion."
Would you give the right to kill to every doctor?
"In most cases the natural person would be the patient's own family doctor, but no doctor should be under a legal obligation to administer euthanasia. This is one reason that we must have law on our side.
"No doctor dare admit publicly to administering euthanasia without also possibly facing a criminal charge of murder by so doing.
"Doctors must be exonerated legally. Morally it remains a matter of a doctor's beliefs."
What safeguards do you think would be necessary if euthanasia were made legal?
"There is far from unanimous agreement on this.
"Certainly doctors should ensure that they are not beneficiaries of the patient. The patient should have had at least one consultant opinion as to the incurability of the complaint. The patient must voluntarily request.
"It has also been suggested that certain legal deeds and documents should be signed, but doctors may feel that such procedure would be an intolerable intrusion of the sickroom."
How would you kill your patients – by giving them poison to drink? By a lethal injection?
"When voluntary euthanasia is made legal some hard and fast rule might be made about this. There are several drugs which painlessly kill, if given in lethal doses. The same applies to poisons."
Hitler and the Nazis practised euthanasia on mental patients, including children and senile patients. Do you think they were right?
"I do not imagine that rightness came into this. I certainly do not condone their actions. This was not voluntary euthanasia. This was a nation fighting for its existence, short of food and medical staff.
"The ill and infirm were certain to be the first to suffer, since Hitler considered them the most useless.
"While no kindness was influencing their actions, it may have been some kind of kindness. Who knows what was in store for those unfortunates?"
Don't you think that, once euthanasia has "a foot in the door", it might extend to that in Britain?
"It would not be opened wider than public opinion would allow. That question is scarcely fair. In the case of Germany this was a matter of eugenics – entirely different from our case."
Do many doctors in this country practise mercy killing illegally?
"If doctors administer euthanasia out of compassion, as an act of mercy, it is illegal as the law stands at present.
"Humane doctors are compelled to face this dilemma from time to time in their professional careers. Sometimes a patient can no longer speak. Sometimes it is only the eyes that plead, but the appeal is heart-rending."
Do you think they are right?
"It is morally right: 'For they shall obtain mercy,' St Matt. chapter 5, v. 7. This we believe."
Do you believe in the Commandment – "Thou shalt not kill"?
"Yes, if, as I believe, this means Thou shall do no murder, as in the Revised Version of the Bible. In any case those who justify war and capital punishment cannot reasonably use this argument.
"I do not believe it would be contrary to the Divine Will that human suffering be shortened where there is no hope of recovery."
If your own mother was in great pain, would you kill her if she wanted you to?
"Great pain is not necessarily the criterion. Dying and in great pain would be more accurate. If this were so, I would call in another doctor who was sympathetic to the idea of euthanasia, and leave them to it.
"I have, in fact, experienced circumstances very close to these."
How can you be sure that the people you kill today could not have been cured tomorrow by some new medical discovery?
"It may well be, and I would hope so, that no disease is incurable.
"But new remedies don't emerge in a day or a week. This is no consolation to a person due to die because his particular sickness has brought him to the pass.
"Voluntary euthanasia cannot be broadly applied to a disease. It is strictly individual, governed by the gravity of a patient's individual illness."
Pernicious anaemia killed people before a cure was found for it by eating raw liver. Diabetic patients died before insulin was used. Streptomycin has made only half of the cases of tubercular meningitis incurable. Yet prior to these discoveries you would have killed people who might have been saved by them?
"I should say this is basically a false premise. These illnesses did not necessarily result in a lingering, painful, often agonising form of death, and it is only in such circumstances that our case would apply.
"It is more true to say that people have died in the past who might have been saved with present medical knowledge, but remember, too, that people still do die of the above ailments."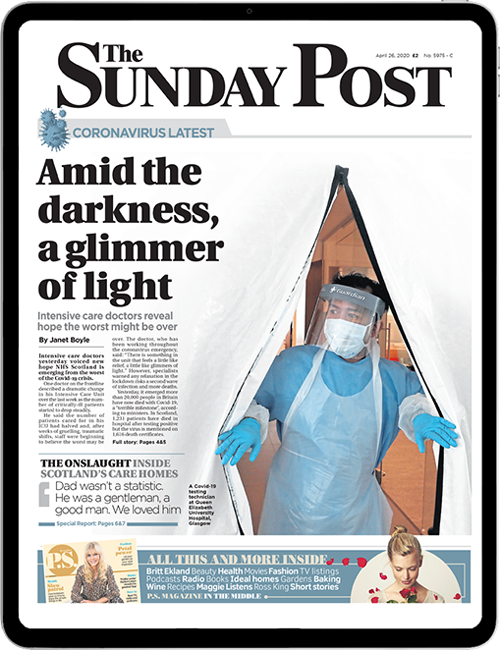 Enjoy the convenience of having The Sunday Post delivered as a digital ePaper straight to your smartphone, tablet or computer.
Subscribe for only £5.49 a month and enjoy all the benefits of the printed paper as a digital replica.
Subscribe