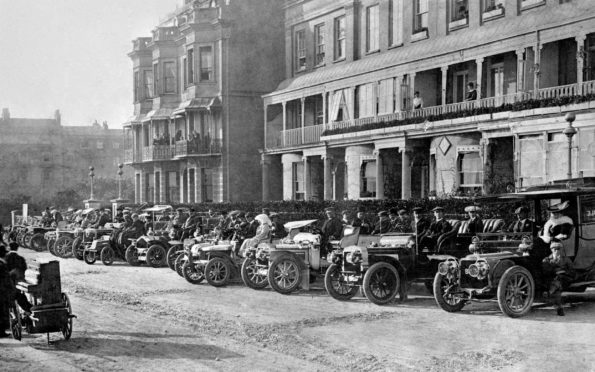 This week saw the publication of the final edition of our sister title The Weekly News.
With a history spanning an incredible 165 years, the paper's archives give a great insight into how life has changed through the generations.
Here, editor Billy Higgins takes a look back and picks out some stories of interest…
---
Editor's note: This is from our very first issue – May 12 1855 – and outlines the ethos of the original Weekly News.
In bringing the first number of the WEEKLY NEWS before the public, it may be expected we should make it the first duty of our pen to introduce ourselves, and enlarge upon the benefits we are to confer upon our readers.
We have no inclination to do this, however: preferring to be judged by our performances. We shall strive to deserve public support, and having done so, we are willing to stand or fall by public opinion.
The present number has been got up rather hastily, and with our arrangements in a somewhat incomplete state; so that we can safely promise improvement instead of falling off, in future issues.
Our thanks are due for the contributions which have dropped in upon us so liberally, mostly from workingmen, whose interests we have mainly in view, and to those correspondence we therefore give the best consideration.
We must impress upon correspondents to study brevity as much as possible. We may add in the words of author Tom Hood, "Of all things be legible; and to that end, practice in penmanship.
Be sure to buy the best paper, the best ink, the best pens, and then sit down and do the best you can. As the schoolboys do – put out your tongue, and take pains. So shall ye happily escape the rash rejection of a jaded editor; so having got in your hand, it is possible that your head may follow; and so, last not least, you may fortunately avert those awful mistakes of the printer, which sometimes ruin a poet's sublimest effusions, by transforming his roses into noses, his angels into angles, and all his happiness into pappiness."
The subscriptions for the WEEKLY NEWS, if paid in advance, are as follows:- One Quarter, 2s 2d, Half-year, 4s 2d, Yearly, 8s 0d. STAMPED COPIES of the WEEKLY NEWS price 3d, will be sent to country readers, but ONLY on previous application, and prepayment to the Printer.
---
Editor's note: From our golden anniversary issue – May 13 1905 – and a reader reflects on the short life of The Weekly News.
The full meaning of the jubilee of The Weekly News is not comprehended until we grasp the full significance of the changes that have taken place during its long career.
It is perhaps in the mighty revolution that science has wrought in the world during the past 50 years that we realise most of what this jubilee means.
Here are some of the things The Weekly News has seen:–
The horse supplanted by the bicycle and the automobile.
The quill and steel pen succeeded by the fountain pen and typewriter.
The scythe succeeded by the mowing machine.
The sickle succeeded by the harvester.
The primitive printing press succeeded by the cylinder press.
The painter's brush succeeded by lithography, and colour photography.
The magic lantern succeeded by the cinematograph.
Gunpowder succeeded by nitro-glycerine.
Less than 50 chemical elements increased to 80.
Gas succeeded by the electric light.
The galvanic battery succeeded by the dynamo.
The beacon signal-fire succeeded by the telephone and wireless telegraphy.
Leather fire buckets succeeded by steam fire engines.
Wood and stone buildings succeeded by 20-storeyed steel structures.
The stairway succeeded by the lift.
Ordinary light improved by the Rontgen rays.
Radium, acetylene, the phonograph, and a thousand and one indispensable adjuncts of our civilisation discovered and adopted.
And the influence of these things has been brought to bear upon the eightpaged two-penny sheet of 1855 that has developed into the great Weekly News of 1905. – W. J. Flatman, Handsworth, Birmingham.
---
---
Editor's note: Here's a 1914 first-person account from TJ Campbell, one of the top football referees of the time, reflecting on his 25 years officiating. And you thought today's referees had problems…
There will be a good deal of the first person singular in these articles, but I hope none of the huge constituency to which I have been invited to address myself will attribute to me anything approaching "swank".
Personally, I am an exceedingly modest man, and it is far more painful to me to have to write about myself than it can be to write about my experiences. But I am not so absolutely modest as not to know that to a great many followers of football my name must be more or less familiar, even if it is not remembered with any particular pleasure – for I recognise that though many may know a referee, he has vastly more critics than backers – because for nearly 25 years I have been refereeing in our great national winter game.
In my young days I played football with several amateur teams in the Blackburn district, and in my last two years as a player had the honour to captain the Blackburn Port Road Football Club – a club which was well known in those days and played in the now defunct Lancashire League. The team was composed of young fellows who followed their ordinary employment during the week and on Saturdays received the handsome sum of half-a-crown a match.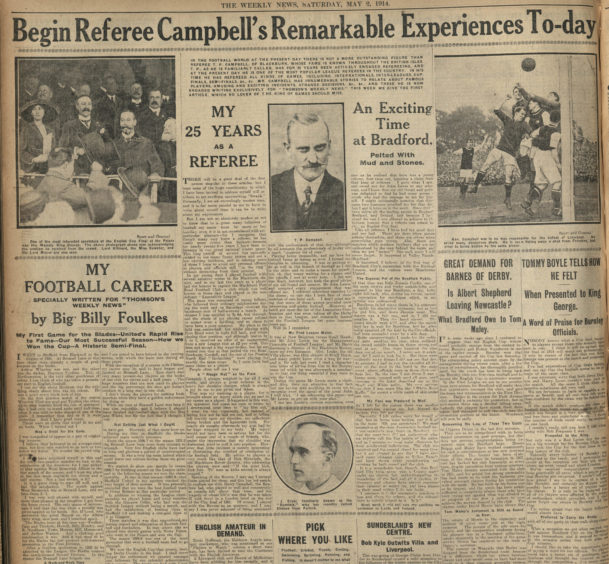 As skipper I was entitled to 3s 6d, but throughout the whole of my playing career refused to accept even a farthing, and so claim to have been a pure amateur. My place in the field was centre-half, but while playing with Port Road went to right full back, and while playing that position, and although beaten by 6 to 1, received an offer of an engagement from a new League club at £2 per week.
People often tell me I was a "rough nut" on the field. Certainly I always weighed in for all I was worth, and always a great believer in the heavy fair shoulder charges, which is always a joy to me to see given and taken. This was my undoing as a player, for it brought about an injury which put an end to my career.
It happened in this way, an opponent had upset me once or twice, so I determined next time to "lay him out". I went for him vigorously, but instead of laying him out he laid me out, and in falling fell heavily upon my shoulder, my collarbone was broken and the ligaments torn.
For nearly six months afterwards my arm had to be kept strapped to my body. My injury would not have been so serious but for the well meant zeal of a couple of friends, who, under the impression that my shoulder was dislocated, tried to pull it into position.
However, that little incident is merely interesting as illustrating the mischief of retaliation on the football field. My advice to players is very much like that of Dirk Birtwistle, the old Blackburn Rovers director, who addressing the players once said – "If tha must kick, kick fost. Th' man as kicks second is always copped."
Speaking of the Rovers, I may say I several times played for them, and this has led people to confuse me with Harry Campbell, the Renfrew lad, who played so well and consistently at outside left about that time, and the tragedy of whose life it was that he was taken ill with fever in a London hotel on the eve of the Cup final of 1891.
Of course, I played with the Rovers as an amateur, and I may say I was never ashamed of being associated with the professionals of that day – although by all accounts the professionals of today are a much "superior lot of men".
Playing being impossible, and my love for football being as strong as ever, I turned my thoughts to refereeing. I was as anxious to do as well in this branch of football as I did in the other and to make a name for myself, but, oh, that weary waiting for a chance and the rebuffs I met at every turn. I did not lose heart, however, but took the good advice of my old friend and mentor, Mr John Lewis, and accepted every engagement that was offered me.
I refereed schoolboy matches by the dozen; on one day I took four of these matches of one hour each. I don't mind saying that some of these games provided most interesting and pretty football.
However, at last I got upon the list of the Lancashire Combination and was soon taking all the Derby days in that league, and eventually landed on the Football League list some 14 years ago. Well do I remember my first league match. It was at New Brighton versus Small Heath, and Mr John Lewis (on the Management Committee of Football League), and Mr Harry Garstang as director of the Blackburn Rovers, were my two linesmen.
Alex Leake, the old Villa player, was then skipper of Small Heath, and many people know what a wag he was – and is, for only last week I read a characteristic letter of advice from him to the Burnley team (of which he was afterwards a member) as to that one thing essential if they were to win the Cup.
During the game Mr Lewis made a claim and Alex drew my attention to that fact, but not having seen anything to cause me to recognise even the signal of the great John, I told Alex, "I am refereeing this game – not Mr Lewis; so get on with your play."
I can see Leake's curious expression even now as he realised that here was a young referee, first time out, ignoring a claim from that king of referees. I gave what I saw and cared not for John Lewis or any other man, and I know that my old friend and guide was delighted to find he had come across a youth who had the courage to act for him self.
Like all referees, I have had my good days and my bad. There are days when games referee themselves, and there are others when everything goes wrong. Also, there are matches which produce incidents that are not understood by the man behind the ropes and then we get "scenes".
One such scene I will never forget. It happened at Valley Parade, Bradford. It happened, I believe, in the first year of Bradford City's connection with the Football League, and the visitors were Manchester United.
The especial pet of the Bradford public at the time was little Jimmie Conlin, one of the most elusive and tricky outside-lefts, and opposed to him was Bonthron, a big, hefty right full-back, who, during his career, earned a reputation for roughness which, in my opinion was rather undeserved. Bonthron failed many times in his attempts to tackle his diminutive opponent, but at last he got him, and down Jimmie went.
The charge was a fair one, and so I did not penalise it. Then the band played. The crowd simply went wild, and after the match they lay in wait for Bonthron, but he, after being escorted off the field by the City officials, had been smuggled away by a side door.
Quite unsuspectingly I made for the ordinary gate, smoking my pipe, when suddenly the crowd outside began to throw stones and mud at me. One stone knocked the pipe clean out of my mouth. I never saw it again, nor did I wait to look for it.
But there were evidently many things I did not see that day. At any rate, I had to run the gauntlet all the way up the road to the hotel in the main street, where officials were in those days paid their fee. By the time I got there I was covered with mud all over. As I left for the station there was another demonstration against me, but, beyond the booing, they left me alone.
Naturally, I felt rather sorry for myself at that, but no bones were broken, and it is all in the game. (Oh, you spectators!) We must remember at the time Association Football was a comparatively new thing in Bradford, and that the spectators did not understand what we experts call the fine points of the game, and so I suppose we must make allowances for their misdirected indignation.
The club was reported and the ground closed for some time, but I am pleased to say that I have since paid many pleasant visits to Valley Parade and been shown every consideration and courtesy by both crowd and the club. It is a remarkable fact, though, that Bradford City have never won a League match under my charge, but, notwithstanding the knowledge of the fact and all it implies, the directors and players have always expressed their pleasure at seeing me.
---
Continues tomorrow on sundaypost.com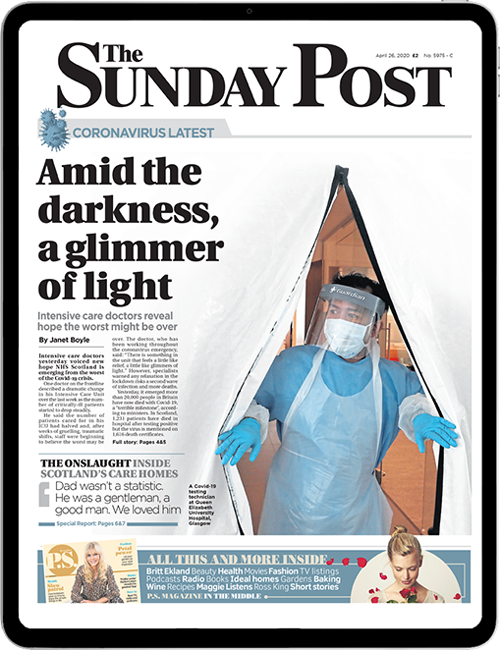 Enjoy the convenience of having The Sunday Post delivered as a digital ePaper straight to your smartphone, tablet or computer.
Subscribe for only £5.49 a month and enjoy all the benefits of the printed paper as a digital replica.
Subscribe