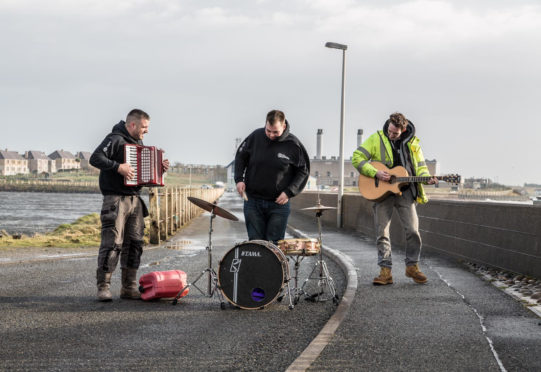 Taking what they call 'teuchter rock' from a small pub on the Isle of Lewis to a sold-out Glasgow Barrowlands sums up a whirlwind year for Peat & Diesel.
The trio, Innes Scott, Callum 'Boydie' MacLeod and Uilleam 'Uilly' MacLeod, started playing music together in their houses as something to do on a Saturday night when the weather was bad.
But within a couple of weeks they had proved a hit with locals, and a month later they were booked for their first gig.
A viral video followed, and now the band are preparing to kick-off 2020 with sold-out shows across the UK.
"It's been absolutely crazy," Innes, 38, says. "I don't even know what's going on anymore but we just have to get on with it!
"I find that I don't get any time to do anything anymore at all. It's hectic.
"I'm trying to renovate my bathroom just now but I get home from work and something comes up to do with the band that I have to do. It seems to be round the clock!"
All three still work their day jobs (Innes an electrician, Boydie a fisherman and Uilly a delivery driver), and their new-found celebrity status means that sometimes they get asked for photos.
"Apart from that we're the exact same to everyone else up here," Innes says.
"It was meant to be just a hobby for a bit of fun and it's ended up getting a bit more serious.
"We're trying as hard as we can to treat it as just a bit of craic, a bit of fun, but it's getting heavy going. We can only do our best, we can't give up now."
The band really started to take off when their video for song Western Isles went viral.
Innes recalls: "We set out to do a video just for a bit of a laugh. We realised that if we did a serious video people might take the mickey out of us and think we were trying to be the next boyband or something!
"We just went with our gut feeling of going out to have a laugh. The weather was that bad on the day we were filming it we were limited as to where we could go, but it turned out well."
The song exemplifies the Peat & Diesel way, a song with lyrics based around what life is like on the islands – or at least Boydie's take on it.
"It's possibly not the same take as we have," Innes laughs. "He's a bit of a character. He was brought up on the same island but looks at life a wee bit differently.
"Maybe that's some of the magic to the band, he gives it something nobody else has.
"When it comes to it, we're just three guys who can play instruments well enough to have a bit of craic.
"For it to appeal to people as much as it does is incredible."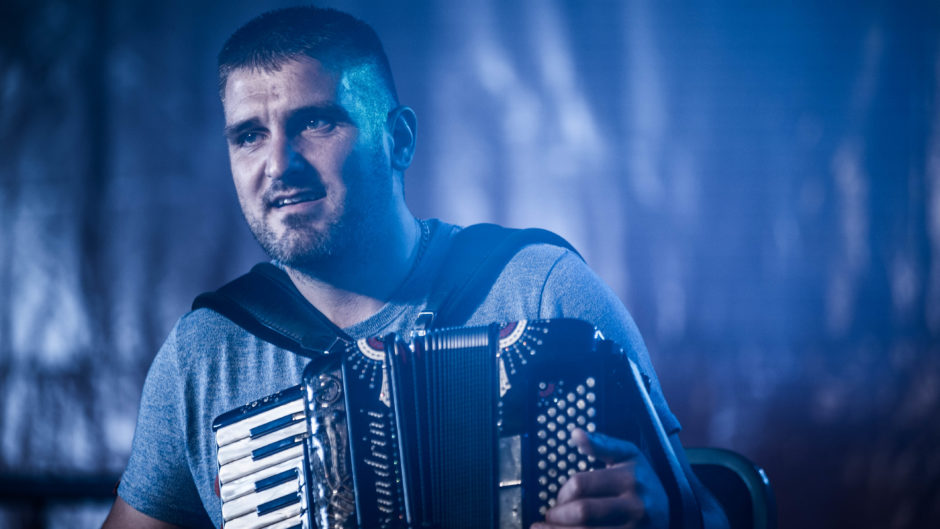 The band's live shows have earned them a nomination at this year's Scottish Trad Music Awards.
And Innes admits that they thought there had been a mistake when they were told they were up for Live Act of the Year.
"Being nominated for it is incredible, it's an absolute honour.
"The best thing we have going for us is playing live. We're playing nearly every time to maximum capacity crowd. We've never played at a quiet gig.
"It's very nervous, we're not natural performers on stage or anything – Boydie's not keen on people or public places so he's doing well, but it's one of these things, we just get on with it!"
The band are currently preparing for a tour around the UK and a huge album launch show at the Glasgow Barrowlands.
The launch, on January 25, was initially scheduled for the Oran Mor, but huge demand for tickets led to a change in venue.
Now a sold-out crowd of over 2,000 will be in attendance at the iconic East End venue as the band release their second record – Light my Byre – into the world.
And due to the phenomenal demands, a second Barrowlands date has been added for next November.
"It's hard to believe – I don't think we're going to take it in until we get there and realise how important it is," Innes says.
"The fact that it's sold out is incredible. We just have to do our best!
"If we do end up any bigger than we are or start travelling I think the Barrowlands will always be the gig to remember for us.
"I don't think there'll be any other that comes close to it. We're going to try to have a good night and do our best."
Wherever the band go next from here, it's not just the three members that will share the story.
Innes says: "Everybody in the family and even the locals feel like they're a part of the band. We want it to be and island thing and if everyone's happy to be a part of it that's good by us.
"It's put our area on the map a bit and brought a lot of attention to the islands.
"We didn't expect that to be the case, that wasn't the plan but if it helps the islands in anyway or helps anyone to get into music then great."
---
For more information on Peat & Diesel visit peatanddiesel.band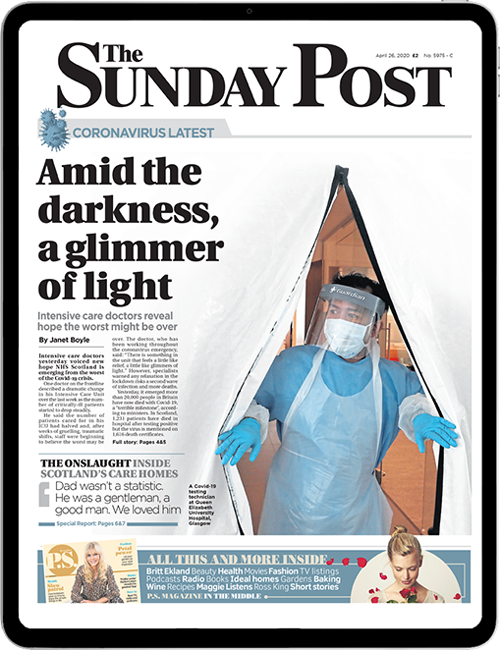 Enjoy the convenience of having The Sunday Post delivered as a digital ePaper straight to your smartphone, tablet or computer.
Subscribe for only £5.49 a month and enjoy all the benefits of the printed paper as a digital replica.
Subscribe