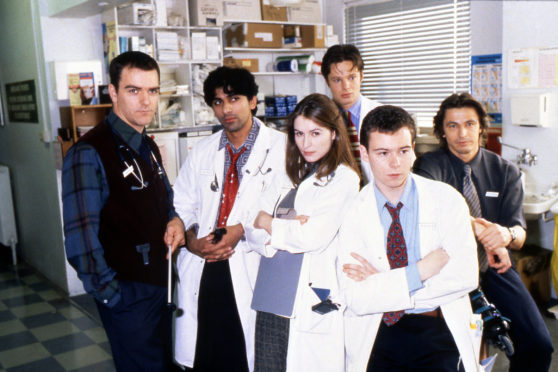 More than 10 million people are expected to tune in tonight for the finale of the ­latest series of Line Of Duty.
It will be the biggest small-screen drama since creator Jed Mercurio's last series, the ­ratings-topping Bodyguard and the hugely anticipated ­feature-length episode marks yet another high in the career of the talented writer – a career launched in Glasgow 25 years ago.
Mercurio made his debut with dark medical comedy-drama Cardiac Arrest.
It set Andrew Lancel on the road to fame in The Bill and Coronation Street and was the springboard to success for Helen Baxendale in Cold Feet and Friends. The series also gave a huge early career boost to Gavin Mitchell and the Still Game star has told The Sunday Post of Mercurio's magic touch.
"I was very chuffed to be asked to be in Cardiac Arrest," said Gavin, Craiglang's Boaby the barman. "I'm proud and humbled to be even a small part of the work of the man who is the biggest TV writer. He was quite a quiet guy back then, but lovely and really approachable.
"The budget was tight so it looked fresh, using handheld cameras. I think that feel continues today with Jed, with the feeling that things are constantly on the move. What he does is very clever."
Lancashire-born Mercurio, who had worked as a doctor in Drumchapel Hospital, wrote Cardiac Arrest under the pseudonym of John MacUre. It took an unflinching view of life on the wards, portraying stressed junior doctors teetering on the edge with storylines, featuring sexism, ­racism and Aids, shocked many.
"Jed was looking under the stone at what our health service was coping with," said Gavin.
"It showed how things could be a shambles and life-threatening.
"Suicide rates and breakdowns among medical staff have been massively on the rise but it's really not new. I think Jed gave a huge warning 25 years ago saying, 'Look, this is frightening'."
Cardiac Arrest, filmed at Stobhill Hospital, was part of a double bill of groundbreaking medical dramas for Gavin.
At the same time, he was working on Bafta-winning Taking Over The Asylum with David Tennant and Ken Stott.
"I remember finishing my last day playing a psychiatric patient at Gartcosh Hospital and getting into a taxi to Stobhill to play the administrator.
"He collapsed with a heart attack in series two and, as it was shot in the old maternity unit, I 'died' in the ward I was born in."
---
Five of Jed's best
Bodies
Just back on iPlayer, was in the medical world and took Cardiac Arrest to a new level of frankness and mayhem.
Cardiac Arrest
ran for three seasons from 1994, being extended from six to 13 episodes by the final series as its popularity grew.
Critical
Reunited Mercurio with original Line of Duty star Lennie James and the gore was ramped up further.
Bodyguard
became the most-talked-about hit of last year, cranking up the tension and killing off Keeley Hawes.
Line of Duty
Started on BBC2 but it became such a hit it's now one of BBC1's biggest shows, with twists and shock slayings.
---
Someone beginning with H…
Since the start he's been the straight-as-a-die rock, incorruptibly unshakeable in leading his AC-12 team in sniffing out bent coppers.
But viewers have been shocked by the finger of suspicion being pointed at Ted Hastings (Adrian Dunbar) as criminal kingpin "H".
Fans can't believe the man who's seen off wrong 'uns from Keeley Hawes' Lindsay Denton to Thandie Newton's Roz Huntley could be dodgy himself. But from suspected pay-offs to suspiciously bad spelling, things are looking bleak for Ted, with even loyal lieutenants Kate Fleming (Vicky McClure) and Steve Arnott (Martin Compston) having doubts.
Ted has already found himself on the other side of the desk for one of the trademark, lengthy interviews.
Ice queen DCS Patricia Carmichael (Anna Maxwell Martin) had him squirming last week and she's gunning for him again tonight so expect tension and shocks aplenty over 85 nerve-shredding minutes.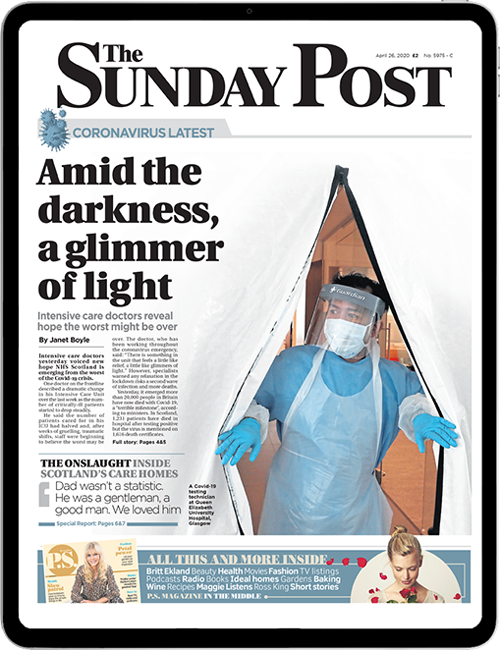 Enjoy the convenience of having The Sunday Post delivered as a digital ePaper straight to your smartphone, tablet or computer.
Subscribe for only £5.49 a month and enjoy all the benefits of the printed paper as a digital replica.
Subscribe