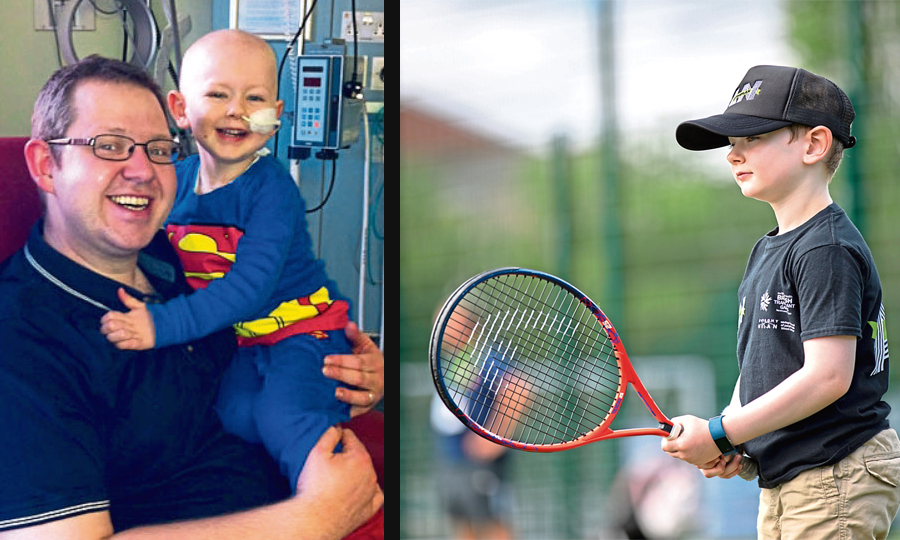 LOOK out, Andy Murray, Calum Lambert's on your tail!
Admittedly Calum can't boast two Wimbledon wins like his tennis hero Andy but his gold medal in the recent British Transplant Games in Birmingham is as important to him and his family as any Grand Slam trophy.
For Calum, who turns eight this week, had a lifesaving stem-cell transplant after he was diagnosed with aplastic anaemia – meaning his bone marrow basically stopped working – when he was four.
"Calum absolutely loves his tennis and he did name our new springer spaniel Murray after Andy," laughs dad Derek.
"At the Transplant Games Jasper Carrott, who is from Birmingham, came on and said these were the only games where if you're not on drugs, you're cheating.
"Calum's anaemia is idiopathic, they just don't know what caused it. There are lots of different theories.
"Sometimes it can be a hereditary or genetic thing but one of the most popular theories now is that it's actually your body's immune system that identifies your stem cells as being foreign and attacks them like it would a virus.
"The way bone marrow works, for a successful transplant the match needs to be as close as possible. There are 10 different markers that are used to determine whether there's a suitable match.
"Calum would have had five from me and five from Diane, his mum, so each of us was only a 50% match.
"If he had brothers or sisters, which he doesn't – he is the first and I think because of how everything's gone he'll be the only one – he didn't have a match within the family.
"In that situation Anthony Nolan then does a national search, and if they can't find a suitable donor they go worldwide.
"Luckily there was a chap in Germany who was a 10 out of 10 match for Calum. A lot of UK people have donors from Germany, they seem to have a strong culture of getting on the register."
Few can imagine how Derek and Diane felt when Calum was diagnosed in late 2013.
"It was brutal," his dad admits. "It's quite hard to talk about without becoming emotional about it.
"He started becoming unwell towards the end of the year. We knew things weren't quite right and we went to the GP and called NHS 24.
"Calum's bone marrow was beginning to fail so he wasn't able to produce red blood cells. His energy levels started falling and as the bone marrow also generates the platelets that help your blood clot, it became very easy for him to bruise and one night he had a nosebleed that wouldn't stop.
"Your bone marrow's also vital to your immune system and while he wasn't particularly unwell with bugs to begin with, it became much more of an issue as his immune system pretty much ground to a halt.
"He was in hospital from then until he had his transplant in April, 2014 and then for a good time afterwards while his immune system recovered."
Calum's diagnosis wasn't wholly straightforward, as Derek explains: "Initially they thought it was leukaemia because the symptoms fitted but they couldn't find any cancer cells.
"They had a plan to tackle leukaemia but that was obviously stopped while they figured out what was really going on.
"It was only when they checked inside his bones that they found out what was actually happening, that his bone marrow was being destroyed.
"Once they knew what it was, it took four or five weeks to find a donor, and all the time we were back and forth to hospital as he was very unwell.
"When you've got a plan, you have hope and you understand what's going to happen but then there is no plan and there is no certainty there will even be a match. It's a horrible time.
"There's no guarantee everything will work out, sometimes the recipient rejects the donation so you're back to square one.
"You've got all those worries ahead of you and when they go through transplant they're hit with lots of chemotherapy and other treatments to prepare them to accept the transplant – they're ill to start with and then the treatment makes them worse.
"It's a really difficult thing to go through but Calum did well and within a month it was clear his body was starting to accept the bone marrow and the doctors started talking about him coming home.
"We started off driving to Glasgow from our home in Livingston three times a week for check-ups, then it gradually dropped down to fortnightly, to monthly, to six-monthly and next year it'll be yearly.
"We never take for granted how lucky we are, and we'd encourage everyone to get on the register and become a potential donor. People don't realise how important that can be. It's giving someone life."
Anthony Nolan uses its register to match potential stem-cell donors to blood cancer and blood disorder patients. Find out more at www.anthonynolan.org
Emotional trip to Transplant Games
The British Transplant Games is an annual gathering in which people who have received lifesaving stem-cell or organ transplants take part in Olympic-style events.
As Derek Lambert, whose son Calum received a stem-cell transplant to treat his aplastic anaemia, explains: "It's terrific. You meet other families, Calum meets other children who've been on a similar journey and it's brilliant to see how well they're doing and how much they've grown and left their illness behind.
"You see them taller, faster and living a normal life.
"It's quite something to be in the company of all these people in the same boat. Most of the teams are tied to specific hospitals like Glasgow Sick Kids' and Great Ormond Street but Team Anthony Nolan is different because they're a national organisation.
"Without Anthony Nolan, Calum wouldn't be here. They find the matches and do research to make sure you've got as much of a chance as possible so we're Team Anthony Nolan for life.
"The most emotional part of it is that all these people from across the country are there who have been on similar journeys but you'd never meet them without the Games.
"Also, you meet the living donors and the donors' families taking part in some of the events and it just brings it home how one person's passing, or being mindful that you want to donate, means the other people can be there having got that second chance.
"You always worry, as a parent, about the future, about what's going to happen, whether your child's going through serious illness or not.
"But you look around at everyone who's participating and they're happy, they're getting on with life, they've got the right attitude and things can be OK."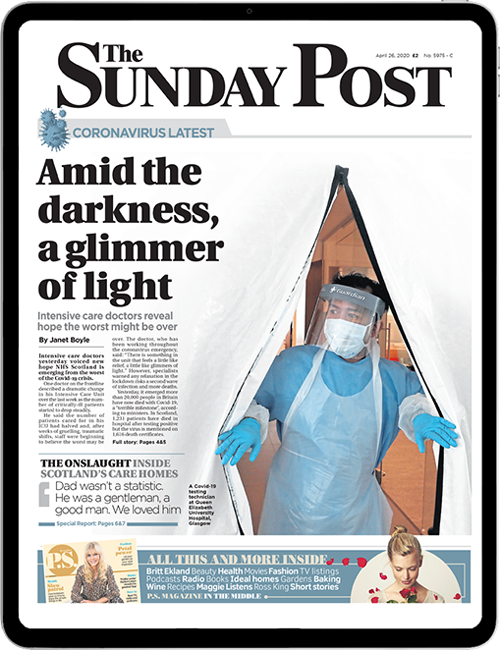 Enjoy the convenience of having The Sunday Post delivered as a digital ePaper straight to your smartphone, tablet or computer.
Subscribe for only £5.49 a month and enjoy all the benefits of the printed paper as a digital replica.
Subscribe