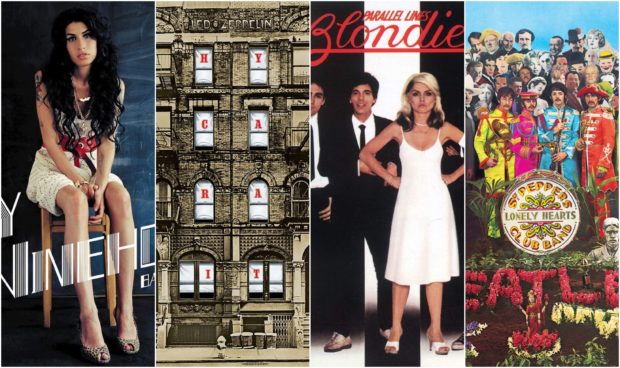 Vinyl album sales are on the increase again — for one thing, proper LPs are big enough for us to enjoy looking at all those classic covers!
With global sales of records on the up, the artists who design the sleeves have more chance of getting their work properly seen.
With the much smaller CDs, cassettes and iTunes downloads, you can barely make out the details, and it seems almost pointless to have something as detailed as The Beatles' Sergeant Pepper album on them.
Here, we look at ten of the best album covers and the stories behind them.
---
SERGEANT PEPPER'S LONELY HEARTS CLUB BAND (1967)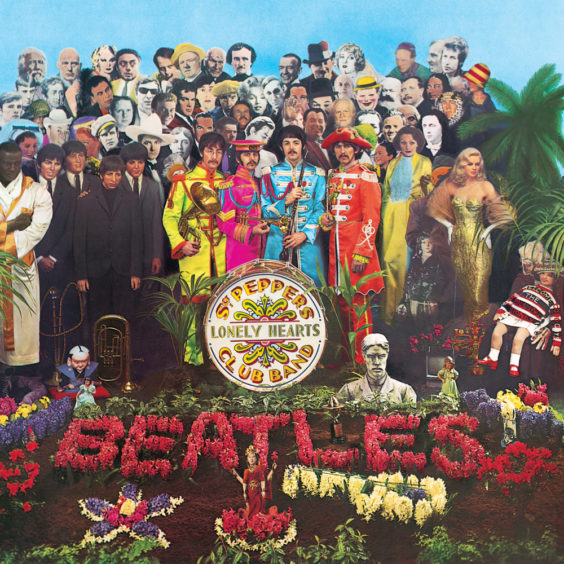 We could have opted for several Beatles records, notably Abbey Road, the meanings read into Paul having bare feet and a million other tales!
However, it was hard to see beyond this landmark album cover, featuring a whole array of famous people, and even cardboard cut-outs of the Fabs alongside the real ones.
Marilyn Monroe, Bob Dylan, Marlon Brando and Laurel & Hardy, they are all here, and in the unlikely event you ever get bored listening to an all-time great album, you can have fun seeing if you recognise them all while it's playing!
---
THE WHO SELL OUT (1967)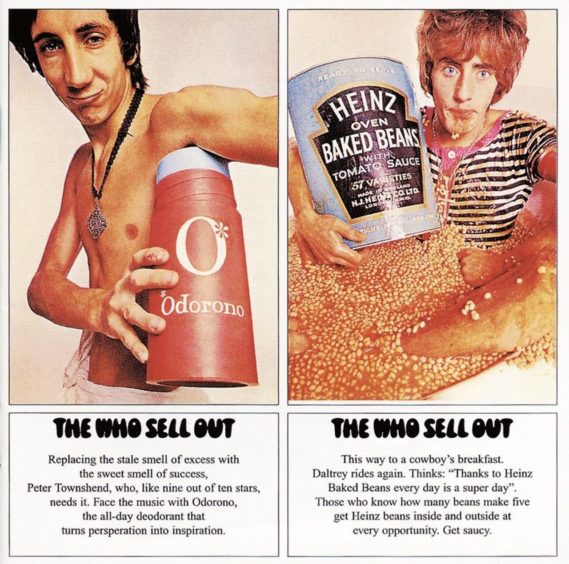 With Pete Townshend using a huge Odorono underarm deodorant and Roger Daltrey reclining in a bath full of Heinz Baked Beans, it's fair to say this one has stood out in record stores for the past half-century.
Flip it over and there's Keith Moon applying a giant tube of Medac while John Entwistle dons a leopard-skin Tarzan suit, while holding a blonde in one arm and teddy bear in the other.
Originally, they intended the cover to be a psychedelic butterfly, and an ultra-rare poster of this was given away with the first thousands albums.
A bizarre album with a bizarre cover, it sold like hot cakes and many regard it as the greatest album they ever made. Heinz, presumably, were rather chuffed, too!
---
STICKY FINGERS (1971)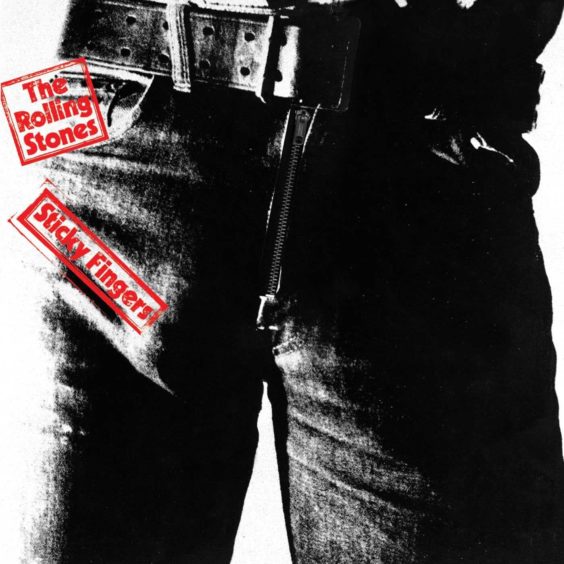 When Mick Jagger wanted something suitably controversial for this album, he asked Andy Warhol to do the front cover.
Boy, did he do something controversial!
The maverick Pop Art figure came up with a cover featuring a gentleman's jeans from the waist down, complete with real zip. When you pulled it down, you saw his underwear.
Everyone assumed it was Old Rubber Lips himself, but it wasn't, and in fact nobody is sure to this day who wore the jeans.
Warhol deliberately muddied the waters by selecting several gents to pose for him, and never told anyone which he chose for the iconic photo. He kept his lips zipped, you might say.
---
PINUPS (1973)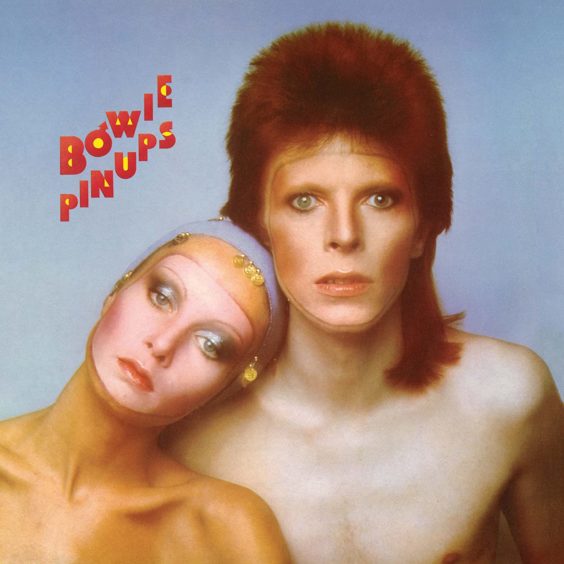 To this day, many people don't realise who the lady is beside David Bowie – it's Twiggy!
Photographer Justin de Villeneuve was her boyfriend at the time, and both had been tickled pink when Bowie mentioned her as Twig The Wonderkid on previous album Aladdin Sane.
Pierre la Roche made a pair of facemasks for them, and the end result is many people's all-time favourite album cover.
Originally intended for the cover of a top magazine, it would have made Bowie the first man to do so, but Bowie liked it so much he asked for it on the album instead.
Justin admitted the magazine didn't talk to him for years afterwards, but "I realised I'd done the right thing when I saw it on a 60-foot billboard on Sunset Boulevard!"
---
PHYSICAL GRAFFITI (1975)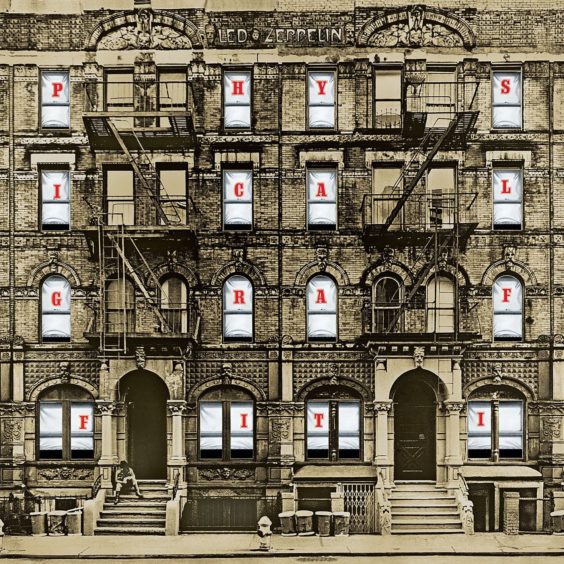 When this came out, even kids who weren't big Led Zeppelin fans bought it, just to get their hands on the most unusual album cover.
A die-cut sleeve depicting a Manhattan brownstone tenement block, you could spot various cultural icons (a bit like Sergeant Pepper) through the windows, from WC Fields to Buzz Aldrin.
And yes, Fields was also on the cover of Sergeant Pepper!
You could change various sleeves inside, to show album information, the liner notes, or other iconic faces and items.
Located at 96 and 98 St Mark's Place, New York, you can imagine that countless Zep fanatics have dropped in over the decades, just to set eyes on it.
---
PARALLEL LINES (1978)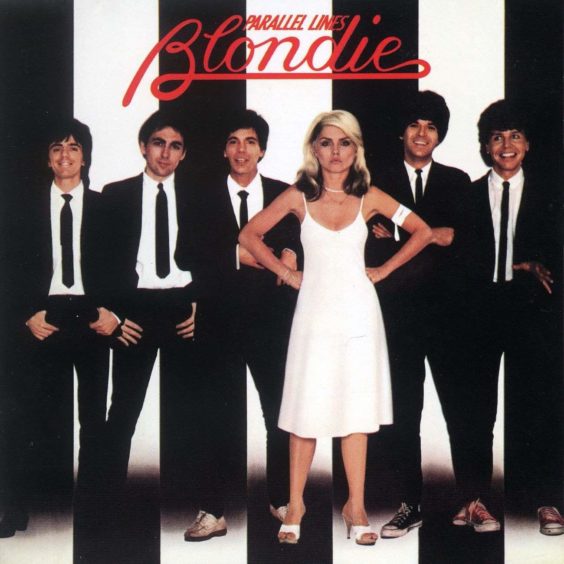 Blondie singer Debbie Harry hated this album cover so much, she sacked their manager for choosing it without asking.
And yet, it helped it become a huge bestseller!
Peter Leeds chose the image despite Debbie having rejected it, believing there was nothing special about the design.
The band had hoped that their black-and-white suits would fade neatly in and out of the black and white parallel lines, but that part didn't quite work.
Something did, however, as it sold over 20 million copies worldwide — perhaps Peter Leeds knew something they didn't!
---
WAR (1983)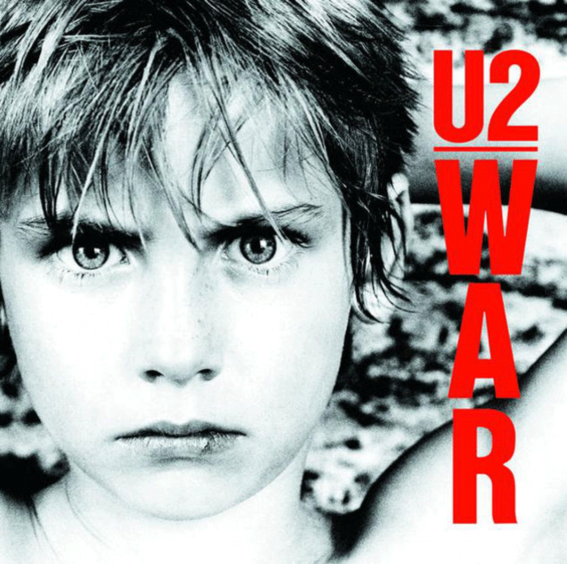 The cheeky-looking young lad on the front cover of U2's classic album seemed to work well for them — Bono and mates featured the same kid on many more recordings!
Peter Rowen was the little brother of Guggi, a friend of singer Bono, and he would also appear on the covers of Boy, Three, The Best Of 1980-1990, and Early Demos, along with several singles.
As pacifist Bono explained, "Instead of putting tanks and guns on the cover, we've put a child's face. War can also be a mental thing, an emotional thing between loves. It doesn't have to be a physical thing."
Now a photographer himself, Peter says he often gets recognised despite the passing years, especially at U2 gigs – and it was his brother who gave Bono his nickname.
---
MEAT IS MURDER (1985)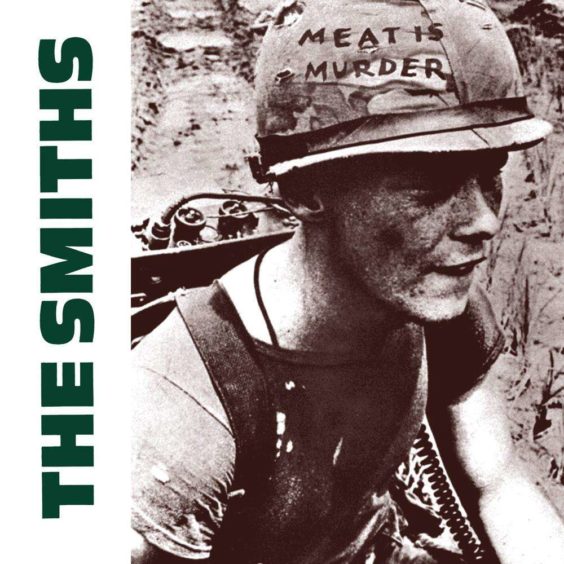 This cover features a young American soldier, Marine Corporal Michael Wynn, taken in 1967.
His helmet had the words Make War Not Love inscribed on it, but The Smiths changed it to Meat Is Murder.
Smiths singer Morrissey is well-known for his advocacy of the meat-free, vegan and vegetarian lifestyle, and the album's title track features animal sounds presumably recorded in an abattoir.
The image with the original wording was also used in a 1968 war documentary, In The Year of The Pig. Wynn later lived in Australia, and it's not known whether he approved or not.
What is known is that Paul McCartney, rock's best-known meat-hater, admitted he had tried but could never come up with a vegetarian song – he admired The Smiths' one, he said.
---
WHATEVER PEOPLE SAY I AM, THAT'S WHAT I'M NOT (2006)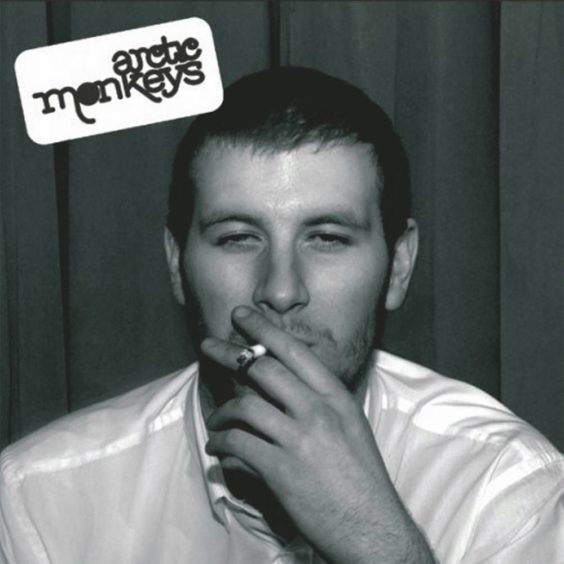 Sheffield band Arctic Monkeys came up with the sort of cover people wanted — we know that, because it made this album the fastest-selling debut LP of all time!
It also caused a kerfuffle, with an NHS boss criticising the image of a bloke smoking, which he felt "Reinforces the idea that smoking is okay."
The bloke in question was Chris McClure, a mate of the band, taken in the early hours of the morning in the Korova Bar, Liverpool.
They had given Chris "Seventy quid to spend on a night out" in exchange.
Billboard adverts used the image with the cigarette removed.
---
BACK TO BLACK (2006)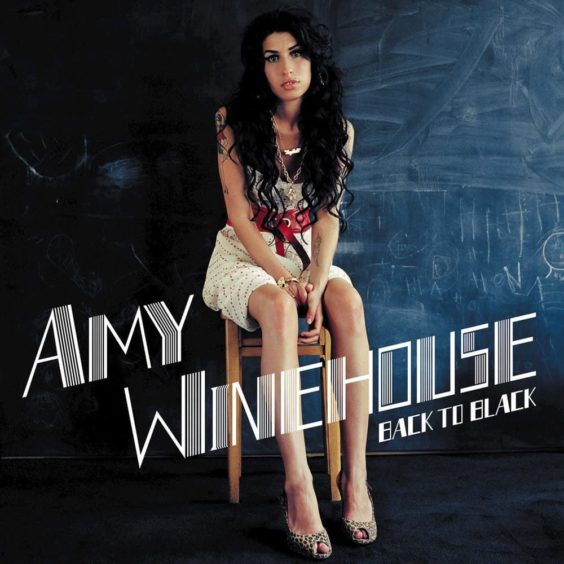 Has there ever been a more poignant, significant album cover?
Amy Winehouse turned up several hours late for the photoshoot, having partied all night after a friend's wedding.
Shot in a black room at the home of photographer Mischa Richter, this was the last photo taken that day, with the early evening light coming in to the right.
It was the last time the photographer ever saw Winehouse, who died just five years later, and it's the image many fans recall best.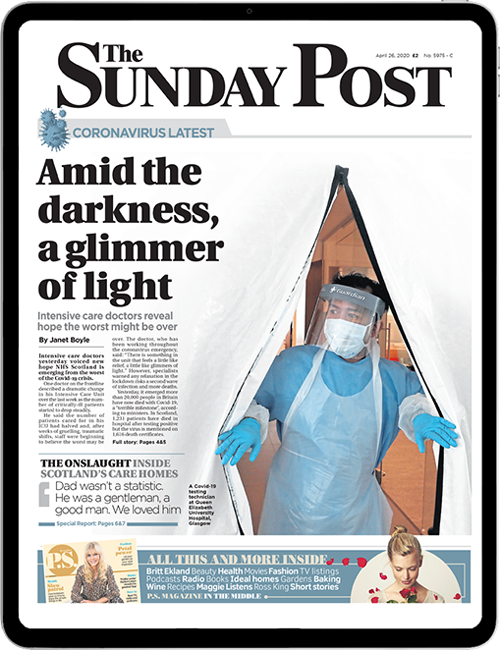 Enjoy the convenience of having The Sunday Post delivered as a digital ePaper straight to your smartphone, tablet or computer.
Subscribe for only £5.49 a month and enjoy all the benefits of the printed paper as a digital replica.
Subscribe