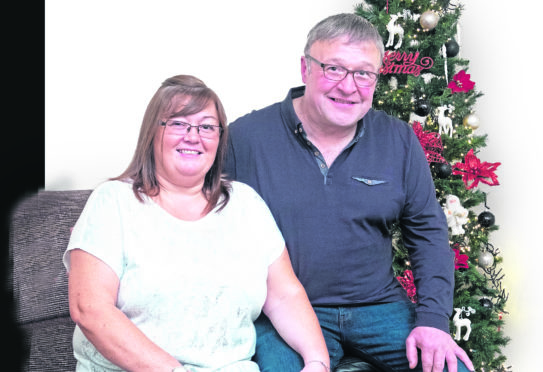 There have been complaints about sky-high power bills, faulty appliances, bad workmanship, nightmare holidays…and even cold-calling funeral plan firms.
In 2019, every week the Raw Deal mailbag bulged with requests for help from stressed-out readers.
Here we look back at the occasions when we stepped in to take on companies, institutions and traders to put things right…
Tracy and Allan Fraser are celebrating a comfortable festive season in their revamped home after Raw Deal helped secure them a £16,000 insurance payout following a blaze.
In September 2018, fire wrecked the utility room and damaged an en suite bathroom at the couple's bungalow in Peterhead, Aberdeenshire. It left them without heating or hot water for four months.
School dinner lady Tracy, 51, said she was lucky to spot the flames as she left the house to go to work, or things could have been far worse.
An electrical fault with her washing machine had started the blaze, which had begun to spread to the roof.
The couple swiftly informed their insurers Churchill but lengthy delays in getting repairs under way ensued after visits from independent assessors.
The first valuer who came out reckoned it would only cost about £3,000 to fix the damage.
In frustration, the Frasers turned to Raw Deal for help and we asked Churchill to carry out an investigation.
The insurers soon increased the amount to more than £16,000.
As a result, the Frasers have now had the damage repaired and the house has been refurbished.
"Last Christmas was a disaster because of all the mess," said Tracy. "It took months for the work to be finished but now the house looks a treat.
"Thanks to Raw Deal, this time we have been able to enjoy a happy festive season with the family."
A telecom company charged Glasgow pensioner Joseph Innes £500 for broadband – despite the fact he was not one of their customers and wasn't even online. The former shipyard worker, 80, was shocked when he discovered he had been paying TalkTalk for home media services for 18 months.
"I only have a landline at my house and I have been with Virgin for many years," said Joseph. "I only found out by chance in January that I had paid more than £500 to TalkTalk and I had ongoing monthly direct debits with them."
After Raw Deal got involved, TalkTalk apologised and issued a refund of almost £300.
Landscape photographer John Ellis spends much of his free time travelling to some of Scotland's most remote beauty spots, so having reliable transport is essential.
The 49-year-old dad from Strathpeffer, Ross and Cromarty, also needs a dependable set of wheels for his day job as a window cleaner.
John paid £10,500 for a 2016 Peugeot Expert van from Arnold Clark Citroen in Inverness.
However, there was a recurring problem with a juddering steering wheel. After Raw Deal contacted Peugeot, the French car giant agreed to foot the £3,500 repair costs.
Peggy George started receiving power bills more than 20 times higher than usual. The grandmother of eight was billed £2,000 by Npower instead of £109 at her home in Dundee.
Peggy contacted Raw Deal for help and we asked Npower for an explanation. It emerged that a new smart meter installed for her gas was faulty. Npower soon scrapped the £2,000 charges and refunded her £60.
Raw Deal reader Jack McKenzie, from Ellon, Aberdeenshire, was furious when he received a number of calls on his mobile phone from a company called Fosters Funeral Directors, based in Glasgow and Ayrshire. The firm was trying to sell a funeral plan to the 72-year-old. "I found it offensive to be cold-called about a subject like that," said Jack. "I am in the best of health and the last thing I need is to be thinking about a wooden box."
Jack said he considered contacting the police.
When Raw Deal got in touch with the company, the calls soon stopped.
Joiners Danny Willox and Ewan Forbes celebrated after getting £5,000 due to them in wages from a building job, thanks to Raw Deal.
In November, we told how the pair had hit a brick wall in their attempts to get their money from a sub-contractor. Between May and July, both men were hired by Huntly-based Glenmoir Construction as self-employed carpenters on a housing development in Cove, Aberdeenshire. However, despite several promises, their final wages were never paid.Within hours of their story being published, the full amount was paid to the joiners.
Allison Mackay was quids in after Raw Deal helped her get £869 worth of expenses reimbursed by the Crown Office.
After a court date was changed at the 11th hour, the gran from Tain, Ross-shire, was denied compensation for travel costs despite spending £1,000.
After an appeal by Raw Deal, the Crown Office paid her £869.
In March, Raw Deal secured a £900 refund for a family (two of whom use wheelchairs) following a "nightmare" experience at a French airport.
The Berminghams, from Glenrothes, Fife, had a stressful trip back from their dream holiday to Disneyland Paris. The family had been left without the proper assistance – despite booking it. Mum Louise spent three months getting nowhere with a complaint to easyJet.
After Raw Deal got involved, the family was refunded and an investigation was launched in Paris.
Mary Wilson from Biggar, South Lanarkshire, was delighted after Raw Deal helped rustle her up a £1,850 refund following an eight-month dispute with Wrens Kitchens – after she complained about the work undertaken for her "dream" £8,000 kitchen.
Mary said: "Raw Deal did more for us in a few days than we had achieved in the previous eight months."
When Lynette Pirie's three-year old fridge-freezer conked out, she knew the hassle it would cause.
The finance company worker needs a big fridge to store large quantities of fresh food because she lives in rural Aberdeenshire and the nearest supermarket is a 15-mile drive away, making frequent trips difficult. She was forced to bin about £300-worth of butcher meat and other groceries.
After getting no joy from Curry's, Lynette contacted Raw Deal. Lynette was soon invited to take her pick of new appliances at Currys.