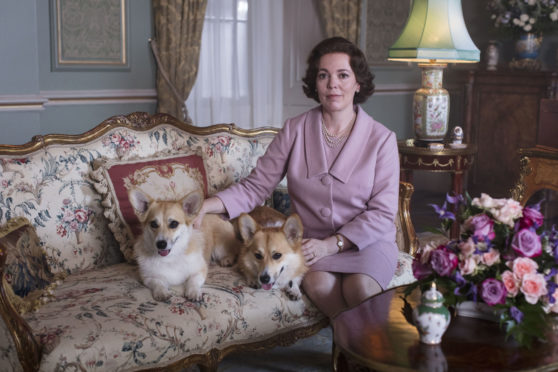 After a golden year that saw her crowned the Queen of Hollywood, Olivia Colman is back playing another iconic monarch, this time on the small screen.
She takes on the role of Queen Elizabeth II in hit series, The Crown, which returns for its hotly-anticipated third series today on Netflix. Colman's majestic portrayal of another monarch, Queen Anne, in period black comedy The Favourite, bagged her a much-deserved Oscar earlier this year.
The win saw her already successful career go stratospheric but the reluctant star admits this new level of fame doesn't come naturally, and she hasn't quite got used to seeing the glittering award sat pride of place on her mantelpiece.
Rather than strutting the red carpet or mingling at glitzy awards parties, the actor admits she's happiest at home with the kids.
"The fame thing is hard. It's not that people aren't kind because they certainly have been up to now but I like a little anonymity. All this is very new to me," Colman, 43, revealed.
"Being home with my husband and the kids is much more me but it's something we're having to get used to."
She's relished playing a more modern monarch in The Crown but admits to some nerves at stepping into the shoes of Claire Foy, whose performance in the first two series drew universal praise.
"The cast are all amazing. I went in full of fear because you don't want to be the one who screws it up!" she said.
"But Claire was very supportive and just lovely. She said I could call her any time."
Shot on a multi-million-pound budget, the lavish new series of The Crown follows the royal family from 1964 and the election of Harold Wilson, to 1977 and the silver jubilee.
It covers the deaths of Winston Churchill and the Duke of Windsor, and also Prince Charles's relationship with Camilla.
The new cast includes Helena Bonham Carter, who takes over as the rebellious Princess Margaret, Tobias Menzies as Prince Philip, Josh O'Connor as Charles and newcomer Emma Corrin as Princess Diana.
While Colman has found it "slightly stressful" joining the globally successful show, she adds: "I've never joined a television series after it has been so loved but I really am enjoying it so much because everybody feels very valued. You really feel everyone is there for each other."
Comparing her two standout royal roles, Colman said: "They are very different. Queen Elizabeth didn't take a lot of tips from Queen Anne, which is a shame.
"As an actress, both are incredible characters to play and both take quite a lot of conjecture, because we can't possibly know what happens behind closed doors."
The Queen herself is said to have watched the show but was reportedly upset at scenes in the second series that show Prince Phillip being cold towards Charles.
And while many actors are keen to meet the real-life figures they are to portray, Colman could only draw on a brief meeting with the royal at a British Film Industry event.
"I met her once. It wasn't really a meeting, more a row of people shaking hands and curtsying. I didn't know she was going to be there. We all suddenly ended up in a queue and I couldn't work out why. Then I looked around the corner and there's the Queen and Prince Phillip.
"She's got hundreds of people to get through and so you are whooshed through. She has to stand up all of that time as well. I think she had 200 people to say, 'Hello, how do you do?' to."
Colman's own rise to acting royalty began in her 2003 breakthrough role of Sophie in hit comedy Peep Show, where she continually upstaged its creators David Mitchell and Robert Webb.
More recently, she played the evil stepmother in Phoebe Waller-Bridge's award-winning comedy Fleabag.
As she swept the boards during this year's awards season, Colman used her acceptance speeches to emphasise how far she's come, and revealed she actually started out as a cleaner – a job she loved.
"I was a cleaning lady back in my college days before I met Mitchell and Webb, which was my first break as an actress," she said.
"I had dropped out of teacher training and I was cleaning just to earn a little money. I know people usually say how much they hated their first job but I actually loved mine. I love cleaning skirting boards and things like that. It was pure job satisfaction. I could be doing that now had it not been for all this."
Colman began acting as a teenager but never dreamed of doing it as a living, never mind one day lifting an Oscar. She said: "I just wasn't very good at anything else. I was rubbish at school. I wasn't academic. I wasn't very good at anything actually.
"Then at 16, I did a school play and I went, 'Oh, I love this!' I didn't know you could be an actor. My mum is a nurse. No one I knew had ever done anything like that."
As she was thrust into the spotlight during a whirlwind awards season, Olivia, who has three children with her husband, writer Ed Sinclair, credits her family with keeping her grounded. In fact, her kids have been pretty indifferent about mum winning an Oscar. But Colman wouldn't have it any other way.
"I'm really pleased that they are not that bothered," she laughed. "We've made a point of not making it important. To them it's just, 'Mummy has a job and she loves it. She's very happy'. I want them to have a work ethic and for them to know that work is not work if you really love it. They are deliciously uninterested in what I do, which is nice."
She had hoped a small guest role in Doctor Who might pique their interest but her shape-shifting alien prisoner in 2010 had her kids flying behind the sofa in fear.
"I did one episode of Doctor Who, thinking that it would be great for them to watch, but they were very little when it came on and I had forgotten that they had CGI'd really scary teeth on me," Colman laughed. "As soon as that happened, they cried and we were like, 'Oh God, turn it off. Turn it off!'"
Throughout her 20 years in acting, Colman had flown relatively under the radar until her Oscar win, quietly flexing her acting muscles in diverse projects along the way. While she's shone in comedies including Peep Show and Green Wing, the actor hasn't shied away from darker roles.
In 2011, she was highly praised for her work on Paddy Considine's bleak drama Tyrannosaur, in which she starred alongside Scottish actor Peter Mullan as a victim of domestic abuse pushed to her limits.
Colman says the role was a thrill to do.
"Slightly low-budget television or film is really exciting as often people have fought to get it there. Tyrannosaur we filmed in just four weeks. That was thrilling and exciting. We'd have all done it for free. I just love work. I try to work with people that I like and admire, who have a similar sort of attitude to me. I've spent a lot of time not working and I am very grateful for that now."
---
Series three of The Crown is aired from today on Netflix.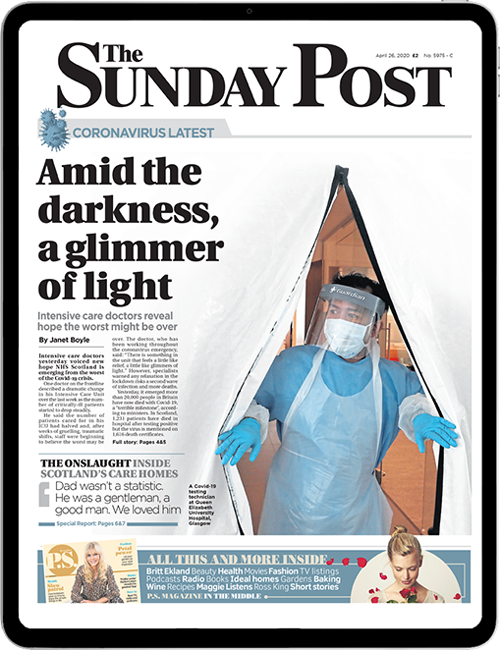 Enjoy the convenience of having The Sunday Post delivered as a digital ePaper straight to your smartphone, tablet or computer.
Subscribe for only £5.49 a month and enjoy all the benefits of the printed paper as a digital replica.
Subscribe