THIS year's Edinburgh Festival Fringe will see a quarter of its theatre productions dealing with social issues like mental health, LGBT rights, disability, poverty and the #MeToo movement.
Last year, the National Theatre of Scotland staged two of the 38 shows focussing on LGBT issues and were one of the pioneering forces behind greater focus on trans performance at the Fringe.
2018 sees the National company once again tackling social issues in their Festival line-up, teaming up with Scotland's only disability-led theatre company, Birds of Paradise, and musical theatre duo, Noisemaker, to create My Left/Right Foot – The Musical.
A play within a musical, it focusses on disability played by non-disabled actors – a terrain both Oscar winning but also complex, potentially offensive and in many ways categorically ridiculous as the production explores.
An ironic stab at the 1989 film My Left Foot starring Daniel Day-Lewis – which landed him an Oscar for playing Christy Brown, a man with severe cerebral palsy – the show tells the story of the efforts of an amateur theatre company producing a stage version of the film.
The company come under pressure to tick boxes to comply with the equalities agenda, so they decide to create a show starring 'the disabled.' Unfortunately, they don't know any disabled actors so the cast decide to hire an able-bodied man to simply 'act disabled.'
What follows is their hilarious, outrageous journey making every mistake possible when it comes to political-correctness and disability.
---
There's still no every day presence of disabled people in mainstream theatre – that's wrong
---
The show is written and directed by Birds of Paradise artistic director Robert Softley-Gale who himself has lived with cerebral palsy since birth.
No stranger to producing and acting in shows concerning the theme of disability, to him the imbalance of able-bodied actors and disabled actors is palpable. It's not just the fact that disabled people aren't often cast to represent themselves, they're hardly getting to play anyone.
"If you're a disabled actor, going from job to job, it's so difficult, because mainstream directors are still not looking for disabled actors to be in their shows," says Softley-Gale.
With 13.9 million people associating as disabled in the UK, he believes this is a group still fully under-represented within the theatre sector. He continues: "We can still look at certain Scottish theatre companies and ask, why are you not casting disabled people? Why's that not common practice?
"If you looked at another group of people, women for example, and saw that they weren't being cast in theatre, that would seem ridiculous.
"There's still no every day presence of disabled people in mainstream theatre – that's wrong and we have to keep questioning it."
My Left/Right Foot – The Musical instead cleverly combines a mainstream style of musical theatre with a very seldom visited theme in mainstream theatre – disability.
The lack of disabled actors within the show will heighten the themes, humour and elements of shock says Softley-Gale, who hopes by staging a more popular theatre form, he can reach and inform a wider audience.
---
this level of accessibility has never been incorporated before in musical theatre"
---
The show therefore includes a "close to the bone" musical score written by composer Claire McKenzie and lyricist Scott Gilmour of Noisemaker, forming a large basis of the show's themes, using humour and much non politically-correct lyrics to get the point across.
"I think that first audience is going to be shocked in what they're going to experience when they hear these songs," says McKenzie.
It's not preachy however they say, it's comedy.
"We want people to know it's ok to laugh. That's the whole point," continues Gilmour.
"It's an exploration of what's ok, what's not, and realising it's ok to still be unsure about that."
Accessibility will also be a huge part of the run, with captioning, BSL interpretation, audio description and relaxed performances being incorporated, but in more innovative ways than in past theatre productions of this type.
"I don't think this level of accessibility has ever been incorporated this much before in musical theatre and I think it's really exciting to bring all these aspects together," says McKenzie.
"You definitely do at the end of it think – wait, why haven't we been doing it like this the whole time?" adds Gilmour.
A show about disability by a disabled writer of course could not be inaccessible says Softley Gale, but even he has difficulties with the levels of accessibility expected: "The thing is, it's never going to be completely accessible – nothing ever can be – and for me, accessibility is non binary – something is never going to be either fully accessible, or not.
"This is a musical – which means it's very loud and in your face, and for some people, that's inaccessible, but there's honestly not much we can do about that."
But putting accessibility and disability to one side, moving forward would he ever produce a show that's got absolutely nothing to do with either?
"Maybe. I've been disabled since birth so being disabled is a core part of who I am – it's not everything I am – but it's a big part, so I'm always going to have that influencing my perspective on my work. But then I'm also white, I'm also male, so I have those perspectives as well, amongst others.
"I did an interview when I was 18 and when I was asked what I wanted to do I said well, it'll have nothing to do with disability and look at me, I've spent the last 20 odd years working in disability."
But, concludes Softely-Gale, for himself, and for the slowly growing voice of disability in theatre,  "who knows what the future holds."
---
My Left/Right Foot – The Musical at Assembly Roxy, Edinburgh, 1-27 August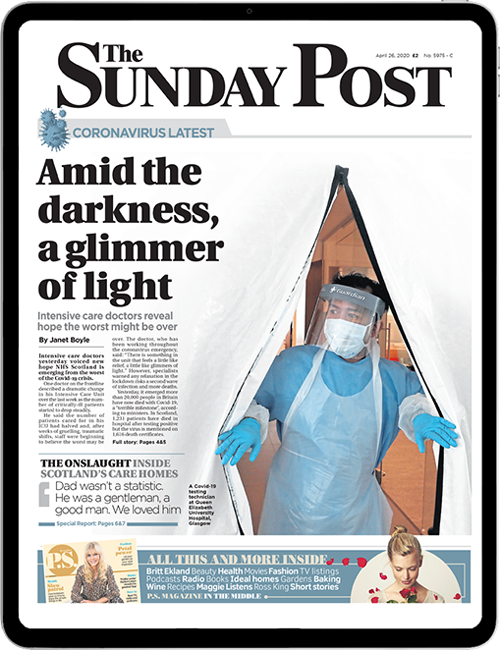 Enjoy the convenience of having The Sunday Post delivered as a digital ePaper straight to your smartphone, tablet or computer.
Subscribe for only £5.49 a month and enjoy all the benefits of the printed paper as a digital replica.
Subscribe