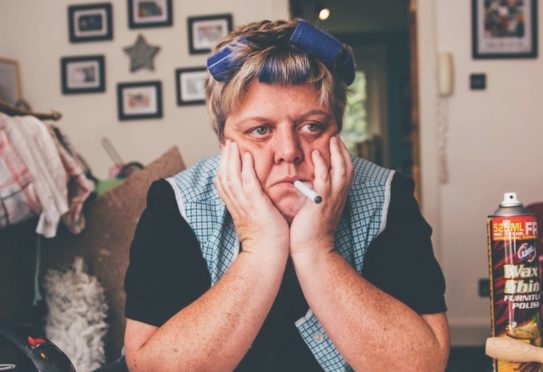 Scots stand-up Susie McCabe has sold out shows across the country and scooped numerous awards in the past couple of years.
And now she's back at the Edinburgh Fringe with her show Domestic Disaster, which recounts the absurdities of her life, where at nearly forty years old she's a shambles and never far from disaster.
She'll also be part of Comedy Gala 2019: In Aid of Waverley Care, a partnership between Off The Kerb Productions and Scotland's biggest charity providing care and support to those living with HIV and hepatitis C.
All proceeds from the show help the life-changing work of the charity, with the annual event having raised almost £475,000 since its launch in 2003.
Here, Susie answers our Fringe Q&A…
---
How are you enjoying your Fringe experience so far?
It's been brilliant, really enjoying being up at the gardens in the hub of it all. Working with the guys at Assembly has been great.
---
What is your new show all about?
My life took a turn and I moved back home with my parents. I look at internalised misogyny in the family, your relationship with your parents when you move back as an adult and woman on woman sexism.
This description does not do it justice, I promise it's really funny.
---
How did you first get into stand-up comedy?
My mate got diagnosed with Stage 4 Ovarian cancer and my other mate and I, in a drunken haze, decided we should challenge ourselves as you never know the minute.
Obviously you can't back down from a dare, we did a comedy course and did a gig and the rest is history.
---
You'd done shows at both of our big cities' comedy festivals. Do you notice a difference between Glasgow audiences and Edinburgh audiences?
Yeah, massive difference! Edinburgh is an international audience all year round. It's more like a gig in London than Glasgow.
Now obviously I am massively biased toward Glasgow as it's my home town and I am very Glaswegian in my outlook.
It has great audiences and great clubs. I always think Edinburgh is cool for a month, the rest of the year it's pretty and touristy.
Glasgow has a vibe, an arts scene that's open to all and has some grit about it and I think you need that grit in the arts and in everyday life.
---
You're touring Scotland in October, how much are you looking forward to heading off round the country?
I love touring, I always try and see places when I am out and about and try and make it a weekend away. I love Scotland, it's beautiful whatever the weather. What we lack on weather temperatures we make up for in hospitality.
---
How much will the Fringe help shape your show for the tour?
Yeah I am working on that show and because you're in that creative space with gigging all the time it really makes your writing flow. (I have never said anything more artsy in my life, you can tell I have been at the Fringe for a week!)
---
How much are you looking forward to being a part of the Comedy Gala in aid of Waverley Care?
Oh I genuinely cannot wait! First off, I have done a few things for Waverley Care over the years and they really are a wonderful charity.
Getting to do big rooms like that really is the dream. Stellar line up, great audience and room. What's not to love?
---
If you had to pick one item that's essential for surviving a month at the Fringe, what would that be?
Vitamin C effervescent tablets.  Straight into the system and give you a boost and a lift.
---
The Edinburgh Fringe can throw up some surprises – what is the strangest moment you can remember from the festival?
A guy trying to get me to see a show which was an act doing Donald Trump voiceovers while doing a production of King Lear.
I thought, no son… that noise coming out of your face has to stop.
---
What do you think it is about the Edinburgh Fringe that attracts people from all around the world to come to watch and also to perform?
I think the Fringe is, for many acts, Vegas or Carnegie Hall and that's easy to forget when you're a Glasgow based act and it's on your doorstep. It's some people's life ambition is to bring a show here.
For the punters they get to walk around not only the biggest arts festival in the world, but one of the prettiest and historical cities in the world and during August it has everything. History, politics, Harry Potter and everything under that Fringe banner.
---
What is your favourite one-liner?
My favourite is a Stewart Francis joke as for me he is the king of the one liners.
"I went to a Karaoke Bar last night that didn't play any 70s music. At first I was afraid, oh I was petrified"
Classic!
---
Susie McCabe's 'Domestic Disaster' is at Assembly at 8pm throughout the Festival and she is on tour with 'Born Believer' this autumn. See https://tickets.edfringe.com/whats-on/susie-mccabe-domestic-disaster and www.susiemccabecomedy.com.
The Comedy Gala 2019 in aid of Waverley Care is at The Pleasance at the EICC in Edinburgh on Tuesday 20th August, 7.30pm.  https://tickets.edfringe.com/whats-on/comedy-gala-2019-in-aid-of-waverley-care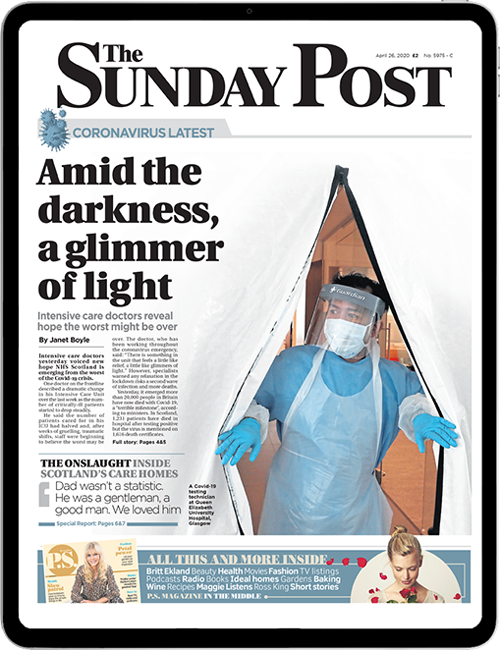 Enjoy the convenience of having The Sunday Post delivered as a digital ePaper straight to your smartphone, tablet or computer.
Subscribe for only £5.49 a month and enjoy all the benefits of the printed paper as a digital replica.
Subscribe