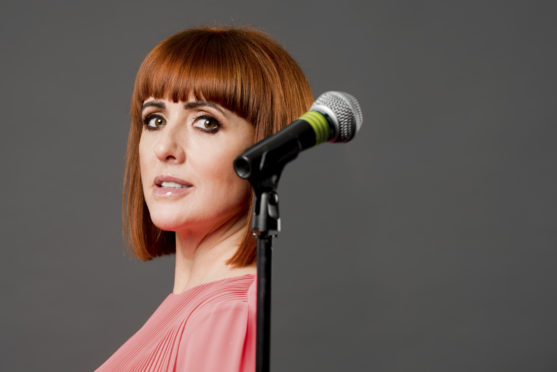 Cally Beaton had a rather unusual journey into comedy, transitioning from the boardroom to the stand-up stage.
Presiding over multi-million-pound budgets at the likes of MTV and Carlton, it was whilst working for Comedy Central as a Senior Vice President at Viacom that Cally got the bug for comedy.
She had quite the backing to take the plunge into it at the age of 45, with the late, great Joan Rivers telling her to give it a go.
She brings her show Invisible to the festival this year, and here she answers our Fringe Q&A…
---
How are you feeling ahead of your return to the Edinburgh Fringe?
I will not cry. I will not cry. I will not cry.
---
What is your new show Invisible all about?
On 7th January 2019 French author Yann Moix made the headlines saying that women once they reach 50 are "invisible" to him. I turned 50 a few weeks later and decided to put on the show to check if I could be seen – on stage, on posters, and probably on medication by the end of the run.
The show is all about subverting gender and social stereotypes, not under-estimating 50 something women and laughing 'til you ache.
---
How did working in a management role at Comedy Central end up with you taking to the stage yourself?
I'd worked in TV production and broadcast of comedy shows for the best part of 30 years, watching some of the biggest and best names in the business go from open mic spots to selling out stadiums; stand-up had always held a fascination for me.
It was the late, great Joan Rivers (who admittedly had got somewhat beyond the open mic stage by the time I was even born) who told me I should give it a go.
I said "Joan, I'm 45, a single parent of two teenagers, with a big day job – the ship has sailed." She said "Cally, I'm 81 – you'll look back at yourself now and know you were in the thick of it and think: why didn't I?".
She died a few weeks later. I don't think it was connected.
---
Have the skills you'd developed in your career proved transferable into stand-up, and vice versa?
I've spent a lot of my professional life on stage with a microphone, hosting events and debates and giving speeches, so when I started out in comedy the stagecraft was already in place. It was just the minor detail of writing some jokes that needed work.
5 years later and I'm starting to get the hang of being a bit funny. Being a stand-up helps me to be one of the funnier speakers on the after-dinner/keynote circuit. I mean, it's not a competition but if it was, I'd be winning.
It is important to remember at corporate events that it's not a stag do on a Saturday night and not to bring my best Ted Talk to The Comedy Store.
If you had to pick one item that's essential for surviving a month at the Fringe, what would that be?
Suncream (that's not a joke – I'm ginger)
---
The Edinburgh Fringe can throw up some surprises – what is the strangest moment you can remember from the festival?
I ran into an ex at Waverley station who I hadn't seen since he broke my heart the year before. As soon as he left I sat on a bench and cried and cried. A bunch of women got off the next train, asked why I was crying, and when I told them got on the phone and rounded up all their Edinburgh-based friends and families. Between them they sold-out that night's show, and were the best audience ever. So then I cried and cried again.
---
What do you think it is about the Edinburgh Fringe that attracts people from all around the world to come to watch and also to perform?
Well, I know it's not the weather. It's still world famous in a way that few other festivals and fringes are (although my fringe hopes to be one day).
As for why we perform, I guess we're masochists. Oh, that and the fact that a good Edinburgh run can be a game changer for any comedian.
---
What is your favourite one-liner?
I asked the hotel receptionist for a wake-up call – the next morning the phone rang and a voice at the other end said 'What the hell are you doing with your life'? (Demetri Martin)
---
Cally Beaton: Invisible, Assembly George Square Studios – Studio Four, July 31 – August 26, 5:10pm, https://tickets.edfringe.com/whats-on/cally-beaton-invisible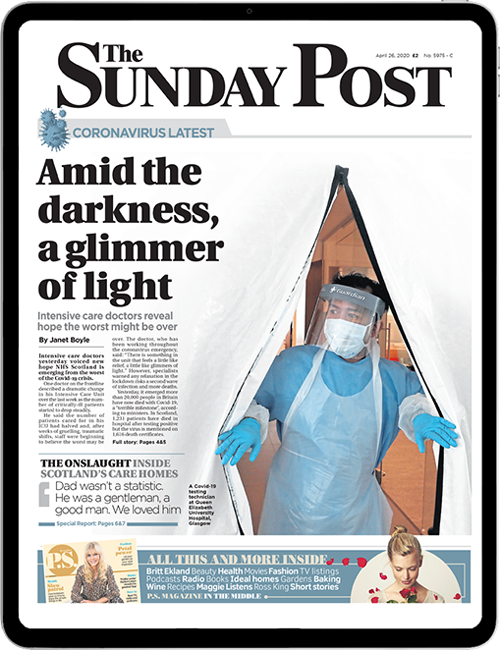 Enjoy the convenience of having The Sunday Post delivered as a digital ePaper straight to your smartphone, tablet or computer.
Subscribe for only £5.49 a month and enjoy all the benefits of the printed paper as a digital replica.
Subscribe